Sound:











Value:











(Read about our ratings)
Measurements can be found by clicking this link.
You could say that when it comes to headphones, I'm hard to please. Or maybe you could say that I find it easy to disavow any positive feelings toward ear-based hardware. I don't know why you'd say that, but you could, I guess. What it comes down to is, since I've got a steady supply of headphones passing my earholes, it becomes rather easy to dismiss the lesser among them. After all, with so many options, why waste time on something lesser?
But then once in a while something appears that surprises me, in a good way. The sort of product that stands a chance to replace one of my core cadre of headphones that travel with me everywhere. These unicorns would really have to stand out, because there's no need for me to subject my ears to mediocre sound.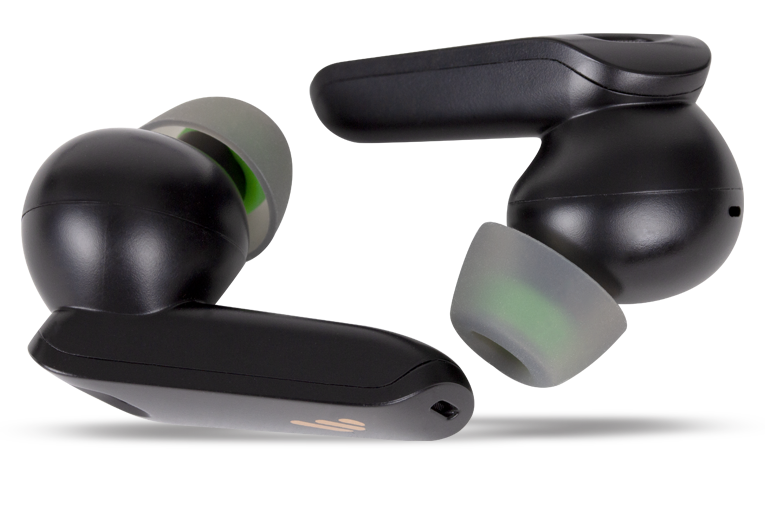 Enter the Edifier NeoBuds S true wireless earphones. On paper they have the same features as most other true wireless earphones. They're tiny and light, and they have multiple sound modes, IP54 dust/water resistance, and even noise canceling. I initially assumed they'd be another model in a long line of similarly priced, similarly featured earphones that currently saturate the market. What I didn't expect—what my cynical nature never lets me assume—was that they'd be good. Like, really good.
Maybe it's the digital crossover with dynamic and balanced-armature drivers. Maybe it's the highly tunable EQ. Maybe it's the $179.99 price (all prices in USD). Maybe it's the fact you can change the LED's color on the front of the case. OK, maybe not that. But not not that, you know? Most likely it's a combination of everything for a totally reasonable price.
In the box
The interior of the box features foam pyramids, like the NeoBuds are being held inside an anechoic chamber waiting for you to extract them. Not sure if that's what they were going for, but that's what I thought of. You get a generous selection of six pairs of color-coded silicone tips ranging from extra tiny to extra huge. There's also a USB-A-to-USB-C charging cable, as well as a small carrying pouch.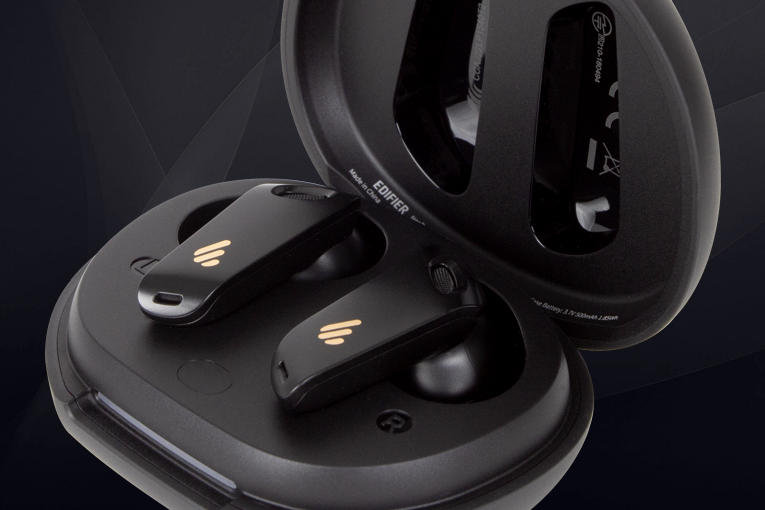 Use
Edifier's app is pretty standard fare for true wireless earphones. It takes a few moments to load, but once you're in you can select how much noise canceling you want or whether you want to hear ambient sound mixed in with your music. Swipe left, and you can choose between two preset EQs: Classic and Dynamic. Classic had a bit more upper bass than I liked. Dynamic boosted lows and highs.
The third option, Customized, has a four-band EQ that you can use to adjust up to four specific frequencies, including how wide or narrow the Q for each is (essentially how many adjacent frequencies the EQ adjusts). This was well done, better than most, and I was able to dial in a sound I really liked. But I'm getting ahead of myself.
Swipe left again, and you can select a low-latency game mode. One more left swipe lets you change the color of the LEDs on the front of the case. I'll be honest: this isn't a big deal, but I loved it. Eight options, including white, red, green, blue, and so on. I guess I just like colorful, shiny objects.
My main issue with the app is it's got a lot of unnecessary bloat, likely leading to the slow loading. Part of that seems to stem from the inclusion of the entire Edifier shopping catalog. I already have your product, Edifier. Calm down trying to get me to buy more.
One feature I didn't like was a permanent icon and pull-down menu on the phone's status bar. This gives you quick access to certain features just by swiping down from the top of the screen (like you're checking notifications). I hate this. I am icon-phobic and immediately swipe away any notification icon the moment it arrives. You can't swipe the Edifier icon away. Hard no. It stuck around even when the NeoBuds weren't connected. Harder no. I blocked the app's ability to do this in my phone's settings.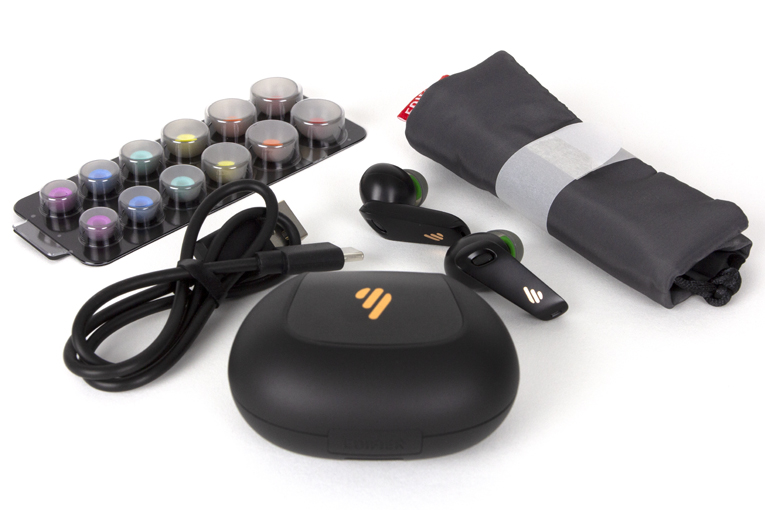 The noise canceling is impressive. Well, I say impressive, but that's considering that the vast majority of "noise canceling" earphones do very little canceling of any noise. Take, for instance, the LG Tone Free T90Q earphones I recently reviewed. Their noise canceling could best be described as a mild suggestion. Worth noting they also cost more than the NeoBuds.
So I compared the Edifiers to my noise-canceling benchmark, the Bose QuietComfort 20 earphones, on a few recent transoceanic flights. The Bose earphones were better, but not by as much as you might think given their much higher price (and legendary performance). The Edifiers seemed to do better with certain frequencies, but the Bose earphones do better with low- and lower-midrange frequencies. Some of this might have to do with the Boses' better fit. Using silicone wings, they fit better and stay in place more solidly in the ear. Still, the Edifiers do a far better job than the majority of noise-canceling earbuds. Enough so that I've used them instead of the Boses in several situations recently, which surprised even me.
One recurring issue is the earbuds wouldn't charge when they were in the case. This only happened a few times, but it was enough that I was paranoid about it. They're just loose enough in there that you can hear them rattle around. So I'd go to listen and one earbud would lack a charge. Also, occasionally, the left earbud wouldn't connect. I'd have to put them back in the case and wait before trying again.
Speaking of charging, battery life is . . . OK. Edifier claims 5.5 hours with NC on, and six with it off. That's not impressive, but it's also not abnormal. The case will charge them around three times. You can get 1.5 hours of playback after just ten minutes of charging. So I don't consider this, or the few times they wouldn't charge, a big deal.
The touch controls aren't great. You can turn up their sensitivity, and I recommend you do, but even so, they often missed taps completely. There's also a limited selection of functions you can assign, which is strange. For instance, you can assign the right earbud volume down and the left volume up, but not the opposite.
I should also mention the inclusion of Snapdragon Sound, a tech from Qualcomm. In theory it offers high-resolution audio transmission between a device and headphones. This is featured prominently in Edifier's marketing, and there's even a full-sized splash screen when you load the app. The thing is, your phone also needs Snapdragon Sound for it to work, and your phone almost certainly does not have it. Statistically speaking, you probably have either an Apple or Samsung phone. They don't have Snapdragon. Some Sony, Xiaomi, and Motorola models do. Which is to say, this isn't a feature worth worrying about, despite its seeming importance to Edifier.
Sound
Overall I'd describe the NeoBuds' sound as full, detailed, and having an enormous soundstage. They have a bit more bass than a purist might want, but have enough control that you can dial this back, or up, depending on what you prefer. The treble is smooth and clear without being harsh. They combine many of my favorite audio aspects while simultaneously lacking aspects I don't like. Or to put it another way, I really liked the sound of the NeoBuds S earphones.
I hadn't really thought about it before now, but I'm an absolute sucker for a big soundstage. Most of my favorite headphones I've ever reviewed have had huge soundstages. These include big open-back headphones and earbuds like the B&W C5s. The Edifiers were able to expand the soundstage to seem bigger than your head. Like you're in a space, not in your skull. It's amusing that this is something the LG T90Qs attempt, and fail, to do with software, while the NeoBuds succeed using physical design and hardware.
Take "All the Roadrunning" from Emmylou Harris and Mark Knopfler's Real Live Roadrunning (16-bit/44.1kHz FLAC, Mercury/Tidal). The crowd noise at the start sounded like it was coming from above my shoulders. Then the band kicked in, and it spread from just beyond my ears. Knopfler's gravel came in dead center.
Or "Cover Me Up" by Jason Isbell (Southeastern, 16/44.1 FLAC, Southeastern/Tidal). The main acoustic guitar sat just beyond my left ear; the drums and the other acoustic drifted in over my right shoulder. Just delightful.
Some of the credit for the NeoBuds' acoustical prowess is likely thanks to the fact there are two drivers in each earbud. There's a dynamic driver, like what most earphones have, and a balanced-armature driver. While this isn't always a recipe for success, in this case Edifier's engineers have done a great job playing to both drivers' strengths. The bass was fuller and better controlled than from most earphones. It was not boomy, just deep. This was the kind of bass I enjoy. Not bass just for bass's sake, but a bit extra down low. In the standard EQ modes, there wasn't an overabundance, but you can add in a lot in the Customized EQ, and adding a bunch, as I tend to do, didn't seem to overwhelm the hardware.
"Adagio for Tron" from Tron: Legacy Reconfigured (16/44.1 FLAC, Disney/Tidal ) is the Teddybears' remix of one of the tracks from Daft Punk's brilliant 2010 soundtrack. Not surprisingly, when the bass dropped here, it got dropped. Not only was the bass through the NeoBuds deep and huge; it was well controlled. Like what you'd hope to hear at an EDM concert through a 10,000W PA. Well, without the SPL of course.
These aspects would be for nothing if the mids and treble weren't great. Nothing makes me hate earphones faster than mediocre, harsh treble. I hate bad treble more than I like good bass. Fortunately it was smooth sailing here.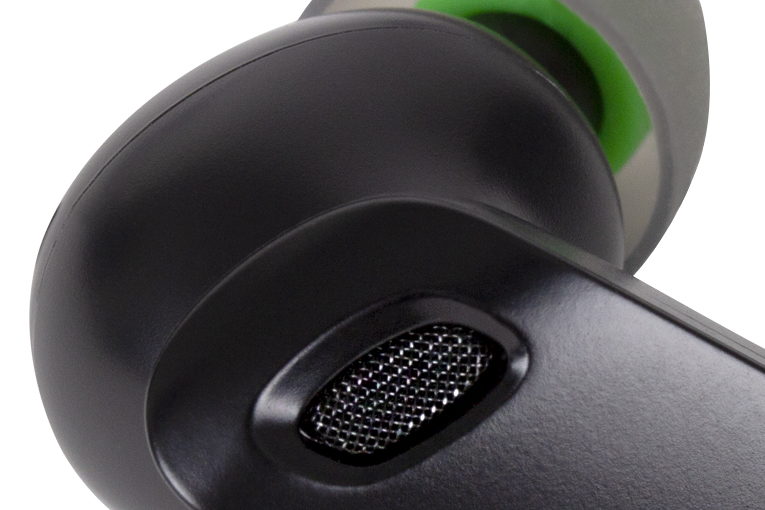 For example, "Under the Pressure" by The War on Drugs (Lost in the Dream, 16/44.1 FLAC, Secretly Canadian / Tidal). This track has overlapping sounds that can get muddled. The percussion was detailed, but it didn't bite like it can on lesser headphones. Adam Granduciel's voice didn't get lost, though it perhaps wasn't as forward as it could have been.
I don't want to make it seem like the Edifiers can't do delicate. Take, for instance, Planxty's "Little Musgrave" (The Woman I Loved So Well, 16/44.1 FLAC, Tara/Tidal), which has overlapping acoustic instruments all supporting Christy Moore's voice. The delicate guitars, bouzoukis, and mandolins can be piercing or harsh through some earphones, but through the Edifiers, they were detailed and lifelike. As someone allergic to bad treble, I heard nothing here that annoyed me. No small feat.
Comparison
Not surprisingly, I compared these to my B&W C5 Series 2 earphones. They have a lot in common, sound-wise, despite being radically different in their execution. Passive, wired headphones? What a novelty!
Air's "La femme d'argent" (Moon Safari, MQA, Virgin/Tidal) is a good test to figure out the differences. The C5s definitely had more bass—no surprise there—at least when the Edifiers were in the Classic EQ setting. You can dial in additional bass with the app's EQ without getting boomy. You'd really have to crank up a lot of bass frequencies to approach what you can get from the C5s though. The Edifiers were a touch more sibilant, but not egregiously so. Both had a lovely, wide-open soundstage.
There was little point in comparing the NeoBuds to the LG T90Qs, since those have all the audio prowess of beige paints. The Soundcore X10s were fine, but not in the same ballpark. Instead I compared them to the Beyerdynamic Free Byrd earphones that Brent Butterworth recently reviewed and liked. Keep in mind that these are even more expensive than the Edifiers, but it's an illustrative comparison.
The Byrds didn't have as wide a soundstage as the NeoBuds. Their optional foam tips did a better job blocking out ambient sound though. Overall I'd say the Byrds were a bit better balanced than the NeoBuds, with more treble. So if higher-frequency detail is your thing, the Byrds are the better choice.
I just wasn't able to dial in the sound to my liking as much with the Byrds as I was with the NeoBuds. In broad strokes, the Byrds sounded better balanced, with better midrange and more treble. But because of the better, more fine-tunable EQ with the Edifiers, I was able to get a sound I liked more with those. Edifier's software was better able to take advantage of the performance possible with their hardware.
I had both pairs with me for a few weeks, and there wasn't a time I reached for the Byrds over the NeoBuds. This isn't a knock against the Byrds, they're excellent earbuds, and if you told me you liked them more, I'd say you were also right.
Conclusion
In case it wasn't clear, I really liked the Edifier NeoBuds S earphones. They were regularly the pair I grabbed when heading out and about. I loved their sound and was impressed by their noise canceling, plus they're reasonably priced. I wish they played a touch louder and were a little easier to use, but neither of these aspects is a dealbreaker in my book.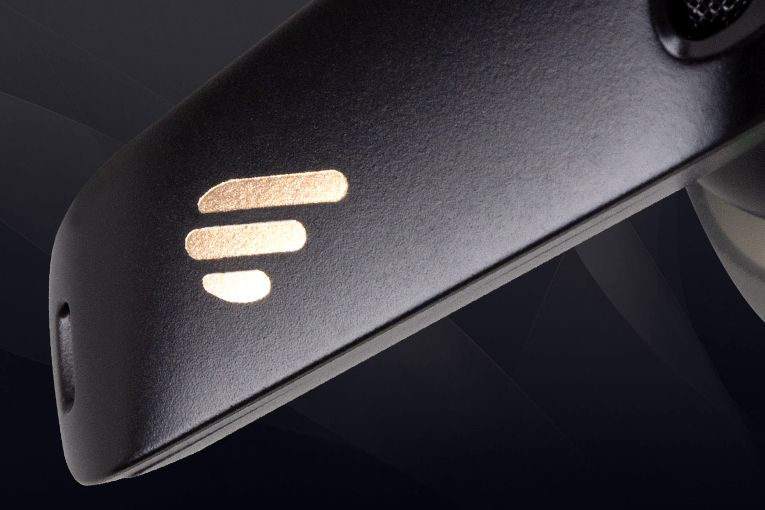 In most situations the NeoBuds S earphones could replace two of my beloved headphones (B&W C5 S2s and Bose QC20s). They sounded nearly as good as the C5s, and had noise canceling close enough to the QC20s. So while not outperforming either of them per se, the convenience of carrying just one pair, plus the fact that they're true wireless, makes these a winner.
. . . Geoffrey Morrison
This email address is being protected from spambots. You need JavaScript enabled to view it.
Associated Equipment
Smartphone: Google Pixel 5.
Laptop: Microsoft Surface Pro 8.
Model: Edifier NeoBuds S True Wireless Earphones
Price: $179.99.
Warranty: 12 months.
Edifier USA
428 Hemphill St.
Fort Worth, TX 76104
Phone: (877) 334-3437
Website: www.edifier.com