Sound:











Value:











(Read about our ratings)
Measurements can be found by clicking this link.
I tend to love headphones with planar-magnetic drivers. And I tend to love hybrid earphones using a couple of different types of drivers. So when I saw the oBravo ERIB-2a hybrid earphones ($899 USD) at CES a few years ago -- combining a planar-magnetic driver and a dynamic driver in a single earpiece -- I thought it might be love at first listen. Sadly, I never saw them again. But the new oBravo Cupid earphones ($179) seem like a miraculous rebirth of the ERIB-2a earphones -- the same concept, but at a price most listeners can afford.
The Cupids pack an 8mm planar-magnetic driver, similar in principle to the drivers used in the big audiophile headphones from Audeze and HiFiMan, into a tiny earpiece along with a conventional 6mm dynamic driver. The planar-magnetic driver serves as the tweeter, and the dynamic driver as the woofer. A 6mm dynamic is the smallest I can remember encountering, which leads me to guess that big, bumpin' bass wasn't a priority here. The oBravo website doesn't say what the crossover point is, or even if there is a crossover, but the abrupt drop in impedance at 2.5kHz seen in my measurements suggests that might be where the transition takes place.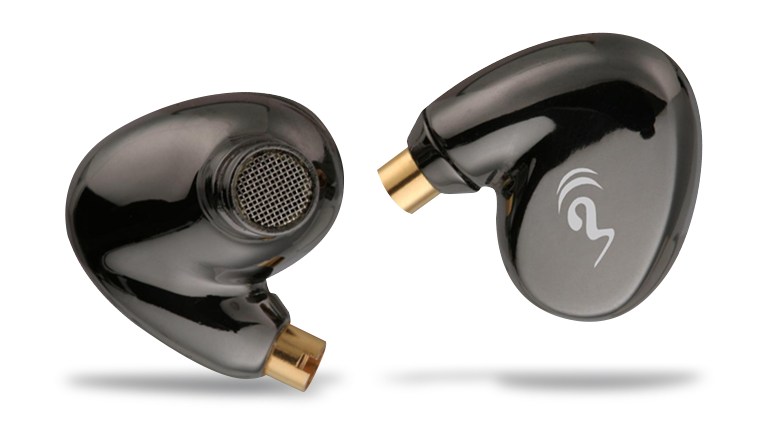 A price of $179 would be good for any hybrid earphones, and it's especially surprising for ones so exotic. In comparison, the Tin HiFi P1 earphones cost the same but have only a single planar-magnetic driver. Like most audiophile-oriented hybrids, the Cupids use over-ear cable routing, and they have detachable cables. They also have a very pretty metallic finish.
In the box
There's nothing in the Cupids' box besides the earphones, the cables, and silicone tips in three sizes; many hybrids in the same price range, such as the Triple Driver and Quad Driver earphones from 1More, include more tips and accessories. There's no case, but you can easily get a decent earphone case for less than $10 on Amazon.
The cables are tipped with proprietary MMCX connectors, so you can't swap them out with other brands of MMCX-tipped cables. The model reviewed here is the basic one, with a 4' (1.2m) cable tipped with a 3.5mm plug on the source end. The Cupids are also available with a 2.5mm balanced plug (and 3.5mm adapter), and a version that adds a 4.4mm balanced adapter, both at additional cost.
Use
When it's done right, over-ear cable routing, such as that employed by the Cupids, produces the most secure fit and the best seal you can get with earphones. Fortunately, oBravo got it right. For me and my listening panelists, the Cupids fit very securely and comfortably. There's no over-ear hook molded into the cables, but because the cables are almost as flexible as a piece of string, this wasn't a problem. That flexibility also makes the cables almost totally non-microphonic, so when you rustle them you don't hear booming in your ears.
My panelists got a good fit with the supplied tips, but even the largest ones weren't quite enough to get a tight seal in my ear canals, so I substituted Periodic Audio Hydrogen large silicone tips.
Sound
The Cupids have a realistic balance of bass to treble, with a punchy yet full bottom end and crisp top end. The midrange seems somewhat recessed, and the treble seems to have some unevenness.
I found this balance paid off best when I listened to hip-hop, which typically comprises only deep-bass hits, voices, drum machine hi-hat, and sparse electronic effects. For example, rapper Lil Baby's "Woah" (single, 16-bit/44.1kHz FLAC, Quality Control Music / Qobuz) clearly stood out from the mix. The bass hits had power but precision with no trace of overhang or boom, the fake hi-hat sounded as crisp as if I'd plugged the 'phones straight into a vintage Roland TR-808, and the keyboard accents stayed subtle and clear.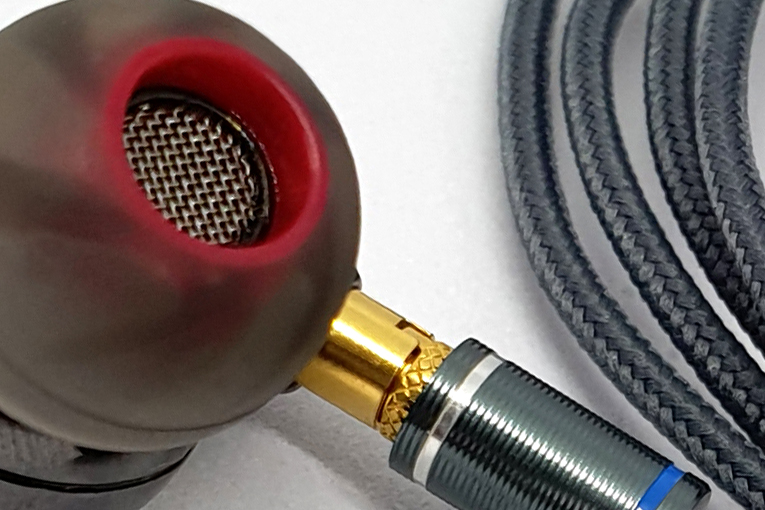 But with more natural-sounding recordings, such as "Something's Gotta Give," from jazz singer Jane Monheit's The Songbook Sessions: Ella Fitzgerald (16/44.1 FLAC, Emerald City / Qobuz), the Cupids' tonal balance didn't flatter the music as much. All the instruments seemed to be in good balance; there was just enough bass to keep things grooving without booming, and enough cymbals to keep the presentation vibrant and exciting. The upper harmonics of Monheit's voice sounded a little coarse and overemphasized, though, and while I could definitely get a sense of the fundamental tones of the cymbals, it seemed to me that some of the "air," or mid-/upper treble, of the cymbals was missing.
Jackson Browne's classic "Running on Empty" from the album of the same name (16/44.1 FLAC, Asylum/Qobuz) is a much older and busier recording, but my impression was the same. The music seemed well-balanced top to bottom, and the overall presentation sounded vivid and exciting. But Browne's voice seemed somewhat buried in the mix, the snare drum had a lot of "thwack" but not much body, and the sound got a little fatiguing after a while. In comparison, the 1More Quad Driver earphones sounded much mellower -- less initially exciting, but easier to listen to, with Browne's voice more present.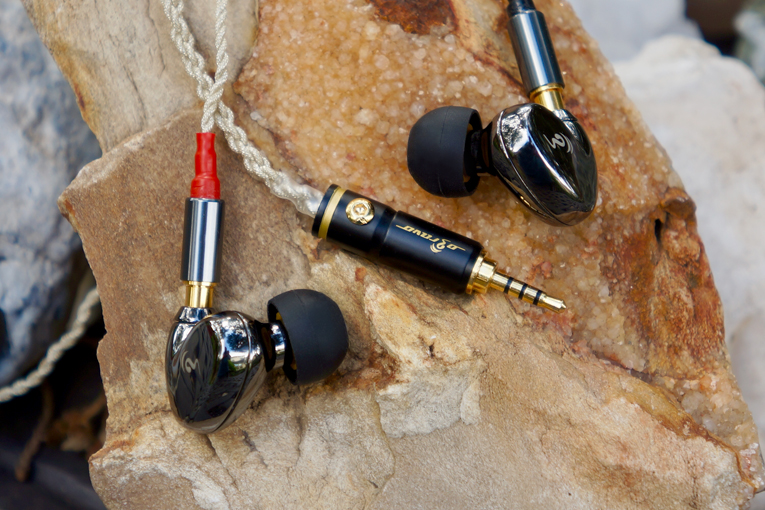 To get a perspective on what the "right" sound of "Running on Empty" should be, I tried two much more expensive (and widely praised) earphones: the Meze Rai Pentas and the Campfire Audio Solarises. The Rai Pentas gave me much of the excitement of the Cupids, but I could hear the fundamental tones and the upper frequencies of the snare drum much better, and Browne's voice seemed to be about as prominent as it should be. The Solaris earphones more or less matched the mellower balance of the Quad Drivers, but with more detail and depth.
Needing still more perspective, I pulled up a recording I've listened to literally a zillion times through a zillion headphones and earphones: Frank Sinatra and Count Basie's version of "Fly Me to the Moon" (The Complete Reprise Studio Recordings, 16/44.1 FLAC, Reprise/Qobuz). Even though I started with the brighter-sounding Rai Pentas to "reset" my ears in favor of the Cupids' tonal balance, with the Cupids, the horns tended to blare and Sinatra's voice didn't have the fullness I know it has. The Cupids' response did bring out guitarist Freddie Green's rhythm "chunking" very clearly -- although Green was famed for doing his best to blend into the band's sound rather than standing out.
Comparison
To get some additional feedback on the Cupids, I ran them by two outside listeners. First up was Joe Mariano, who has an audio-focused YouTube channel called Joe N Tell. Next was LeRena Major, a Los Angeles saxophonist who's held several positions in the music business and is a voting member of the National Academy of Recording Arts and Sciences. As I did, they used an iFi xDSD headphone amp-DAC connected to my Samsung Galaxy S9 phone playing tunes from Qobuz.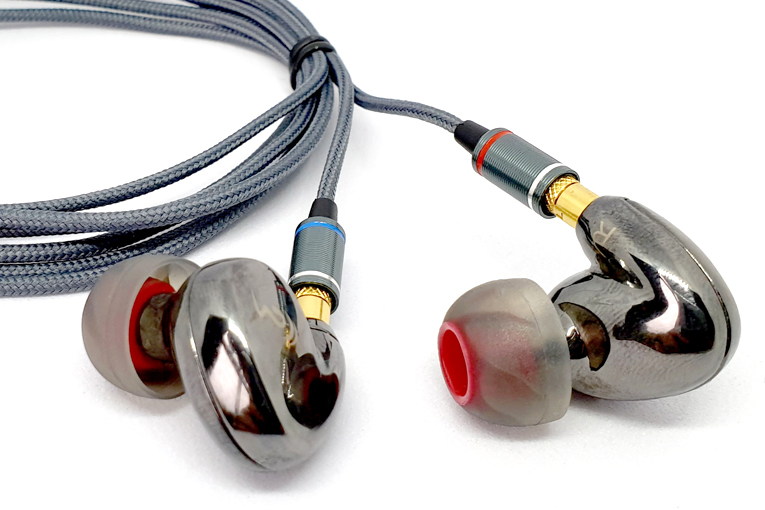 Both of them found things to like about the Cupids, and both raved about the fit and comfort. Both also noted that the midrange sounded muted. "I love the fit and I like the cable," Joe said, "but these definitely have a V-shaped curve. They sound a little bit bright -- a lot bright, really -- and they have good bass extension, but the mids are recessed."
LeRena largely agreed. "I thought the sound was very full and very enveloping, but the midrange sounded a bit muddy to me," she said. "The balance was fine, but it just didn't sound clear."
Conclusion
I know that some people like a vivid and exciting sound, and I have to say that the Cupids -- and many other very successful headphones and earphones -- do that. As our listening tests indicate (and my measurements confirm), these earphones have a characteristic "smiley" response, with boosted bass and treble. I've seen some positive reviews for these earphones, so I know some people like this sound -- and that might be you -- but it wasn't to my or my panelists' tastes.
. . . Brent Butterworth
This email address is being protected from spambots. You need JavaScript enabled to view it.
Associated Equipment
Headphone amp-DAC -- iFi xDSD
Smartphone -- Samsung Galaxy S9
oBravo Cupid Earphones
Price: $179 USD.
Warranty: Not specified.
Stymax International Co., Ltd.
4F., No. 495, Guangfu S. Rd., Xinyi Dist.
Taipei City 11074, Taiwan R.O.C
Phone: +886 9281-18469
Website: www.obravoaudio.com