Originally published on SoundStage! Xperience
1More Quad Driver earphones measurements can be found by clicking this link.

Headphone enthusiasts were surprised last year by the debut of the 1More brand. First, they were shocked by the low prices: 1More offered its Triple Driver hybrid balanced/dynamic earphones for just $99.99 USD, one-third the price most companies charge for such a product. Then they were surprised to find that the Triple Drivers included a generous suite of extras: six sizes of eartips in silicone and three in foam, plus a very nice and practical travel case. And they were stunned to hear how good the Triple Drivers sounded -- far better than all but a few earphones costing less than $200.
At the 2017 Consumer Electronics Show, 1More launched a step-up model, the Quad Driver (which, 1More tells me, also go by the model number E1010). The Quad Drivers add a third balanced-armature driver in each earpiece plus a nice-looking cable, and they have a dynamic driver that uses a carbon diaphragm instead of the polymer-coated metal diaphragm in the Triple Drivers' dynamic drivers.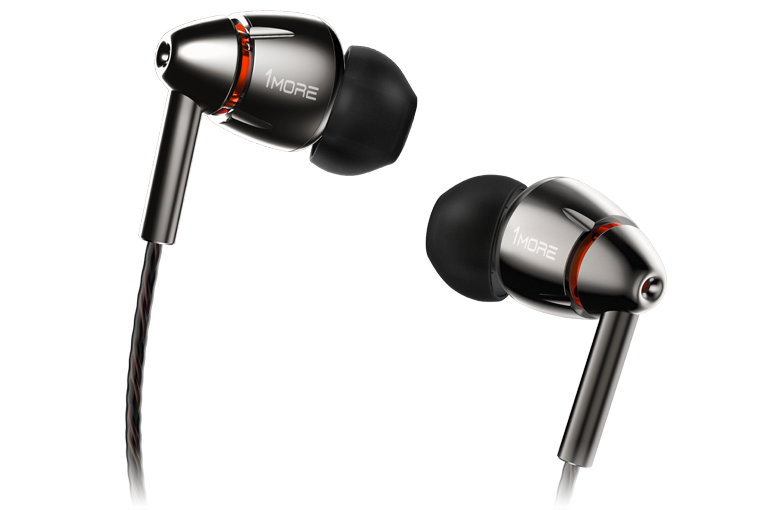 But the new model comes in at $199.99 -- twice the Triple Drivers' price for one more driver. Considering how good the Triples are, could the Quads possibly be worth $100 more? On the noisy, crowded floor of the Digital Experience event at CES, I sure couldn't tell.
According to 1More's website, the dynamic driver in each Quad Driver earpiece handles the bass and midrange, and two balanced armatures handle the highs. The third balanced armature handles "ultra-high" frequencies. Like the Triple Drivers, the Quads are Hi-Res Audio certified, which means they're tested to deliver frequencies up to 40kHz at usable levels. (I don't put much stock in this, as currently available headphone-measurement gear doesn't deliver meaningful results above about 10kHz.) The drivers are mounted in an aluminum body with a sound tube canted at 45°, to fit more easily into the ear canal.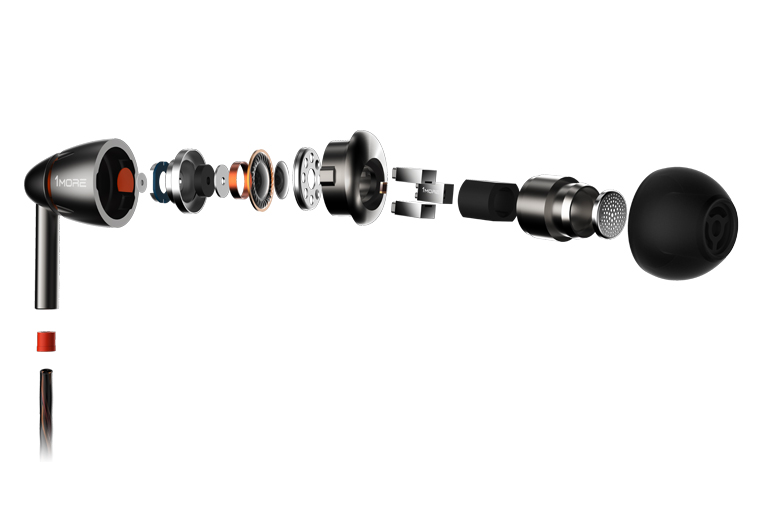 Like the Triple Drivers, the Quad Drivers were tuned by Luca Bignardi, a Grammy-winning recording engineer and musician whose credits go back more than 30 years and include work with Andrea Bocelli, Eros Ramazzotti, and many other artists.
In the box
To my knowledge, when it comes to extras, no earphone brand compares with 1More. Like the Triple Drivers, the Quad Drivers include nine pairs of eartips (six sizes in silicone, three in foam), a semi-hardshell travel case of real leather about the size of a cigarette pack, an 1/8"-to-1/4" (3.5-to-6.2mm) adapter, a dual-mono airplane adapter, and a shirt clip for the cable.
Use
As I've written dozens of times, the best thing an earphone maker can do to ensure good sound is to include eartips in lots of sizes -- the fit of the earpiece in the ear canal affects the sound that much. I was easily able to get a comfortable, well-sealed fit with the largest of 1More's silicone tips; the largest of the foam tips were actually too big to fit my rather large ear canals, which almost never happens.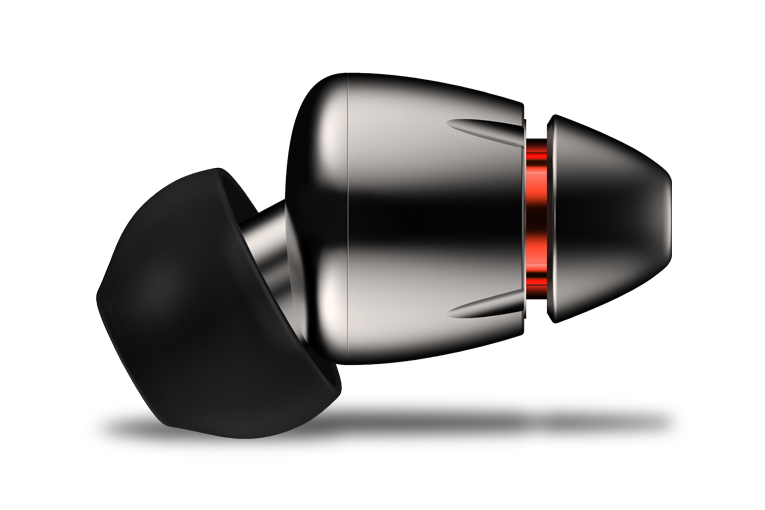 The Quad Drivers fit effortlessly and securely into my ears in part because of their angled sound tubes. The cable created considerably less rustling noise when it brushed against my clothes than did the Triple Drivers' cable. I wore the Quads for most of a flight from New York City to Los Angeles and experienced no discomfort at all, and their slim case fit easily into the purse-size bag I usually carry on planes.
Unusually, all of the inline microphone's and remote control's functions work with iOS and Android phones. Typically, we Android users suffer limited functionality with headphone remotes, but I was able to control volume, play/pause, and forward track skip using the Quads' remote with my Samsung Galaxy S6. I was also able to get more than enough volume with my Samsung, and way more than enough volume from my iPod Touch.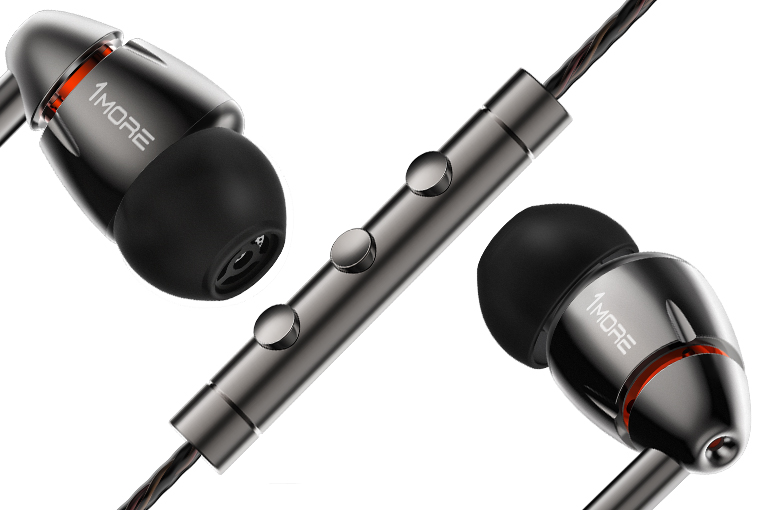 Sound
One good sign I noticed right off the bat: When I listened to "I'm So Lonesome I Could Cry," from jazz guitarist John Scofield's Grammy-winning Country for Old Men (320kbps Ogg Vorbis, Impulse!/Spotify), nothing about the Quad Drivers' sound jumped out at me. Everything seemed balanced and in character. The bass level was just right -- enough to keep the tune grooving, but not enough to obscure any detail. Scofield's guitar had his trademark dark, chorused sound, and the organ and drums gave the music a nice sense of space.
Nothing seemed at all out of order except the ride cymbal, which sounded a little more "clacky" than sizzly. Considering that Scofield's anything but a jazz purist -- and that, of course, I don't know which microphones or what sort of equalization was used in the recording -- I wasn't sure how the ride was supposed to sound. But I was sure that, overall, I very much liked what I heard.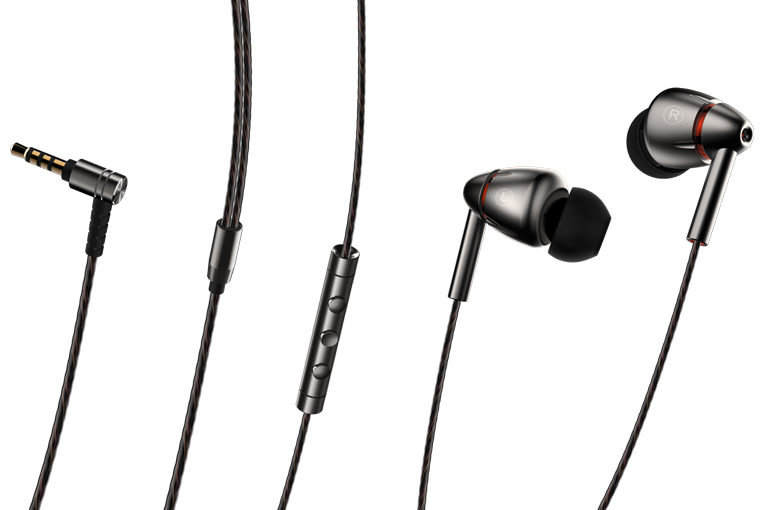 A recording I know much better -- An Evening of Jazz with the John Harmon Trio (16-bit/44.1kHz WAV, Klavier) -- told me more. Again, from the first few bars I could tell that the sound quality was well above average. In "Don't Get Around Much Anymore," Harmon's piano sounded embodied -- as if I were hearing a real piano in a real room. With any earphones, much less a pair costing $199.99, that's quite a trick to pull off. Again, the bass sounded tight, smooth, and perfectly balanced with the rest of the band. And again, the ride cymbal sounded clacky -- a bit more like a ping ride than a typical jazz ride. But that's the one flaw I heard, and I may be oversensitive about this -- I'm not a drummer, but I own a drum set that visiting drummers play, and in my (so far, failed) quest to find a decent, affordable jazz ride, I've tried a lot of cymbals.
To most listeners, including me, the most important test of sound reproduction is the human voice, and "The Best Is Yet to Come," a duet with Diana Krall on Tony Bennett's The Classics (16/44.1 WAV, Columbia/Legacy), provided a perfect test. I could hear just a hint of sibilance in Krall's voice through the Quad Drivers, none in Bennett's. And once again, the various instruments were in perfect balance. The muted trumpet and piano complementing the voices sounded wonderfully detailed, spacious, and real.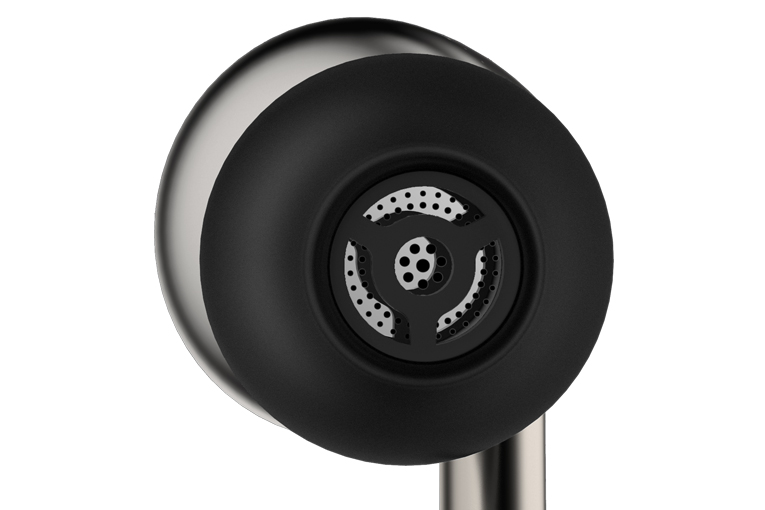 Lest you get the impression from my musical selections that the Quad Drivers were limited to wussy audiophile fare, they sounded just as impressive and exciting with "Madiba Riddim," from Drake's More Life (320kbps Ogg Vorbis, Cash Money/Universal/Spotify). Contrary to what many audiophile earphones present, the Quads impressed me with their kickin' deep bass. I also heard a surprisingly wraparound sense of space, another thing that's hard to pull off with earphones. In comparison with other earphones I had on hand, I did notice that the Quads seemed to have a little resonant hump in the bass at around 40 or 50Hz, but I haven't heard sealed-back earphones or headphones that didn't have a bit of a hump somewhere in the bass, and I assume that that little, unobjectionable hump was added either to give a little extra kick or to subtly balance out the sound.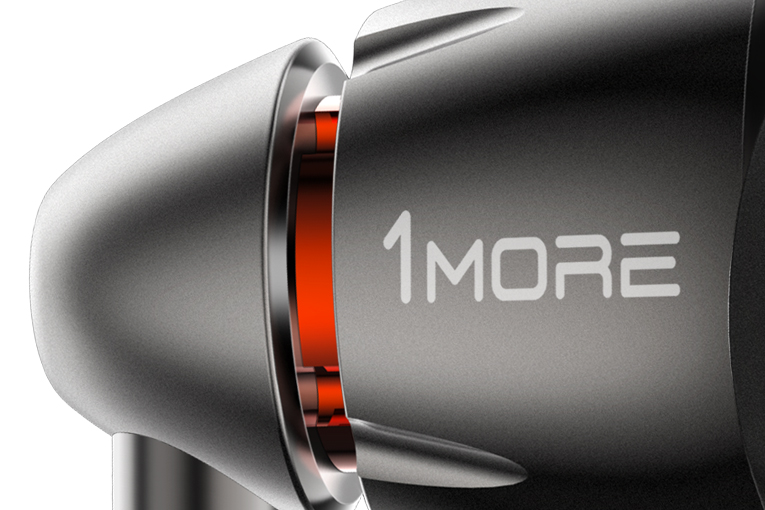 I spent some time comparing the Quad and Triple Drivers with the Audiofly AF1120s, six-driver earphones I recently tested for SoundStage! Xperience. Good as the Triples are for $99.99, the Quad Drivers were substantially better, mainly because they had a more present treble response and a bigger, more natural sense of space. I'd be surprised if any audio enthusiast wouldn't happily spend twice the price for the Quads. The AF1120s did deliver more detail in the mids and treble, but didn't present a greater sense of space, and their bass was somewhat attenuated relative to the Quad Drivers' more natural balance.
Conclusion
I'd recommend the 1More Quad Drivers enthusiastically even if they came with just three sets of eartips and no case. That such over-performing earphones come with nine sets of tips, a nice leather case, and no ergonomic or operational flaws, are wonderful bonuses. I can't think of earphones I like better for $200 -- or even for $300.
. . . Brent Butterworth
This email address is being protected from spambots. You need JavaScript enabled to view it.
Associated Equipment
Sources -- Apple iPod Touch (sixth generation), Samsung Galaxy S6 smartphone
DAC-headphone amplifier -- Parasound Halo P 5
1More Quad Driver Earphones
Price: $199.99 USD.
Warranty: One year repair or replacement.
1More
Phone: (855) 551-6673
Website: www.usa.1more.com