Sound:











Value:











(Read about our ratings)
Measurements can be found by clicking this link.

Like most high-end earphones, the Meze Audio Rai Pentas ($1099 USD) use multiple drivers -- but multiple drivers aren't a simple prescription for great sound. With speakers, a complex electrical crossover circuit is typically used to optimize each driver's performance. While some multi-driver earphones do include simple electrical crossovers, most of the tuning is done using acoustical chambers -- a method that typically requires much lengthier trial-and-error sessions than simple crossover tuning.
Most of the high-end earphones I've seen use multiple drivers firing into tubes that then flow into a single, large soundtube where the sound waves combine. The Rai Penta earphones use the less-common structure where individual soundtubes fire directly into your ear canal. The single dynamic driver flows into one tube, with a couple of extra vents in the earpiece providing additional tuning. Pairs of balanced-armature drivers fire into two more tubes.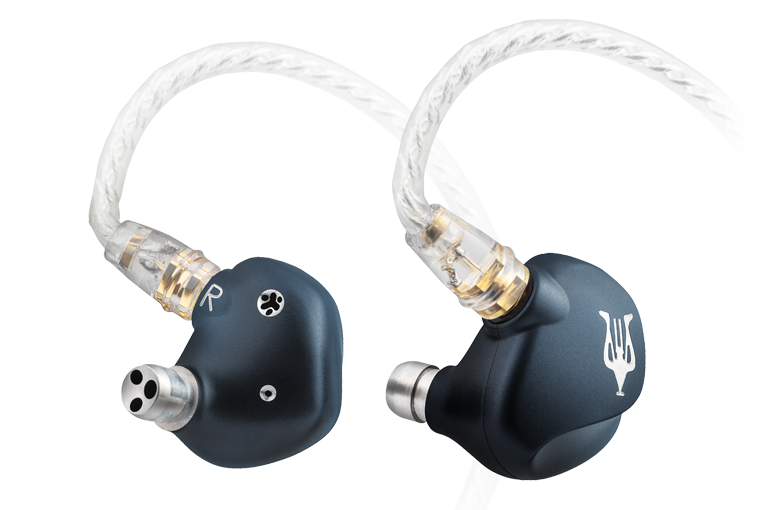 The Rai Pentas use the over-ear cable routing typical of high-end earphones, although their machined-aluminum earpieces are more compact than those of most competitors. The company's website quotes company founder Antonio Meze as saying, "Rai Penta is the culmination of three years of researching the most ergonomic shape and vivid sound for a universal IEM [in-ear monitor]," and a mere glance at the Rai Pentas would seem to at least confirm the first claim.
As for the second claim . . . only listening can tell us, but Meze certainly hit it out of the park with its first high-end headphones, the Empyreans, so I had high expectations for the Rai Pentas.
In the box
Befitting an over-$1000 set of earphones, the Rai Pentas include lots of stuff. The goodies include eight sets of eartips: single-flange silicone tips in four sizes, one set of double-flange eartips, two sets of "deep insertion" double-flange tips, and a set of Comply foam tips. Considering that proper-fitting tips are necessary for getting the best sound from earphones, this wide selection is a big plus.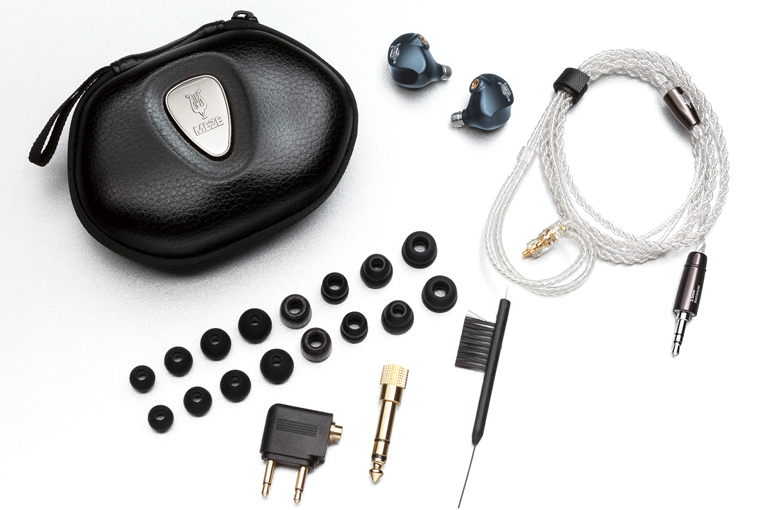 The included cable is a beautiful, braided four-conductor one made from silver-plated copper and tipped with a 1/8" (3.5mm) plug on the source end and MMCX connectors on the earphone end. At extra cost, Meze also offers cables tipped with 4.4mm or 2.5mm balanced plugs on the source end. Aftermarket cables will be easy to find.
Rounding out the package are a hardshell case, a 1/8"-to-1/4" (3.5mm to 6.3mm) adapter, an airplane adapter, and a cleaning tool.
Use
There's no question that the Rai Pentas are more user-friendly than most high-end earphones. They fit fairly easily into my ears and those of one of my listening panelists (the other found them somewhat difficult to fit), and they sat comfortably for as long as I wanted to listen, with no sharp edges to gnaw into my earlobes. This is a big improvement over my current favorite earphones, the Campfire Solarises, which do have a metal edge that digs into my earlobes, and are clumsy to put on because their cables lack molded earhooks.
While my panelists loved the broad selection of tips, none were quite large enough for me, so as I often do in reviews, I substituted Periodic Audio Hydrogen single-flange silicone tips, which fit me perfectly.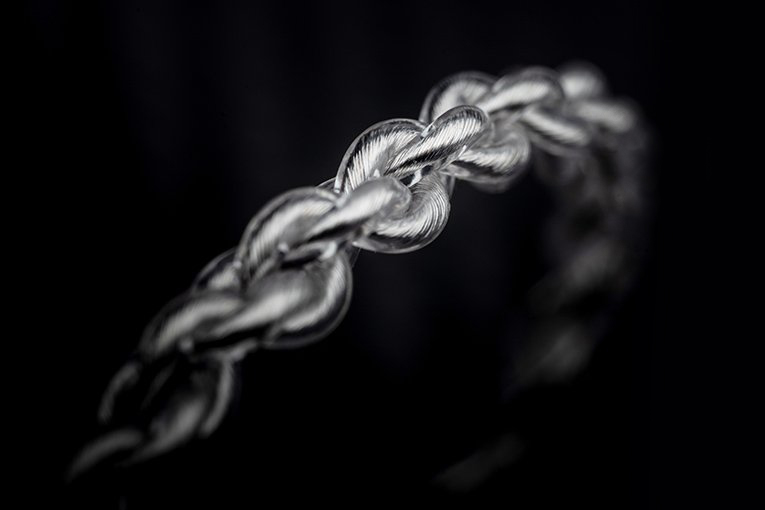 The Rai Pentas have a rated sensitivity of 110dB and an impedance of 20 ohms, which indicates they should be easy for any device to drive. That was certainly the case; my Samsung Galaxy S9 phone was able to get them cranking to a comfortable level at a volume setting of around 70%.
Sound
I could tell right off that Meze put a lot of work into the Rai Pentas, because all the voices in the music I listened to during my "casual messing around" period before the review sounded clean, natural, and uncolored. This doesn't happen by accident -- it's hard to accomplish in earphones because of the tiny size and limited acoustical tuning options. In fact, I won't even comment further on the midrange; it's so good I don't know what else to say about it.
To me, the Rai Pentas sound basically neutral, with upper bass that occasionally sounds a bit rich for my taste, and a slight mid- to upper-treble emphasis that subtly highlights cymbals and a few other instruments. Overall, they're clearly in the same league as the Campfire Solaris earphones, and comparing the two was a fascinating experience -- much like hearing two great jazz saxophone players trying to outdo each other in a cutting contest.
On one of my all-time-favorite tracks for evaluating headphones, "Shower the People," from James Taylor's Live at the Beacon Theatre (stereo 16-bit/44.1kHz WAV copied digitally from the DVD, Sony), the Rai Pentas sounded great, with a well-rounded, natural balance and no overt colorations. I loved the clarity of Taylor's voice and guitar, but the abundant upper bass and lower mids made the voice and guitar sound a little fuller than I suspect is natural. (Or maybe I'm just getting used to headphones using the Harman curve, which mandates a flat upper bass and lower midrange response.) The glockenspiel in the background sounded clearer than usual, too. The Solarises had a more neutral sound in the bass and lower mids -- more like typical open-back headphones than earphones -- and a mildly mellower sound overall.
I wanted to see how the Rai Pentas compared with the Empyreans, but I no longer have the Empyreans, so I pulled up my Empyrean review, re-read my descriptions, and played a cut from that review. I chose "Look to the Sky," from guitarist Emily Remler's debut album Firefly (16/44.1 WAV, Concord Jazz), because while I liked the sound, the Empyreans made the guitar sound more monotonic and characterless than usual. From what I could tell, the Rai Pentas sounded even better. The double bass on this jazz combo recording sounded pretty close to perfect, with a nice mix of deep body resonance and midrange/treble detail, and a remarkably even sound from note to note. I heard a similarly realistic sense of spaciousness in the drums and piano, although the crash cymbals and the upper range of the piano seemed somewhat emphasized.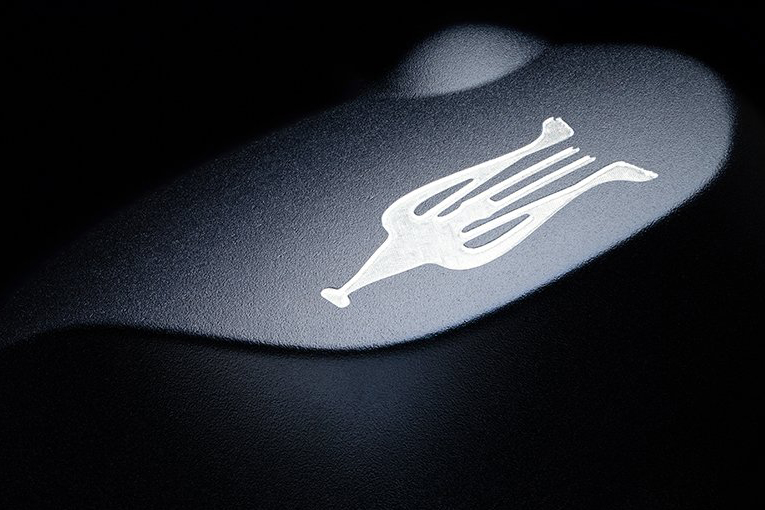 The Solarises gave me a very different feel on this recording. Both the guitar and the bass seemed to have less detail but more punch, and the cymbals and piano sounded smoother. Which is "right" is difficult to say. For example, when I play my own double bass, the sound varies depending on the room I'm playing in, the settings on my amp, whether or not the bass is miked, and what plucking style I'm using. So sometimes my bass sounds like what I heard with the Pentas, and sometimes it sounds more like what I heard with the Solarises. While I enjoyed both sounds, I liked the Pentas slightly better on this cut.
But on "Tell Me a Bedtime Story," from the terrific Fingerpainting: The Music of Herbie Hancock by Christian McBride, Nicholas Payton, and Mark Whitfield (16/44.1 FLAC, Verve/Qobuz), I valued the extra punch of the Solarises over the detail of the Rai Pentas. With the Rai Pentas, I heard more treble detail in the bass and guitar, as well as a somewhat bigger sense of space. But with the Solarises, I felt the punch of every bass and guitar note; the sound seemed more like it typically would in a live performance.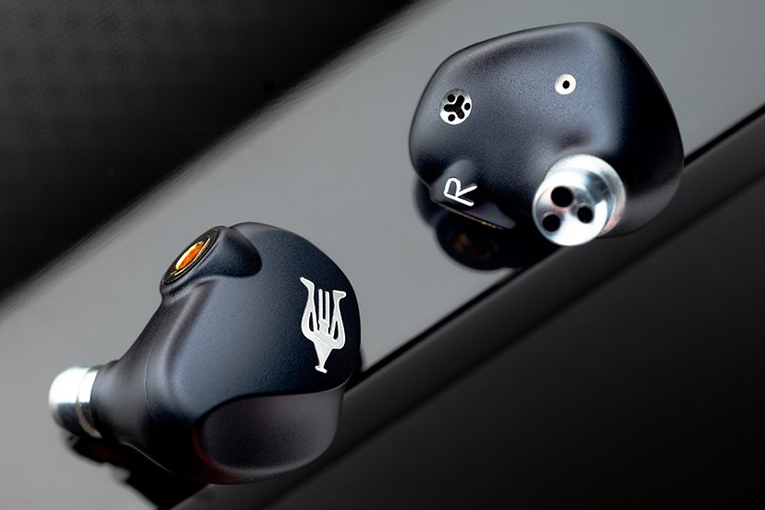 Same thing with Rush's rendition of the blues classic "Crossroads" (Feedback, 320kbps Ogg Vorbis, Anthem/Atlantic/Spotify). Through the Pentas, the electric bass had a lot more growl and edge, but the kick drum had a lot more impact and groove with the Solarises.
Looking for something a little more mainstream to play through these ultra-high-end earphones, I stumbled upon singer Summer Walker, whose tune "Come Thru" with Usher (Over It, 16/44.1 FLAC, LVRN/Interscope/Qobuz) turned out to be one of the hippest R&B jams I've heard this year. Through the Rai Pentas, I could hear every detail of the lush, spacious, dense mix, and Usher's vocals in particular sounded exceptionally clear -- an attribute that alone could persuade some listeners to purchase these. But through the Solarises, "Come Thru" sounded less intricate but downright funner, with more power in the kick drum, bass, and snare rimshot samples. Although I can only guess what sound Ms. Walker was going for, I'm fairly certain she'd go for the extra kick of the Solarises.
Comparison
To get some additional feedback on the Rai Pentas, I ran them by a couple of L.A.-based musician friends of mine: Dan Gonda, a multireed player who gigs with literally more bands than he can count, and LeRena Major, a Los Angeles saxophonist who's held several positions in the music business and is a voting member of the National Academy of Recording Arts & Sciences. They did much the same comparison as I did, using an iFi xDSD DAC-headphone amp connected to a PC laptop playing tunes from Qobuz.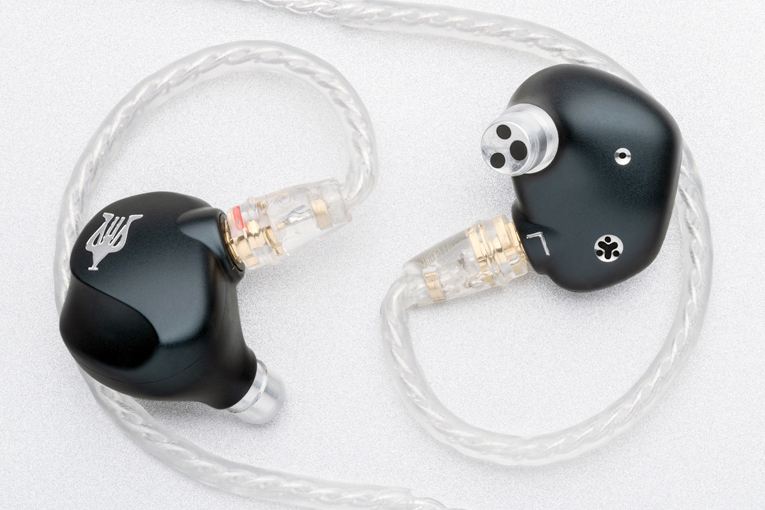 LeRena simply loved the Rai Pentas, even compared to the Solarises, which were something of a revelation for her (and me) when we originally tested them. "The bass is very clear and very 'anchoring' for all the tunes, so regardless of what else is in the mix, it's an overall fabulous sound," she said. "They're great whether you're playing them loud or soft. All the elements of the mix are clear. They fit me very well -- snug but not too snug."
Dan wasn't as enthusiastic, but I think it's because he had a hard time getting the Rai Pentas to fit well in his ears. Even after a few attempts, changing tips a few times, etc., he never got the bass he wanted out of them.
Conclusion
The fact that the Rai Pentas are sonically competitive with my favorite earphones while delivering far more evolved ergonomics and costing 27% less earns them a strong recommendation from us. I love the Campfire Solarises' extra kick and more powerful dynamics . . . but I also love the Rai Pentas' superior detail and comfort. This is one of those choices that you have to make based on your own tastes and priorities. Fortunately, both of these companies are regular attendees at the CanJam shows, so if one of those shows is convenient for you, you have a chance to compare them directly.
. . . Brent Butterworth
This email address is being protected from spambots. You need JavaScript enabled to view it.
Associated Equipment
Headphone amp-DAC -- iFi xDSD
Smartphone -- Samsung Galaxy S9
Meze Audio Rai Penta Earphones
Price: $1099 USD.
Warranty: Two years repair or replacement.
Meze Audio
Str. Independentei 12/3
Baia Mare, 430071, Romania
Phone: +40 731-426-316
Website: www.mezeaudio.com