Sound:











Value:











(Read about our ratings)
Measurements can be found by clicking this link.
When I lost my Sony MDR-7506 studio headphones a while back, I faced a conundrum. I'd switched to using AKG K371s for mixing and monitoring my music recordings, but I still needed something visiting musicians could wear when laying down tracks. I just wanted a good, cheap set of studio headphones, but professional reviews of cheap headphones are few and far between. The AKG K72s looked like they might be a safe bet: established brand with a strong rep for studio gear, rave reviews on retailer websites, apparently decent build quality, and $49 on AKG's site—or just $38.95 on Amazon.
Could I really score decent studio cans for $39? Imagining I was getting them for free when Amazon showed me a $0 total after applying cash-back points from my Visa card, I hit the "buy" button—but I felt I could almost hear my GRAS 43AG ear and cheek simulator telling me, "These are going to suck."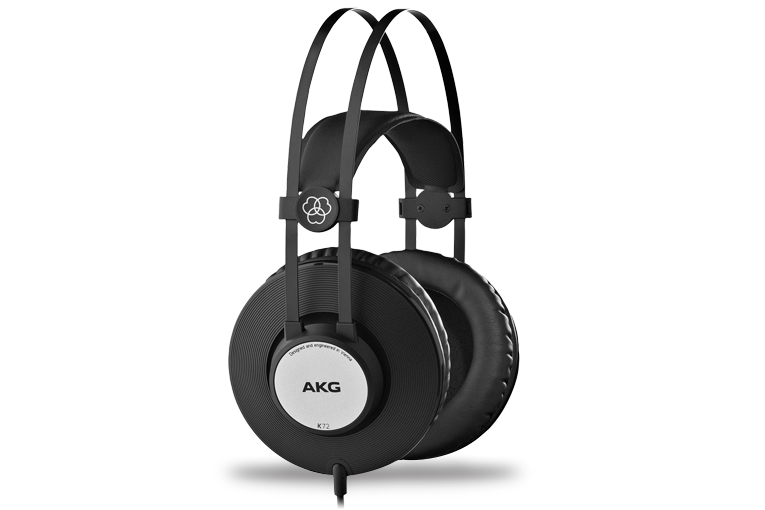 AKG's web page for the K72s touts the usual audio-marketing boilerplate, such as "extended frequency response that reveals every detail," but there is one interesting claim. AKG says the K72s have "an exceptional level of audio isolation," by which the company means the opposite of what we consumer product reviewers mean when we talk about isolation. AKG is talking about how much sound leaks from the headphones into the surrounding environment, which in studio headphones is important because anything that leaks out of the headphones can get into the recording microphones. According to AKG, the K72s have a special acoustical chamber between the driver and the hinge that reduces leakage. Hmm . . . maybe I'll measure that!
Otherwise, the K72s are very lightweight headphones with large, round earcups, similar in design to the K240s, which have been around for decades. They have a permanently attached, 9.75′ (3m) cable tipped with a 3.5mm stereo plug. Impedance is rated at 32 ohms, and claimed sensitivity is a very high 112dB with 1mW of power, so anything more robust than a crystal radio set should be able to drive them to loud levels.
In the box
The package includes the headphones and a 3.5mm-to-6.35mm (1/8ʺ to 1/4ʺ) adapter.
Use
It's rather embarrassing to feel how comfortable these cheap headphones are next to some audiophile models costing 20 or 30 times as much. The earpads aren't plush, but their size and the ergonomic design of the headband distributes the medium-ish clamping force fairly evenly around the ears. They're as light as super-cheap, plastic kiddie headphones, and true to their specs, a smartphone or tablet can easily get them cranking.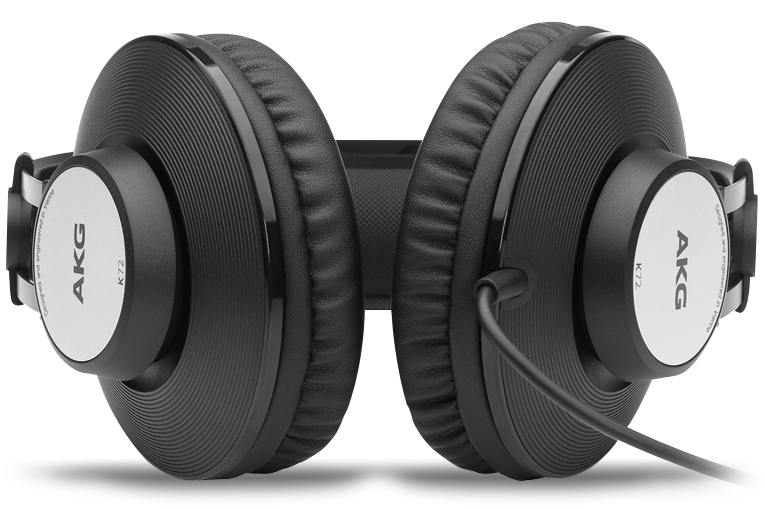 The only pain point for me is that the driver baffles, which are covered only with very thin fabric, rubbed against my earlobes slightly, but the 95% of people who have smaller earlobes than mine likely won't notice this. Also, the K72s are too bulky to be convenient for mobile use, but headphones with a 3m cable clearly weren't built with mobile use in mind.
Sound
Before I listened to the K72s, I broke them in for ten hours, as I do with all headphones and earphones I test. And purely because they happened to be sitting around, I employed them for something out of the ordinary: comparing some of the Dolby Atmos music mixes just introduced on Apple Music with stereo mixes from Qobuz. They certainly seemed up to the task, without much apparent midrange coloration and with enough high-frequency detail for me to tell which of the Atmos music mixes were radically different from the stereo mixes, and which ones were puzzlingly similar. I did note that the sound seemed tilted a tad toward the bass, though.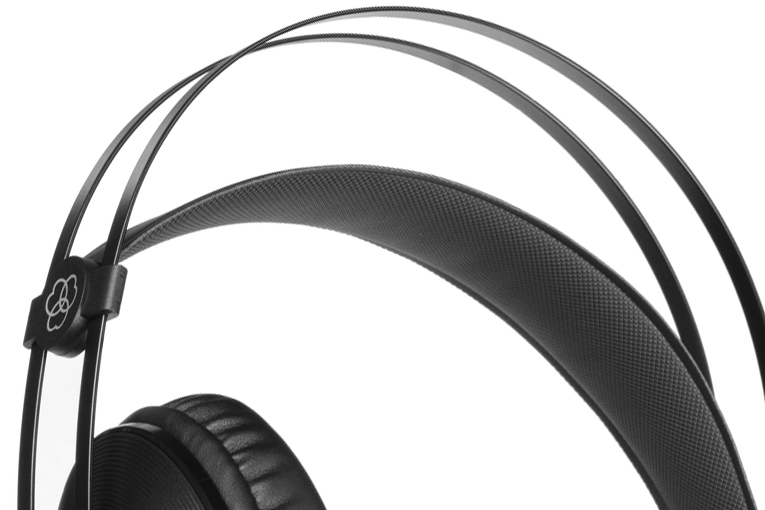 Putting the razzle-dazzle of Atmos aside, I used the K72s to check out Hope Amid Tears: Beethoven Cello Sonatas, by Emanuel Ax and Yo-Yo Ma (24-bit/96kHz FLAC, Sony Classical / Qobuz). On "1. Allegro ma non tanto" from the Sonata No. 3 in A Major, Op. 69, I got the feeling I was listening to an essentially flat headphone, but with the bass tilted up a couple of decibels and the treble down a dB or two. Ma's cello sounded warm and full—perhaps a bit unnaturally warm and full—and Ax's ax (a grand piano) sounded even warmer, to the point where I'd call it a tad soft. So that apparent tonal balance tilt reduced my subjective sense of space and detail in the recording. I enjoyed it very much, although I wasn't dazzled; the K72s, to me, sounded like nothing more than a typical well-tuned set of mass-market headphones.
I'd recently used Joni Mitchell's "Big Yellow Taxi" (Ladies of the Canyon, 16/44.1 FLAC, Warner/Qobuz) to ferret out the sonic colorations in the EarFun Free 2 earphones, so I tried the same cut with the K72s. At first, it sounded a little weird—but I soon figured out why. What seemed like a boost in the upper bass or lower mids, maybe around 200 or 300Hz, made Mitchell's voice and acoustic guitar seem slightly bloated, which in turn had the psychoacoustic effect of dulling the treble details a bit. Overall, it sounded pretty good, though; these are the kinds of relatively mild colorations I'd expect to hear in all but the best headphones—but a little more air and spaciousness would certainly be welcome.
I needed some serious double-bass action to get a better handle on these headphones' bass colorations, so I put on a double-bass recording I know well: Holly Cole's version of "Good Time Charlie's Got the Blues" (Night, 16/44.1 FLAC, Rumpus Room / Qobuz). But this recording didn't really help, because the bass sounded pretty fantastic—clear and well-defined in the fundamental tones, with a little extra kick in the upper harmonics (around 1.5kHz, I guessed) that brought out the subtleties of the fingering and plucking. I came away even more impressed with the bass playing (by either David Piltch or Greg Cohen, though I'm not sure whom). Cole's voice sounded great, too; maybe there was a bit of extra warmth in her lowest register, but it was subtle and didn't detract from the sound. Again, I found myself wishing for a little more air, but remembering that these headphones cost me about the same as a good bottle of bourbon.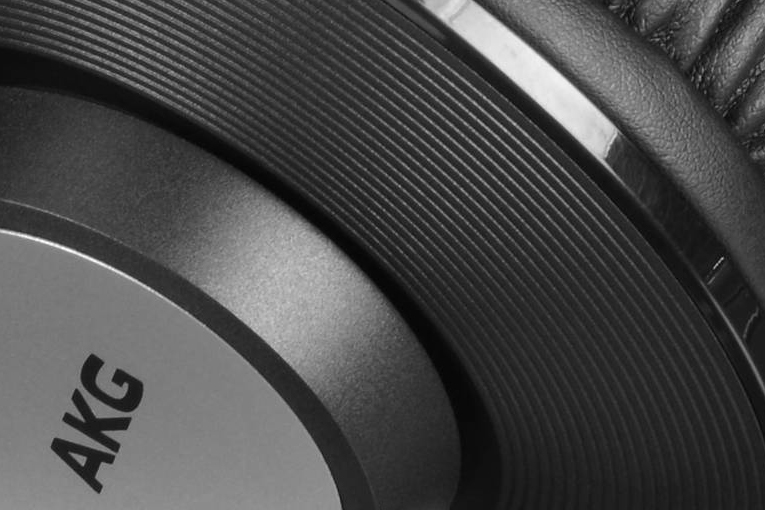 For a little extra confirmation, I went to something I know really well: "Buddy's Bounce," the first track from my upcoming album Take2 with saxophonist Ron Cyger on Outrageous8 Records, knocked down to 256kbps MP3. I fussed for months over the recording and mixing of this tune, and listened to it through everything from my JBL 305P MkII pro monitors to my car stereo to Bluetooth speakers to perhaps a half-dozen sets of headphones and earphones. Through the K72s, it sounded very close to what I heard from my JBLs. As with the Holly Cole recording, my double bass sounded tight and defined on the bottom, and for better or worse, I could clearly hear the subtleties of my plucking. But I definitely felt I heard maybe 2dB of bloat in the upper bass or lower mids—much as with the Joni Mitchell recording, there seemed to be a subtle veil of "whoom" over the whole recording. (If you want to hear what this mix sounds like, here's a pre-mastered version; I'll post a link to the final version when it hits Spotify and Apple Music.)
Still, were the K72s good enough for visiting musicians to use when tracking? Easily.
Comparison
An obvious and inescapable comparison for the K72s is the K371s. The K371s are among the headphones that most closely track the Harman curve, and while they've been the subject of some contention on headphone enthusiast forums, they seem to have been very well received in pro audio circles. Unfortunately, I didn't have any other headphones near the K72s' price I could compare them with—the best I could do was my JLab Audio Neon Bluetooth headphones, originally $30 and now down to $20, which I often use for dog-walking because they're cheap, good, and comfortable.
Knowing the K72s versus the K371s would be a tough comparison, I pulled out one of the audio world's most reliable test tracks: Tracy Chapman's "Fast Car" (Tracy Chapman, 16/44.1 FLAC, Elektra/Qobuz). On the K72s, that upper-bass bloat hit me right away; the bass guitar notes were less distinct than they often are, and that "whoom" I talked about subjectively clouded Chapman's voice a bit. Through the K371s, the bass notes were clearer and the vocals were more prominent and easier to hear; the detail in the acoustic guitar notes came through better, too.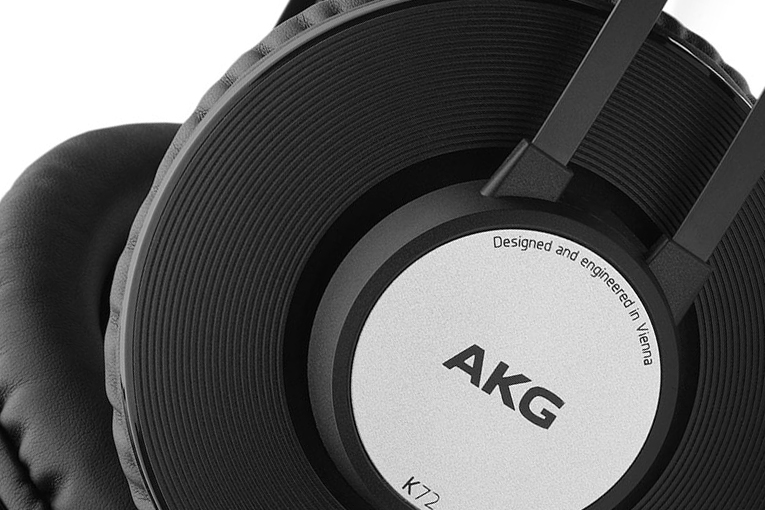 But the K371s are $149 headphones. How would the K72s compare with the ultra-mass-market JLabs? Remember here that the JLabs are Bluetooth-only, so hindered by having to employ the Bluetooth SBC codec, and they're also an on-ear design; both headphones have 40mm drivers, but the K72s' much larger earpieces gave AKG's engineers a lot more acoustical leeway. Anyway, the Neons sounded a little flatter and more tonally balanced than the K72s—not surprisingly, with less bass, which reduced the impact of any bass colorations the Neons might have had—but they sounded cruder overall, with less clarity and a bit of roughness in Chapman's voice. Whether that's a result of the Neons' acoustical design or SBC artifacts, I don't know.
Conclusion
If you've been looking for audiophile-grade sound for less than $50 . . . well, you'll have to keep looking, because the AKG K72s don't do that and I don't know of any headphones that do. (Maybe some earphones could legitimately make that claim.) But for a set of knock-around headphones to use in places where you need sound monitoring and don't want to fret too much about the headphones getting left on the floor and stepped on or run over with an office chair, they're a great choice. I'd love to do some more tests of cheap studio headphones to see what else is out there, but the K72s will easily do the job for me.
. . . Brent Butterworth
This email address is being protected from spambots. You need JavaScript enabled to view it.
Associated Equipment
Smartphone: Samsung Galaxy S10
Tablet: Apple iPad
DAC-headphone amplifier: AudioQuest DragonFly Cobalt
AKG K72 Headphones
Price: $49 USD.
Warranty: One year parts and labor.
AKG
Phone: (888) 452-4254
Website: www.akg.com