Sound:











Value:











(Read about our ratings)
Measurements can be found by clicking this link.

The Technics EAH-TZ700 earphones employ an unusual design that almost no one uses, and that's for very good reason. From an engineering standpoint, it makes a lot of sense. But from a marketing standpoint . . . not so much.
The design I'm talking about packs a single driver into a tiny enclosure made from highly non-resonant material. The enclosure adds no significant resonance of its own, and the size means there's no need for a long or twisty soundtube between the driver and your eardrum. You're hearing the driver and almost nothing else. I previously recall seeing similar designs in only two earphones: the Campfire Audio Comets and Sennheiser IE 800s.
Of course, if you're hearing nothing but driver, it had better be a good driver. The 10mm driver in the EAH-TZ700s uses an aluminum diaphragm with a compliant surround; the Mylar drivers found in most mass-market earphones use no surround and simply attach the diaphragm directly to the frame. The driver uses ferrofluid around the voice coil (a feature commonly found in tweeters) to provide cooling and damping. The surround and the fluid combined should do an excellent job of damping distortion and high-frequency resonances.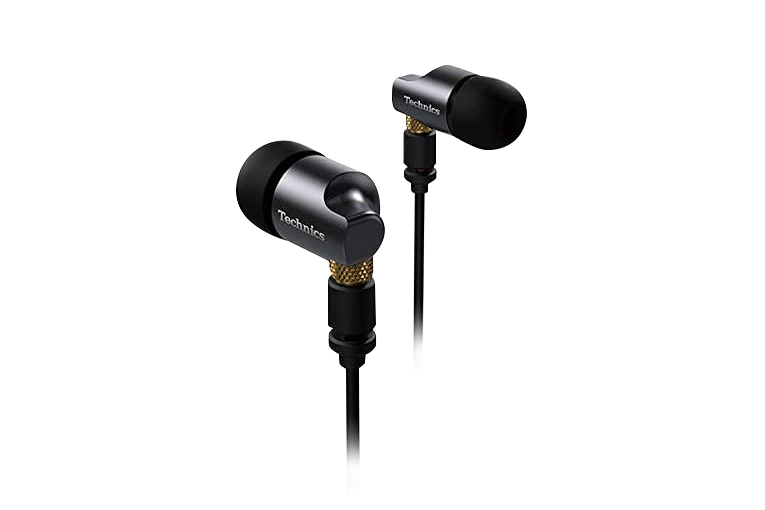 The part of the enclosure holding the driver is made from cast magnesium, while the part forming the soundtube is made from titanium. The cables are detachable, using MMCX connectors.
So what's the marketing problem? These earphones tend to be expensive, even though they contain just a single driver. The Campfire Comets weren't too bad at $199 (all prices USD), but the Sennheiser IE 800s cost $999 and the EAH-TZ700s come in at a whopping $1199. Earphones with two, three, or even five drivers are available for much less. Even the most technically savvy audiophiles, who know that sound quality doesn't necessarily increase with driver count, may hesitate to spend more than $1000 on such small and simple earphones.
The EAH-TZ700s are rated at 37 ohms impedance, with a rated sensitivity of 102dB/1mW, so they should be easy for portable devices to drive. Interestingly, frequency response is rated at a colossally wide 3Hz to 100kHz, but the specs don't say how far down the output is at those frequencies, and current headphone measurement gear is effective only to 20kHz.
In the box
The package includes the earphones and two cables, each 3.9' (1.2m) long. One is tipped in a standard 1/8" (3.5mm) plug, the other in a 3/32" (2.5mm) balanced plug. A case is included, and it has sockets for the earphones and a slot in which you can wind the cable. It's nice enough, although it doesn't scream "I just spent $1200 on earphones!"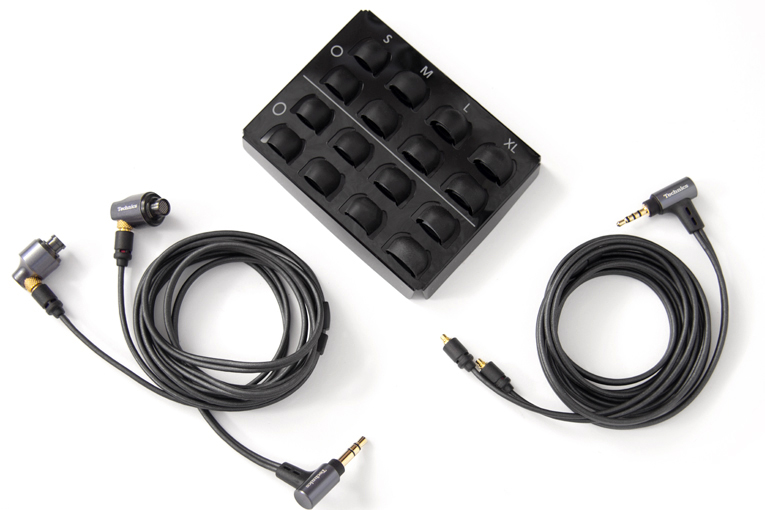 Technics includes eight sets of silicone tips with the EAH-TZ700s: round tips in four sizes, and oval tips in four sizes.
Use
Only the XL-size oval tips were big enough to seal in my roughly 10%-oversized ear canals, but with those tips fitted, the EAH-TZ700s felt reasonably secure in my ears and comfortable to wear for hours. Should you have a fit problem, the earphones' standard 6mm-diameter soundtubes should make it easy to find aftermarket tips that work for you.
A huge advantage of these ultra-tiny high-end earphones is that they tend to fit deep and securely into the ear because there's no bulky body keeping them stuck in the pinna. This tends to give them somewhat better-than-average isolation, something I noticed when I was walking my dog while wearing the EAH-TZ700s. This isolation makes them great for use in the office, or if you're home with your kids 24/7 because of the COVID-19 pandemic.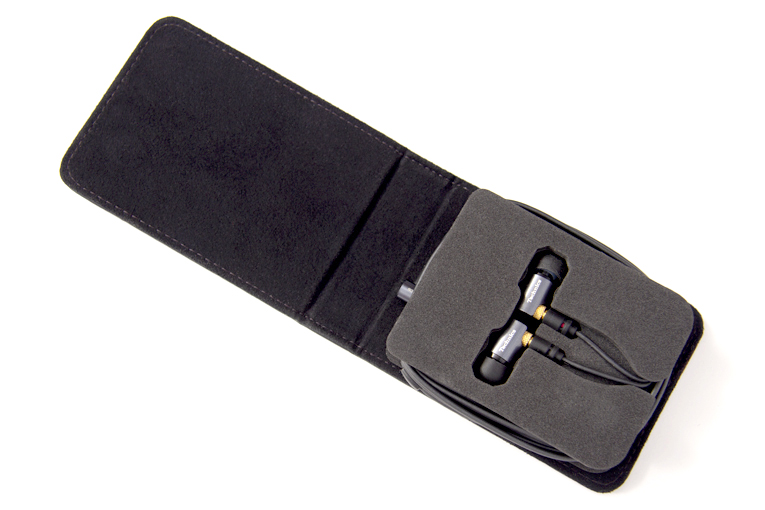 The EAH-TZ700s are very easy to drive; I got them cranking to extremely loud levels with just my Samsung Galaxy S10 phone, and they never sounded like the earphones or the smartphone's headphone amp was straining.
Sound
The first thing I heard through the EAH-TZ700s was a wonderful find on Spotify that's been daily listening for me over the last month or two: jazz organist Shirley Scott's Soul Shoutin' (320kbps Ogg Vorbis, Prestige/Spotify), a collection of 1960s collaborations with her then-husband, tenor saxophonist Stanley Turrentine. I've heard a few of these tunes on other albums, but this one seems to have been remastered for its 1994 release, because it sounds much better, comparable to modern remasters of Turrentine's Blue Note and CTI sides. Through the EAH-TZ700s, Soul Shoutin' embodied the hard-grooving sound that characterized most of Turrentine's career, with a just-right amount of bass, whether from Scott's organ pedals or guest bassists, and wonderfully clear, rich renditions of Scott's Hammond B3 and Turrentine's tenor.
I did notice what I thought was a little extra emphasis on the mid-treble, which brought the ride cymbal and the snare wires of the snare drum out a bit more, but it was to a subtle-enough degree that I couldn't know whether the emphasis originated in the mastering or the earphones. After more listening, I came to believe it's in the recording, because the EAH-TZ700s sounded at least as neutral as any earphones I had on hand -- and perhaps the most neutral.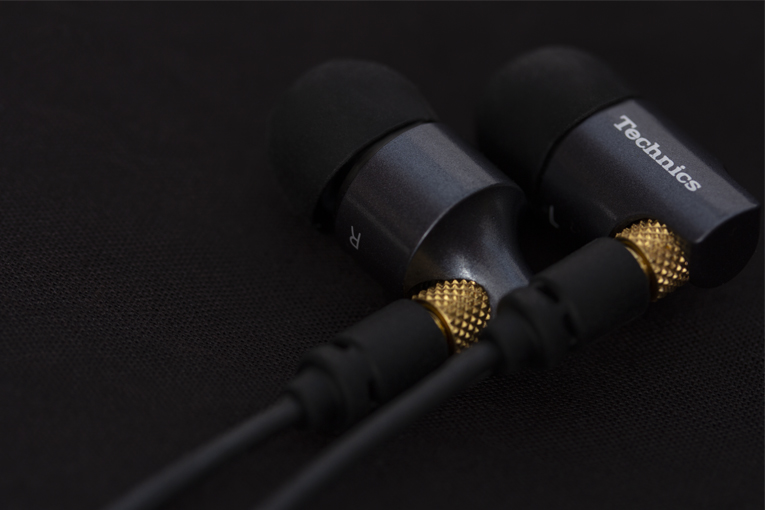 That was certainly the case when I put on Alicia Keys's wonderful new album, Alicia (24-bit/44.1kHz FLAC, RCA/Qobuz). On "3 Hour Drive," a duet with the English singer Sampha, the EAH-TZ700s unpacked this sparse yet intricate production beautifully, with a great slow groove that never seemed sluggish (as it might with earphones that are too bassy) or lacking in kick (as it might with earphones that are too trebly). The bass (all programmed, like almost everything else on this album) struck an addictive balance between fat and defined -- exactly what almost everyone who plays a bass instrument wants to achieve, I think. (OK, not Chris Squire.) Keys's and Sampha's voices sounded utterly, completely uncolored; I just couldn't find a thing to criticize in the earphones' vocal reproduction. Nor in their reproduction of the little details: subtle sounds of water dripping, colossally reverberant handclaps, etc.
I was a little shocked when I heard the Doors' "Queen of the Highway" from the newly remastered 50th-anniversary edition of Morrison Hotel (24/96 FLAC, Rhino-Elektra/Qobuz), because I never thought a Doors album could sound so good. Considering the weird mix -- for example, the kick drum is in the right channel, while the snare and cymbals are in the left -- and the late-1969/early-1970 recording dates, I would guess it was done on four-track tape, and certainly eight tracks at the most. But unusual as it was, I could hear through the EAH-TZ700s that the recording itself was remarkably natural-sounding and far more detailed in the treble than I'd expect from circa-1970 reel-to-reel multitrack tape recording. Try as I might, I couldn't spot a sonic coloration in Jim Morrison's voice, the drums, the organ, or the two tracks of electric guitar.
Comparison
I compared the EAH-TZ700s with several other earphones, including some over-$1000 models such as the $1099 Meze Rai Pentas, the original version of the $1499 Campfire Solarises, and the $329.95 JVC HA-FW01s, the latter of which I added because it, too, is a single-driver dynamic model, although a much less costly one. For these comparisons, I used the AudioQuest DragonFly Cobalt DAC-headphone amp.
"Oh!" I exclaimed when I put on Diana Krall's recent recording of "Almost Like Being in Love" (This Dream of You, 24/44.1 FLAC, Verve/Qobuz), after already having heard it through a few other earphones. That's because the little EAH-TZ700s, to my surprise, sounded the most neutral of all of them, with plenty of detail in the treble, ample and well-defined bass, and probably the clearest and least-colored reproduction of Krall's voice. Other than the Campfire Solarises, the other earphones all produced notable colorations -- for example, a bit of spittiness in the Rai Pentas, and a little softness in the HA-FW01s. The Solarises did bring the vocals slightly more forward in the mix, which led me to believe they were adding just a little touch of emphasis around 2kHz.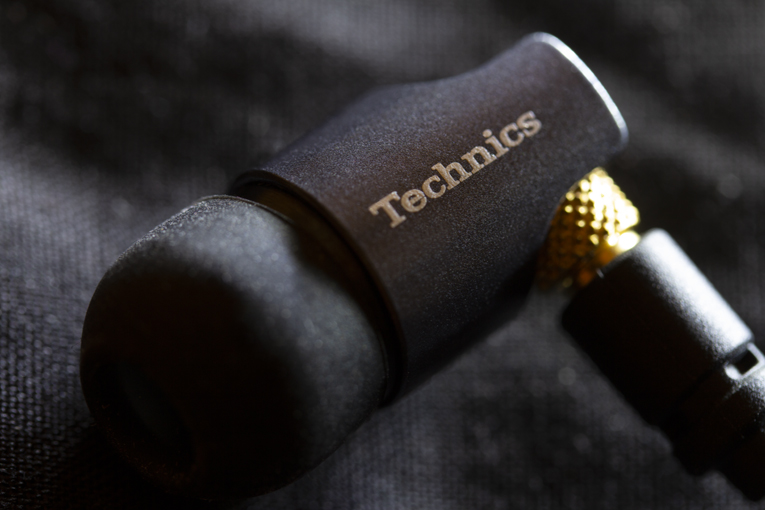 On Loudon Wainwright III's delightful album I'd Rather Lead a Band (24/48 FLAC, Search Party / Qobuz), he joins forces with the too-seldom-recorded 1920s/'30s-style big band Vince Giordano and the Nighthawks, and the result is a great recording that immediately reveals differences among transducers. And once again, it ended up being mostly a contest between the EAH-TZ700s and the Solarises. Both sounded similarly smooth and uncolored on Wainwright's voice (the Rai Pentas added a little extra zip in the upper mids), and all three earphones were able to differentiate spatially between Wainwright's intimate, close-miked vocal and the ambient, studio-filling sound of the big band. The only place either the EAH-TZ700s or the Solarises gained an advantage was in Giordano's bass saxophone solo. We don't hear this instrument often -- a bass sax weighs about 30 pounds, and the case is huge -- and even being a fairly active musician, I've heard one played live only once, about 35 years ago. But it's an incredibly robust, ear-catching instrument with loads of body and character. And on this recording, the sax had the most body when heard through the Solarises, while it sounded subtly thinner and less captivating through the EAH-TZ700s and the Rai Pentas.
Conclusion
I'm surprised to say I think these tiny, inauspicious-looking earphones are as good as any I've heard. You might find earphones you like a little better -- I'm still trying to decide whether I prefer the Campfire Solarises to the EAH-TZ700s -- but I think you would have a very tough time finding earphones that sound more natural and less sonically colored. It's perfectly understandable if you want something fancier, with more drivers, interchangeable filters, a cooler-looking design, an ostentatious woven cable, or a fancy leather case. But for pure performance, with none of the fussy fit often encountered with earphones using over-ear cable routing, I think the EAH-TZ700 earphones are a sure bet.
. . . Brent Butterworth
This email address is being protected from spambots. You need JavaScript enabled to view it.
Associated Equipment
Amplifier -- Schiit Magnius
DAC-amplifier -- AudioQuest DragonFly Cobalt
Smartphone -- Samsung Galaxy S10
Technics EAH-TZ700 Earphones
Price: $1199 USD.
Warranty: One year parts, 90 days labor.
Panasonic
2 Riverfront Plaza
Newark, NJ 07102
E-mail: This email address is being protected from spambots. You need JavaScript enabled to view it.
Website: www.technics.com