Sound:











Value:











(Read about our ratings)
Measurements can be found by clicking this link.

Even though we have really solid science on what kind of frequency response listeners prefer in headphones and earphones, that doesn't mean a product created along those guidelines will be your favorite. There's still plenty of room for taste. I've heard lots of headphones and earphones that closely track the "Harman curve," and while all of them were very good, they weren't necessarily my absolute favorites. I might want a touch more or less bass, or just a little more zip in the treble. The EarSonics Purple earphones ($1490 USD) seem designed with just such a thought.
A tiny, screwdriver-adjustable control on the side of each earphone lets you adjust the sound from Tight to Warm. (EarSonics provides no details on how it works, but I figured it out when I did the measurements.) Inside each earpiece are five balanced-armature drivers: one for bass, two for mids, and two for treble.
The Purples, like most high-end earphones, use over-ear cable routing, which allows them to fit deep into the ear while filling the earlobe, potentially providing a more secure fit and better isolation from outside noise. The cable attaches to each earpiece with a dual-pin, friction-fit connector.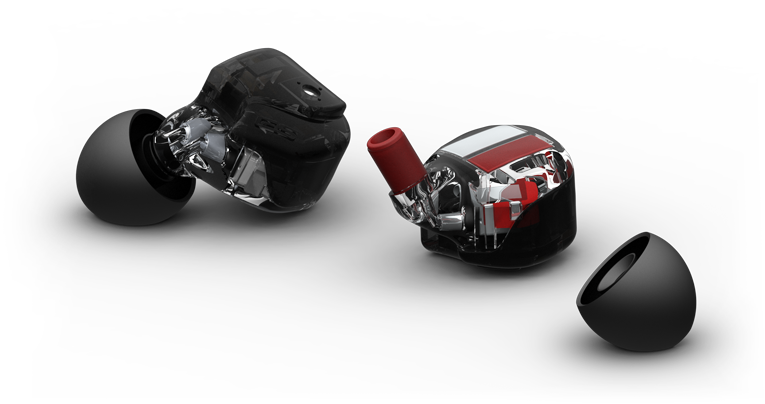 Sensitivity is rated at a whopping 127dB with a 1-milliwatt signal, which suggests the Purples will play loud as all hell even from the feeblest portable device. Impedance is rated at 25 to 45 ohms, depending on the setting of the tone control. Considering this control and the five balanced-armature drivers, savvy headphone enthusiasts might wonder if the Purple will show big swings in response when you switch from a low-impedance source to a high-impedance source . . . but the measurements will show that, too.
Oh! Never heard of EarSonics? That's OK, I'd barely heard of them when the US distributor -- who also distributes Focal headphones -- suggested I review a set. Besides a few interesting design twists within the line, there's something else quite unusual about EarSonics earphones: they're made in France.
In the box
The Purple earphones include a small, zippered travel case, a cleaning tool, and a precision screwdriver for adjusting the tone controls. The cable measures 4.2' (1.3m) and has a 1/8" (3.5mm) plug on the source end and two-pin connectors for the earphones. If you want a balanced cable, EarSonics offers one, and cables with an EarSonics-compatible two-pin connector are also available at Norne Audio and probably from some other suppliers, too.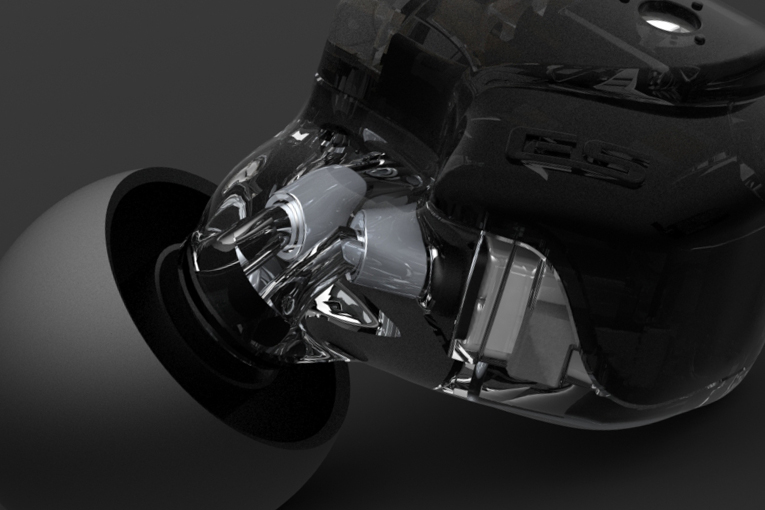 Also included are Comply foam tips in two sizes and silicone tips (two single-flange, two double-flange) in four sizes.
Use
None of the supplied tips were large enough to fill my ear canals, and the rather odd-sized 4mm soundtubes were too small to accommodate any of the tips that I know will fit my ears (such as the single-flange Periodic Audio Hydrogen tips). EarSonics recommended a set of SpinFit tips, which I found gave me a secure fit, a tight seal, and excellent comfort.
I have to note that with two samples of the Purples, the tiny filter tube inside the soundtube pulled out when I was exchanging tips. This happened only after I'd exchanged tips at least a half-dozen times, necessary because my ears and my G.R.A.S. ear/cheek simulator require different-sized tips for the best fit. EarSonics says it is aware of the problem, which has been corrected in future production by switching to a different glue.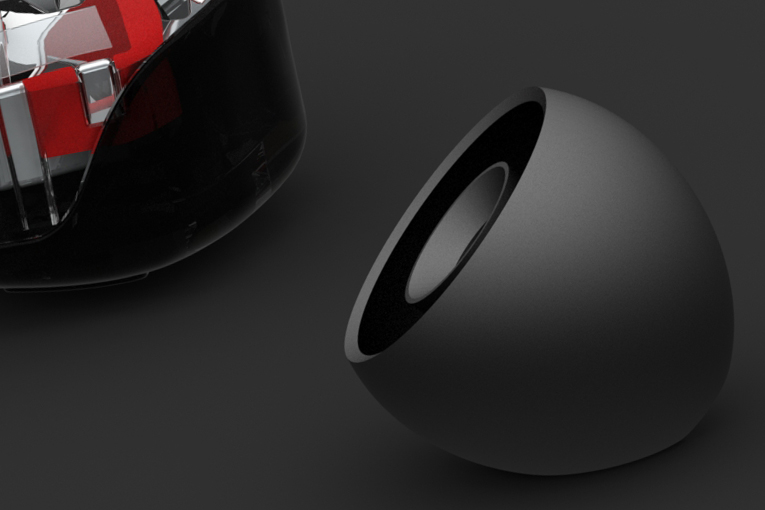 When reviewing high-end earphones, I often start by plugging them straight into my Samsung Galaxy S10 phone and taking them on a walk with my dog -- as a sort of everyday-use case. The Purples passed this test easily, as they were plenty sensitive enough to reach loud volumes from the phone and didn't seem to be impacted by the phone's relatively weak headphone amp.
Sound
Here's the big problem with the Purples' tone control: in a week of listening to the earphones with the control at the factory preset (i.e., dead center), with material from jazz to classical to the White Stripes, I never felt the urge to adjust it. I was quite happy with the tonal balance, and found it suited all types of music well. Of course, not everything was perfect -- I did hear a little extra lower-treble zing in Dexter Gordon's tenor saxophone when I put on Dexter Calling . . . (24-bit/192kHz FLAC, Blue Note / Qobuz), and a little more extra lower-treble zing when I played Gordon's Swiss Nights Vol.1 (16/44.1 FLAC, SteepleChase/Qobuz). But it was such a small and untroubling artifact that I was worried that I'd lose that overall great sound quality by making an adjustment.
I was surprised to hear that the Purples, right out of their ten-hour break-in, also sounded terrific on a recording that's as artificial as they get: Carly Rae Jepsen's new Dedicated Side B (24/44.1 FLAC, Schoolboy/Interscope/Qobuz). I was struck by how balanced the sound was on the second track, "Window." Jepsen's voice sounded exceptionally clear and dry (i.e., with minimal reverb), and the bass was gratifyingly fat yet totally tight and defined -- a tough balance to achieve, but a necessary one for realistic bass sound.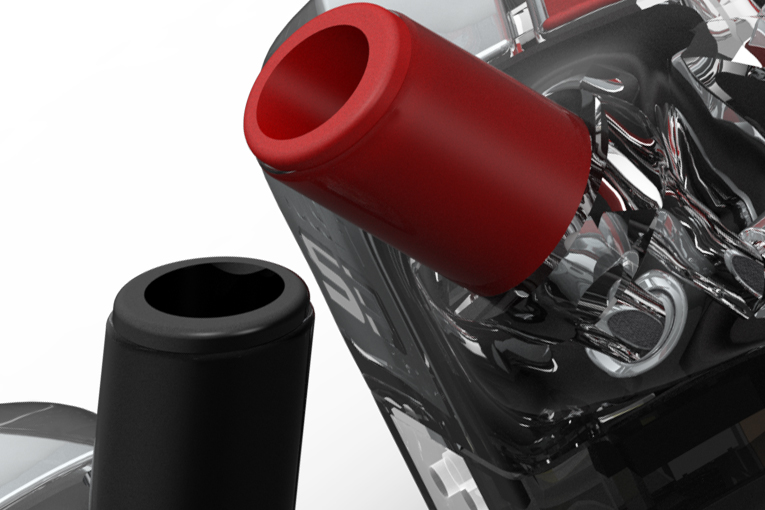 Best was the weird but very cool gated piano effect, in which 16th-note chords are electronically chopped off to an immediate silence instead of dying more gradually and naturally as the player pulls their hands off the keys. Through the Purples, the chords were snuffed out abruptly and completely, leaving a sonic hole that the ear doesn't expect, thus creating a shocking but captivating effect. Through other -- even very good -- headphones and earphones, such as the NAD Viso HP50s and the JVC HA-FW01s, the chords hung on for a fraction of a second longer, and the effect wasn't as stunning. (By the way, do try this at home -- this is a great test track.)
But eventually, I had to try the tone controls, so I put on a recording I thought might be revealing: jazz singer Sue Matthews's Love Dances (16/44.1 FLAC, Sir/Qobuz). On "Detour Ahead," I noted just a bit of lower-treble emphasis in the voice, which made Matthews's vocals (and the cymbals) just a hair zippy. In the Tight position, with the control turned full counter-clockwise, Matthews's voice sounded even zippier, and a little thin; the Purples took on some of the character of the too-trebly audiophile earphones that I generally don't enjoy. In the Warm position, the bass became fuller, and most of that zip I complained about disappeared. Still, Matthews's voice didn't have quite the warmth I'd hoped I would get, and the sound of the cymbals got too soft for my taste.
But here's the thing -- EarSonics bills this as a three-position control, but it's actually a potentiometer, so you can get in-between settings. If you think of Warm as a setting of 10, Tight as a setting of 1, and the factory setting as 5, I got the best sound on "Detour Ahead" at a setting of about 8. Matthews's voice and the cymbals mellowed out slightly, and the bass seemed to fill out just a bit more. It was just the tonal balance adjustment I wanted.
The Warm setting saved the very bright-sounding James Levine Conducts Brahms (16/44.1 FLAC, RCA Red Seal / Qobuz), with Levine leading the Chicago Symphony through Brahms's "Symphony No. 4 in E Minor, Op. 98: Allegro Non Troppo." With the Purples set to Warm, I was able to enjoy this recording; the strings still sounded detailed but no longer threatened to scrape my eardrums with harshness. Honestly, I could have used another dB or so of treble reduction, but at least the Purples made the recording listenable, which is an achievement. And I suppose it's good that EarSonics gave listeners the power only to fine-tune the earphones, and not enough adjustment range to really mess up the sound.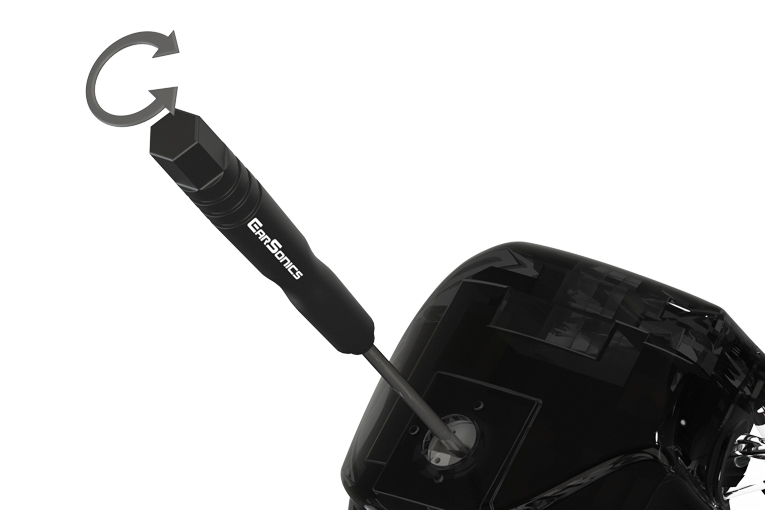 But here's the other thing -- the controls are not particularly user-friendly. The earpieces are mirror-imaged, but the controls are not. It's hard for those with aging or impaired vision to see the position of the little adjustment screws. They're not labeled, although even if they were you'd probably need a magnifying glass to see them. Thus, you have to remember that Warm is full clockwise, and Tight is full counterclockwise. Also, it's a little metal screwdriver working plastic screw pots, and I wonder how well the controls will withstand frequent adjustment.
Comparisons
As California's brief lifting of the coronavirus lockdown ended in ignominy, I still haven't been able to put together a listening panel, so I'll substitute a comparison with somewhat similar models.
While there are lots of high-end, balanced-armature earphones on the market, the competitor that comes immediately to mind is the AKG N5005 earphones ($999.95). The N5005s also have a five-driver design (although with a single dynamic driver and four armatures), and they have four screw-in filters that let you customize the sound. They are also said to be the earphones that most closely match the Harman curve. I didn't have a sample for comparison when I tested the Purples, but to the best of my memory, the Purples with the tone knob in the middle position sound somewhat similar to the N5005s with their reference filters installed. The downside is that changing the tiny filters is kind of a pain, and it's something else you have to carry with you (and potentially drop or lose) when you're mobile. I'll include a comparison of the Purples with the N5005s in my measurements.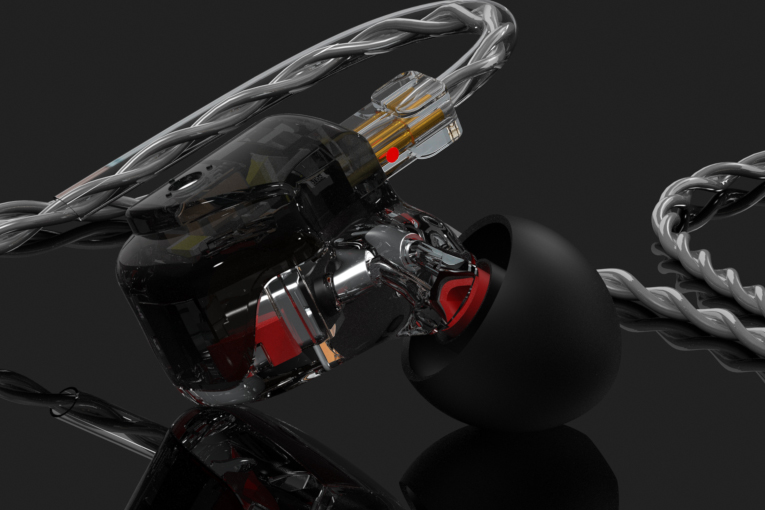 For me, another obvious standard of comparison is the Campfire Audio Solarises ($1499), which combine three armatures with a dynamic driver in each earpiece. The Purples are clearly competitive with the Solarises, and it's hard to predict who'll like which earphones better. At the middle tone setting, the Purples sound perhaps a little more neutral; the Solarises have a little more zing in the lower treble, which makes voices sound just subtly coarser. But no matter what the setting on the Purples' tone controls, the Solarises have more powerful and satisfying bass, and a more vivid sound overall. I'd say I like the Solarises a hair better sonically, although from a comfort standpoint I find the Purples far superior.
And there's also the Meze Rai Penta earphones ($1099), which have four armatures plus a dynamic driver per earpiece. I didn't have a set on hand for comparison, but they are certainly comparable, performance-wise, with the Solarises, so I'd say they're somewhere in the same league as the Purples, too. You can see a direct comparison of the Rai Pentas with the Purples in the measurements.
Conclusion
The EarSonics Purple earphones are so easy to recommend because they sound terrific right out of the box, and they're comfortable. And even if the sound isn't exactly what you want, the tone controls give you the power to make it so.
. . . Brent Butterworth
This email address is being protected from spambots. You need JavaScript enabled to view it.
Associated Equipment
Smartphone -- Samsung Galaxy S10
DAC-amplifier -- AudioQuest DragonFly Cobalt
EarSonics Purple Earphones
Price: $1490 USD.
Warranty: One year parts and labor.
EarSonics SAS
ZAE Via Domitia, 171 Avenue De Gardians
34160 Castries, France
Phone: +33 (0) 467-72-22-12
Website: www.earsonics.com
Focal Naim America
313 Rue Marion
Repentigny, QC J5Z 4W8
Canada
Phone: (800) 663-9352