Sound:











Value:











(Read about our ratings)
Measurements can be found by clicking this link.
The new Helm Audio DB12 AAAMP follows the path least taken for top-notch sound on the go. Path #1 is a high-quality portable media player, like an Astell&Kern -- nice, but often pricey and complicated to configure. Path #2 is a portable DAC-headphone amp, such as the iFi Audio Hip-dac -- nice, but sometimes clumsy to carry and fussy about formats and connections. Path #3 is a small, analog-input headphone amp, such as the DB12 AAAMP -- an option many audiophiles insist is not nice, because it relies on the DAC inside the source device. And of course, that source device is typically a phone made by a tech company we assume is too colossal to care about audio.
But as I learned when I set up a complicated blind test of DAC-headphone amps a couple of years ago, the DACs and amplifiers inside phones and tablets are often quite good -- as long as your headphones have a sensitivity rating of, say, 98dB or higher. Below that, the amp in the phone or tablet may not have enough power to deliver realistic dynamics and deep, defined bass.
The DB12 AAAMP ($199.99 USD) is a simple solution to this problem. It's designed to give you an extra 12dB of gain, as well as the assurance that you're using a good-quality headphone amp rather than the "mystery meat" built into most phones, tablets, and computers. With a rated output impedance of 0.3 ohms and rated power output of 111mW into a 32-ohm load, it should have the muscle to drive all but the most demanding headphones.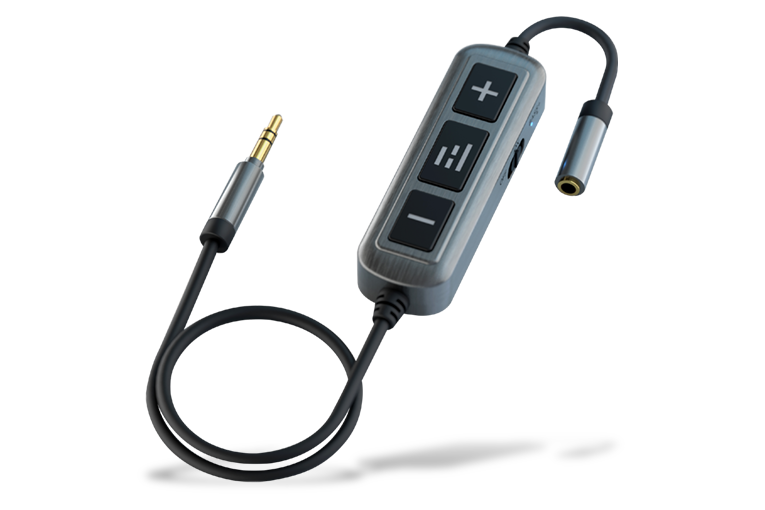 The most interesting thing about the DB12 AAAMP, though, is its form factor: a "lump in the line" design in which the amp is built into a cable. Plug the male end of the cable into your source, plug your headphone cable into the female end of the DB12 AAAMP's cable, and you're connected. No need to worry about device compatibility, formats, etc. -- if it has a headphone jack, it'll work with the DB12 AAAMP.
Powering the amp is an internal battery that's rechargeable through a USB-C jack and rated to run for six hours; an LED near the USB-C jack glows red when the battery is running low. A huge plus of having an internal rechargeable battery is that the DB12 AAAMP doesn't drain power from your phone's battery -- that's not true of most small DAC-headphone amps. It has volume up/down buttons, a play/pause button, and a power switch that also accesses a Bass Boost mode, said to deliver an extra 6dB of bass.
The heart of the DB12 AAAMP is a THX AAA headphone amplifier, a licensed design that has been shown to deliver truly outstanding measured performance thanks to a feed-forward circuit that cancels distortion before the distortion actually happens. It's also a super-efficient technology that consumes less power than a typical class-A or class-AB headphone amp.
In the box
You get the DB12 AAAMP, a leatherette carrying case, and a USB-C charging cable.
Use
There's only one way to connect the DB12 AAAMP between your source and the headphones or earphones, so it's impossible to mess up. The volume buttons have big plus and minus signs. The middle button isn't really labeled, but it's for play/pause -- a handy feature if you like to leave your phone in your pocket while listening. These buttons are raised, so it's easy to accidentally push them when the amp's in your pocket or sitting near your computer. The volume buttons worked with my Samsung phone and my iPad, but they didn't work with my Lenovo laptop.
The power/Bass Boost switch is a little fiddly. I had to use a fingernail to flick it, and it's easy to activate Bass Boost accidentally by pushing the switch too far. Fortunately, there's a tiny blue LED to tell you when Bass Boost is on.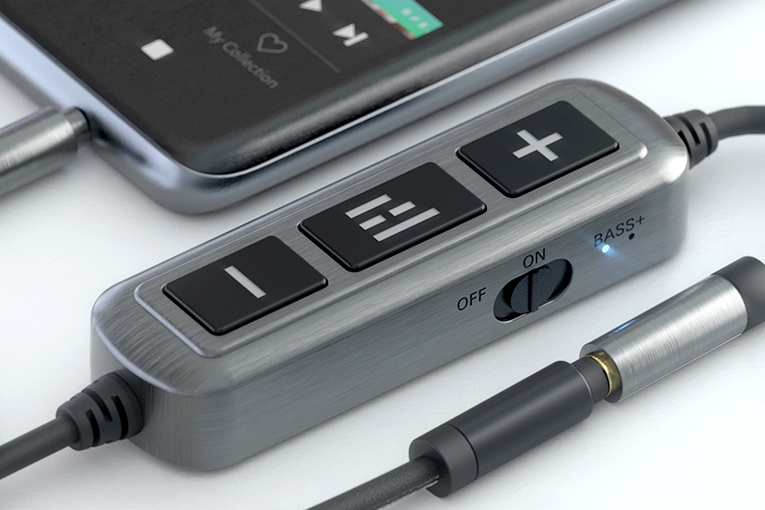 I ended up loving this design. Because it works as an extension of your headphone or earphone cable, it doesn't feel like you're carrying anything extra. I even brought it on a couple of dog walks, powering the EarSonics Stark hybrid earphones (review in the works), and the amp never got in the way of tending to the constant and considerable needs of my spoiled Shih Tzu.
Sound
For me, the acid test of any headphone amp -- especially a tiny, battery-powered model -- is whether it can drive the HiFiMan HE6se's, which are among the most demanding and insensitive headphones on the market. Many DAC-headphone amps can just barely bring these headphones to an adequate volume. But to my surprise, the DB12 AAAMP, connected to my Samsung Galaxy S10 phone, produced plenty of volume through the HE6se's -- and just as important, seemed to deliver the volume effortlessly. When I played the wonderful new RoundAgain (24-bit/96kHz FLAC, Nonesuch/Qobuz), a jazz quartet album featuring saxophonist Joshua Redman, pianist Brad Mehldau, bassist Christian McBride, and drummer Brian Blade, I heard no distortion or strain at all despite the group's frequent dynamic jumps and abrupt, super-tight rhythmic hits. McBride's bass, which on most of his recordings tends toward a dark, not especially detailed sound, had a little more higher-frequency definition on this recording, a subtlety I could easily discern because of the way the DB12 AAAMP kept the HE6se headphones' bass under such tight control.
I next plugged in the Beyerdynamic Amiron Homes -- over-ear, open-back headphones with an impedance of 250 ohms (if you trust Beyerdynamic's ratings), or an impedance closer to 300 ohms and peaking at 690 ohms (if you trust my measurements). As with the HE6se's, I was able to distinguish every one of the three zillion notes McBride plays during his mind-blowing double bass solo on "Moe Honk," and Blade's cymbals and hi-hat had that classic, smooth, non-pingy, non-zingy sound that most jazz drummers prefer, but that too many headphones refuse to allow.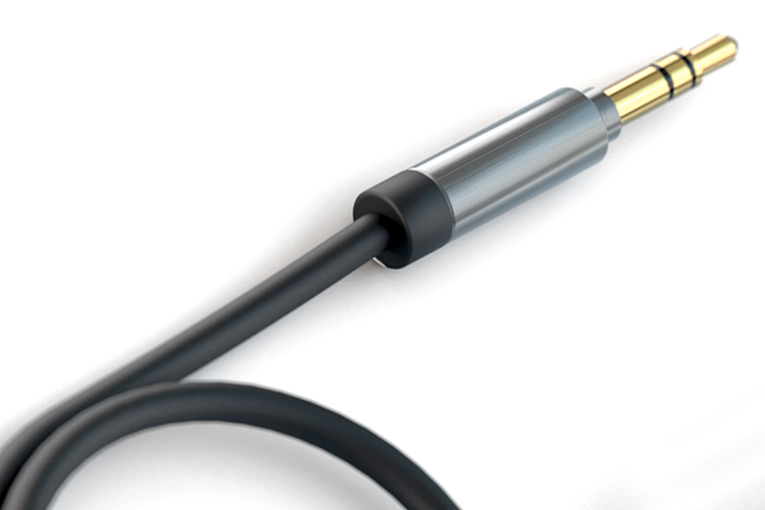 Enough wussy jazz; I needed to know if this tiny amp could rock, so I put on the most rocking recording I can think of -- Celtic Frost's classic "The Usurper" (To Mega Therion, 16/44.1 FLAC, Noise Records / Qobuz) -- played through the most rocking audiophile headphones I can think of, the Audeze LCD-Xes fitted with Dekoni Choice Suede earpads. I've been listening to this tune since To Mega Therion came out in 1985, and this might be the cleanest I have ever heard it. The thrashing guitar riffs tend to obscure most everything else in the mix, but with this rig, I could distinguish the bass line and the kick drum part, which usually end up muddling together. "The Usurper" certainly sounds more enveloping and exciting when played through a large, well-designed set of speakers, but the combination of the DB12 AAAMP and the Dekoni-fitted LCD-X headphones gave me new insight into the tune purely through their sound quality, and without resorting to the trickery of boosting or cutting certain audiobands.
I also tried listening to my Samsung phone with and without the amp, reducing the volume when the amp was connected so the levels matched. This way, I could learn if and by how much the amp improved the sound. With a "normal" set of headphones -- the Sony MDR-7506es -- the difference was extremely subtle or non-existent. But with a less-sensitive set of headphones -- the HiFiMan HE1000 V2s, which the Samsung S10 can just barely drive to a listenable volume -- using the amp fattened up the sound, with louder, clearer, and more distinct double bass tones on the bottom-end-heavy intro to Cécile McLorin Salvant's version of "Wives and Lovers" (For One to Love, 24/96 FLAC, Mack Avenue / Qobuz).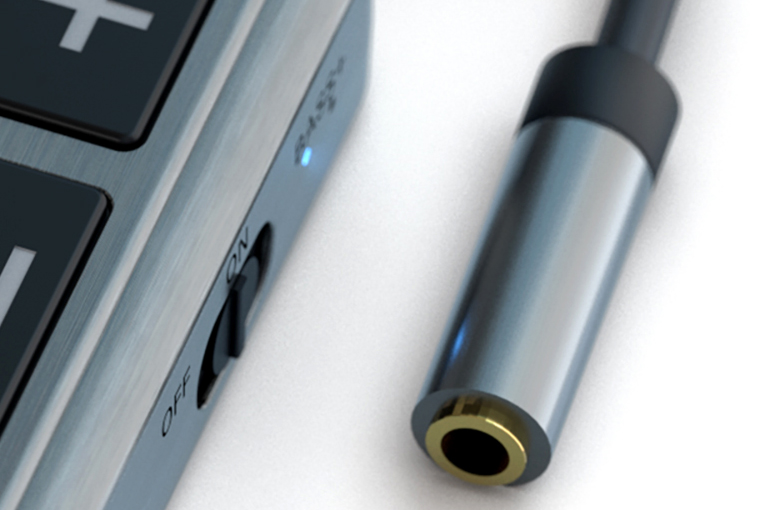 Oops, I forgot to mention the Bass Boost. That's because I used it only fleetingly. It works as intended, and I guess some people might like it, but none of the headphones or earphones I tried the amp with needed 6dB of extra bass. Whether I was listening to Celtic Frost or much lighter fare such as Madeline Peyroux's recording of "Don't Wait Too Long" (Careless Love, 16/44.1 FLAC, Rounder/Qobuz) through these headphones and earphones, boosting the bass just made them sound boomy and less distinct.
Long story short: Through many hours of listening with five sets of headphones and one set of earphones, I couldn't find anything to complain about with the DB12 AAAMP's performance . . . but let's see how it compares to an alternative rig with a DAC-headphone amp.
Comparison
There aren't that many dedicated portable headphone amps (i.e., without integral DACs) to compete with the DB12 AAAMP. One is the Periodic Audio Nickel ($299), a tiny amp housed in a rectangular box. I find the DB12 AAAMP's form factor more convenient, and my measurements show its output power is about the same as the Nickel's, and its frequency response is broader (although that difference is unlikely to be audible except perhaps to small children, few of whom are audiophiles).
There's also the FiiO A3 ($59.99), which I haven't tested, but which would seem to be a much better value because it's rated at 270mW into 32 ohms, more than the Nickel or the DB12 AAAMP -- although the A3 is much larger and heavier.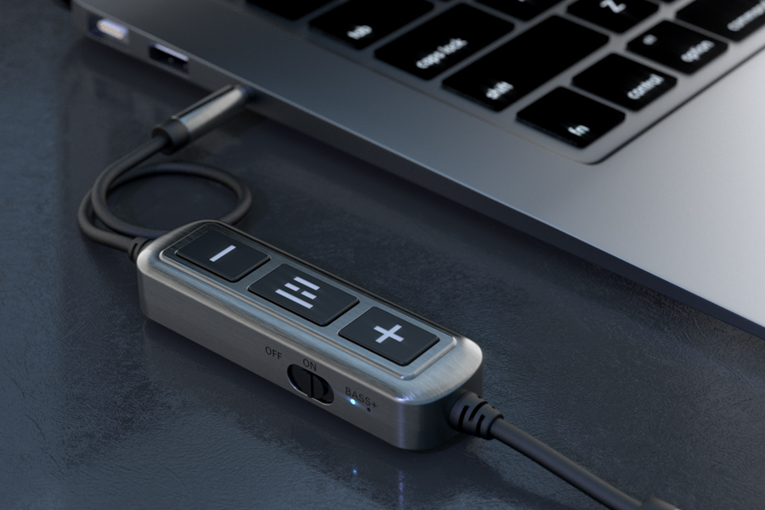 Of course, there are probably at least three-dozen portable DAC-headphone amps on the market, so I can't make comparisons to all of them, but I was able to use a second laptop (an HP Spectre) to set up a level-matched comparison (within ±0.04dB) between the DB12 AAAMP, connected to the HP, and the AudioQuest DragonFly Cobalt ($299.95), connected via USB-C to my Lenovo IdeaPad Flex laptop. Listening to various tracks from Camille Thurman's Waiting for the Sunrise (24/96 FLAC, Chesky), with both amps powering the HiFiMan HE1000 V2s, I was surprised to hear a bigger difference than I expected -- and even more surprised to hear that I preferred the sound with the DB12 AAAMP. The sound with the Cobalt driving the HE1000 V2s was softer, with what sounded like a very subtle treble roll-off; the sound with the DB12 AAAMP (fed by the headphone amp built into the HP laptop) had a little more treble and, thus, more apparent detail and air.
Conclusion
The DB12 AAAMP is a great solution for high-quality, on-the-go headphone sound. It's a very capable little amp in a convenient package that can easily fit into a pocket or whatever bag you're traveling with, and I love the way I can just plug it in and it works every time.
. . . Brent Butterworth
This email address is being protected from spambots. You need JavaScript enabled to view it.
Associated Equipment
Headphones -- Audeze LCD-X, Beyerdynamic Amiron Home, EarSonics Stark, HiFiMan HE6se, HiFiMan HE1000 V2, Sony MDR-7506
Tablet -- Apple iPad
Smartphone -- Samsung Galaxy S10
Laptops -- Lenovo IdeaPad Flex 5-1470, HP Spectre 13-2150
Helm Audio DB12 AAAMP Headphone Amplifier
Price: $199.99 USD.
Warranty: One year.
Helm Audio
Phone: (800) 663-9352
Website: www.helmaudio.com