Sound:











Value:











(Read about our ratings)
Measurements can be found by clicking this link.
The Auris Audio Euterpe is, in some ways, the opposite of what I usually look for in audio gear. But that's OK. Actually, it's more than OK.
What's so unusual about this product that makes me react this way? Just look at it. It seems less like a practical audio product and more like something you'd find in a medieval church. Its beautifully finished, solid walnut sides have the comfortable, well-worn richness of an old church pew. The tiny windows on the sides, which seem almost like they should be filled with stained glass, are perfectly aligned to provide a side view of the amplifier's glowing vacuum tubes.
The Euterpe could probably command its $1699 USD asking price purely for its looks, but because it's a single-ended tube amp, it also packs audiophile cred. For those who don't know, a single-ended amp amplifies the positive- and negative-going halves of the signal with the same output device (in this case a tube, although there are single-ended transistor amps, too). Most amps amplify the positive-going half of the signal with one device and the negative-going signal with another device, a configuration known as "push-pull." The advantages of single-ended are simplicity and a total lack of the crossover distortion that occurs in a push-pull amp when the signal transitions from the positive output device to the negative one. The main disadvantage of a single-ended design is relatively low power output.
A single ECC81 (more commonly known as the 12AT7) dual-triode tube serves as the Euterpe's input stage, while a separate PL95 pentode power tube is provided for each channel; these feed the output transformers. A tiny switch behind the tubes allows substitution of EL95 (6DL5) power tubes. Output is rated at 0.9Wpc, although the Auris website doesn't specify the load, frequency range, or distortion level for this rating.
While the Euterpe might seem like a total throwback, it's also pretty close to state-of-the-art in one way -- it incorporates a USB DAC that accepts PCM signals up to 32-bit/384kHz resolution, and DSD signals up to DSD128 resolution. Of course, today's most advanced DACs can accommodate even higher resolutions, but most audiophiles have few or no digital files produced in those exotic resolutions.
Although the Euterpe has an old-world vibe that makes it look like something a bishop would use to hold his miter, it actually is designed to serve as a headphone stand. Your headphones fit right on top, with a shallow saddle cut into the wood to keep the cans in place. Don't run the amp with the headphones in place, though, as the heat from the tubes could damage the headband.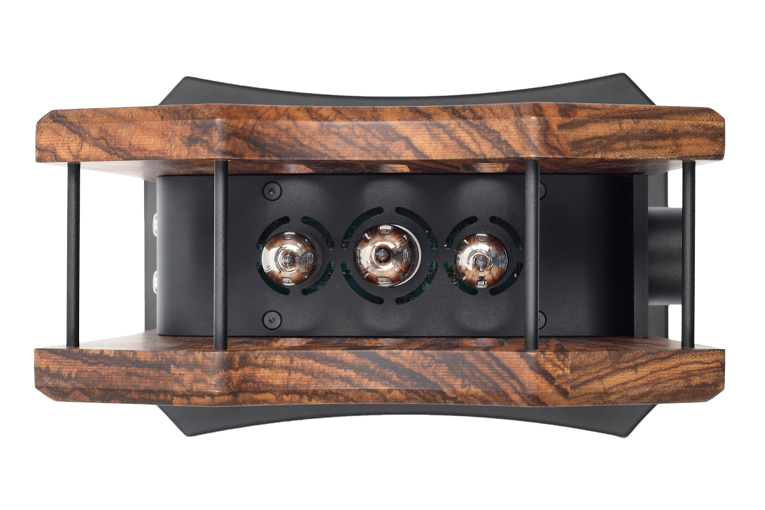 So . . . single-ended tube amp in a cool-looking, somewhat retro chassis with a fairly advanced DAC built in? I don't even know what to think, so I guess I'd better listen.
In the box
The Euterpe comes with a fairly large power supply. The power supply has a captive five-pin cable that connects to the amp, and a 15-amp IEC connector for a standard grounded AC power cord. No cord was supplied with our review sample. The supplied power tubes are NOS (new old stock), branded Ei and stamped "Yugoslavia." Always cool to have tubes made in a country that no longer exists!
Use
For such an exotic piece of gear, the Euterpe is a piece of cake to use. There's a master power switch on the power supply, but the main switch is built into the volume control -- just turn it fully counterclockwise to turn the power off. This was the norm for audio gear decades ago, but besides my 1986 Sony AM/FM clock radio, I have no other audio gear that still works this way -- and I miss it! There's a source switch labeled A and D (for analog and digital), an impedance switch labeled L and H (for low and high headphone impedance -- 32-80 ohms and greater than 150 ohms, respectively), and a front 1/4" (6.3mm) output jack. It's as plug 'n' play as a tube headphone amp gets.
Sound
I'm happy about the way I went into this review, because my preconceptions were minimized. When Auris pitched the product to SoundStage! Solo, I agreed after doing no more investigation than glancing at the photo, and a few weeks later it arrived. I let it run for 20 hours and then gave it a listen and compared it to some other amps I had on hand, never knowing if the Euterpe was pure tube, hybrid tube / solid state, or whatever.
Single-ended tube amps, whether for speakers or headphones, have a reputation for a certain sonic magic. Honestly, when it comes to speaker amps, I just don't hear it, probably because unless your speakers are ultra-efficient, the amp will struggle on dynamic peaks -- and ultra-efficient speakers usually introduce problems of their own, too. But most headphones can reach loud levels with just a few milliwatts of power, so a single-ended amp topology doesn't seem like it'd be a significant sacrifice.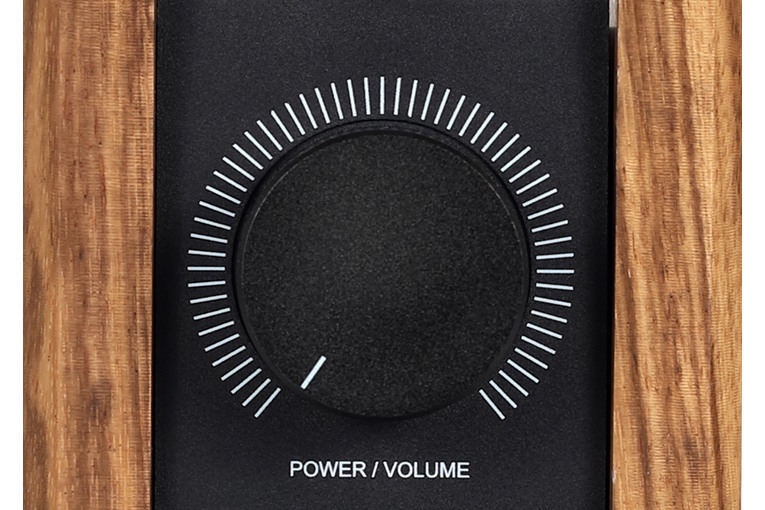 I used the Euterpe mostly as an amplifier, connecting it to an iFi xDSD DAC-headphone amp configured for line-out mode. I did use it for a while with a digital connection from my computer's USB port, and shot it out against a Musical Fidelity V90-DAC connected to the Euterpe's analog input, with levels matched to within ±0.1dB. Although both sounded good, I slightly preferred the sound with the V90-DAC; the DAC built into the Euterpe seemed to have a subtly more etched sound in the treble, and to my ears, the V90-DAC's warmer, subjectively flatter sound was nicer. Opinions may differ, of course, and most audiophiles won't note a major difference if they take the trouble to match levels before listening.
A recording such as Mstislav Rostropovich's J.S. Bach Cello-Suiten (16/44.1 WAV, Warner Classics) shows off the reasons you'd buy a headphone amp like the Euterpe. The sarabande movement of the Cello Suite No.6 in D Major, heavy on double-stops (two strings bowed at once), feels almost like an entire string section emanating from a single cello. For me, it's one of the more intense moments of the Bach cello suites, and the Euterpe gave it the character that seemed perfectly appropriate: warm, woody, and rich, with perhaps just a slightly softened treble. In comparison, the Rogue Audio RH-5 (a hybrid tube/transistor design) sounded a little brighter and edgier, and the solid-state Audio-gd NFB-1AMP sounded clearer, with a strong but smooth treble but a bit less of the Euterpe's organic charm.
However, a cello presents neither strong bass (it goes down to only 65Hz) nor particularly strong treble -- and bass and treble are often the weak points for single-ended designs. So to stress-test the Euterpe, I put on "Triple Play," a wild three-saxophone romp from jazz drummer Paul Kreibich's Thank You Elvin (16/44.1 WAV, BluJazz Productions). Through all three amps I tried, the tune had an exciting, driving feel, and the tonal balance remained mostly consistent no matter which amp I used, although the Euterpe's bottom end seemed slightly softer than the others'. Where the Euterpe and the RH-5 excelled over the NFB-1AMP was in the sense of breath and air I heard in the saxophones; in fact, other than the slight difference in bass reproduction, the two amps sounded quite similar.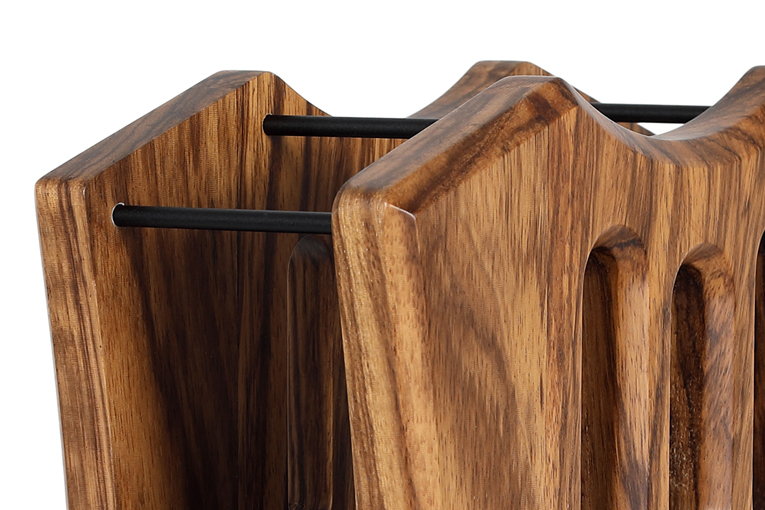 Another recording that seems tailor-made for single-ended amps is Casey Abrams's Jazz (16/44.1 FLAC, Chesky). On this recording, made using Chesky's newest miking scheme -- a stereo ribbon mike in the middle, flanked by an omnidirectional mike on each side -- the Euterpe actually seemed to have a little more detail, as well as that bit of extra midrange richness I heard before. But when I put on bassist Larry Grenadier's The Gleaners (16/44.1 WAV, ECM), the Euterpe still sounded the warmest but the RH-5 and the NFB-1AMP clearly delivered more detail.
The rest of my listening went pretty much the same way. The Euterpe had the warmest, richest -- perhaps one might say "most romantic" -- sound, but sometimes lacked a bit in the bass and usually sounded a little soft. If I'd known what the amp's topology was before I tried it, I'd assume my opinions were the result of confirmation bias, but the Euterpe does seem to conform to the way single-ended tube amps are often said to sound.
The one cut where, for me, the Euterpe really couldn't hang with its beefier brethren was the bluegrass tune "White Freightliner Blues," from Steve Earle's album Townes (320kbps Ogg Vorbis, New West / Spotify). With the double bass's lack of punch exacerbated by the Euterpe's rather polite bass reproduction, and the upper harmonics of the various stringed instruments subtly softened, my ears just couldn't find enough in the music to grab onto. But surprisingly, the Euterpe can definitely rock; when I listened to singer/songwriter Jade Bird's "Side Effects" (Jade Bird, 320kbps Ogg Vorbis, Glassnote/Spotify), the Euterpe actually sounded clearer than the NFB-1AMP during more complex parts of the tune, although the RH-5 sounded more dynamic, and despite seeming to have the clearest treble of all the amps, still matched most of the Euterpe's warmth.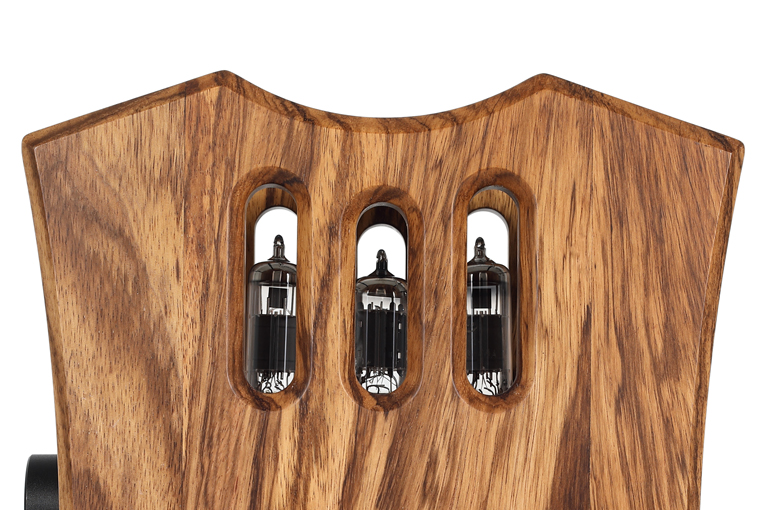 Note that the above comments refer to using the Euterpe with low-impedance planar-magnetic headphones, including the HiFiMan HE6se and HE1000 V2 headphones, and the Audeze LCD-Xes. That's because most of my serious listening is with planars, and the Euterpe did have plenty enough drive even for the power-hungry HE6se headphones. However, I did spend a little time listening to the Euterpe with the Beyerdynamic Amiron Homes, a set of 250-ohm dynamic-driver headphones. Using the high-impedance output setting, the Euterpe gave me what I thought was the clearest and most natural treble of all the amps I tried, but the bass boomed and didn't sound like it was well-controlled. This is likely the result of the amp's high output impedance, an issue I addressed in the Measurements section.
Competition
It seems to me that if you're shopping for an all-tube headphone amp, you're probably not considering a solid-state one. I can find only three all-tube amps that are obviously in the Euterpe's price range and share its general aesthetic, although I'm sure there are others.
One is Auris Audio's own HA2 SE ($1999), which has a similar topology to the Euterpe but lacks the DAC and doubles up on the output tubes, although its power rating, surprisingly, is just 1W -- only 0.46dB more than the Euterpe's 0.9W, all other things being equal. The Ampsandsound Kenzie ($1900) is, like the HA2 SE, an all-analog, single-ended tube amp; despite its larger output tubes, it's rated at 250mW into 32 ohms, which might not be enough to get the power-hungry headphone HiFiMan HE6se headphones, or similar, cranking to their full capacity. A more affordable (and arguably more exotic) option is Woo Audio's WA2 ($1190), which is output transformerless in addition to being single-ended; it packs a complement of six tubes and has a rated power of 310mW into 32 ohms.
So the competitive advantages of the Euterpe are cool design, a built-in DAC, and -- surprisingly -- power output.
Conclusion
I tend to gravitate toward audio gear that aspires to some level of technical perfection because I don't want my gear to impose any coloration of its own. That said, I did greatly enjoy the Euterpe's rich, warm, seductive midrange, especially with classical music and simpler jazz recordings, and I think most audiophiles would, too -- although I'd strongly recommend using planar-magnetic headphones, which present a resistive load that won't react with the amp's output impedance.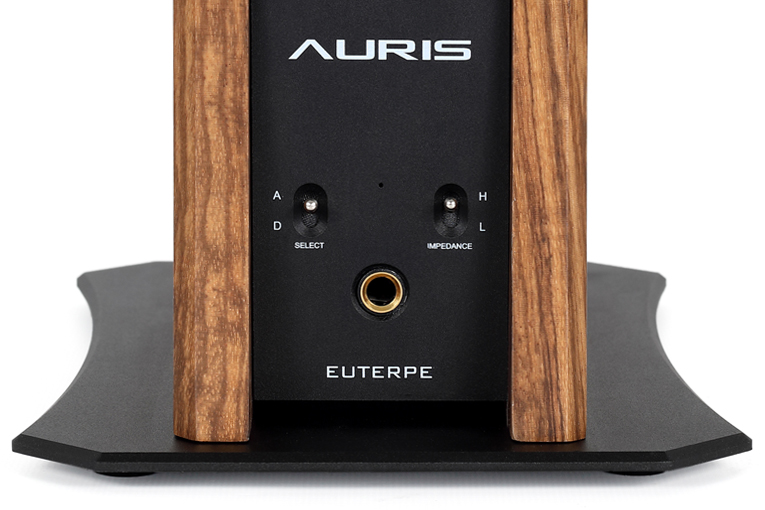 The Euterpe is a wonderful piece of design and a delight to use. That said, whether or not it's for you depends on your taste and your listening habits. If you prefer audio gear that's out of the mainstream -- that delivers an extra bit of realism, life, breath, soul, or whatever you want to call it -- and your taste is more towards classical and jazz, or lighter, folky singer/songwriter fare, then I'm pretty sure you'll dig the Euterpe.
. . . Brent Butterworth
This email address is being protected from spambots. You need JavaScript enabled to view it.
Associated Equipment
Headphones -- HiFiMan HE6se and HE1000 V2, Audeze LCD-X, Beyerdynamic Amiron Home
Laptop -- Lenovo Windows PC running foobar2000
Auris Audio Euterpe Headphone Amplifier-DAC
Price: $1699 USD.
Warranty: Two years repair or replacement.
Auris Audio
Mike Stojanovica 11
Kruševac 37000
Serbia
Website: www.aurisaudioshop.com