The worst thing to happen to me while traveling was getting robbed on a night train in Italy.
Wait, let me back up. I travel a lot. Starting in 2014, I spent about half of each of the following six years traveling all over. A digital nomad, if you will. The last three years have been a bit different, but I've been lucky to spend several months out of the last two years traveling.
When I say "the worst thing," that includes breaking my leg in Chile and hunkering down through back-to-back cyclones in Fiji. Why was getting robbed the worst? They stole my iPod.
In 2017 I still had an aging but beloved 160GB iPod Classic that was nearly full with a respectable chunk of my music collection in various levels of compression. Even in 2017, an iPod was anachronistic. People would be surprised I still had one, let alone carried it everywhere. "Don't you have Spotify?" they'd ask. No, and even if I did, do you expect to stream music while internationally roaming? What's your data plan? Maybe other people can listen to the same ten songs they downloaded to their phones, but I need variety.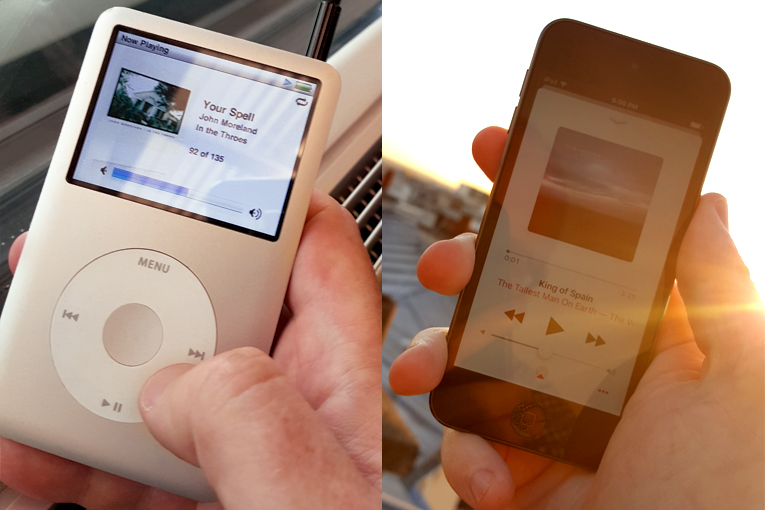 I lament the loss of that iPod more than the several thousand dollars in camera gear that went with it. The camera gear was replaceable. Apple discontinued the 160GB iPod Classic three years earlier, in 2014. Maybe I could have found a used one on eBay, but when I checked, they were all wildly overpriced. Instead, I bought a new iPod Touch, an astonishingly lousy product that I'm still annoyed with to this day. It has a terrible battery life, constantly crashes, and has a persistent need for updating while simultaneously not being able to update. I don't understand why anyone is a fan of Apple.
However, this is not a rant about music players. At least not directly. It's more of a question: how does one travel as an audiophile?
Here's what I've figured out.
What to bring
I travel as lightly as possible. Everyone I see packs too much. Traveling light is the best gift you can give yourself. Unless you need bulky jackets or other cold-weather gear, you can travel for any length of time with just a carry-on. I wrote a New York Times article about it.
So right off the bat, I don't think you should travel with over-ear or on-ear headphones. They're just too big and bulky. If you're not traveling with a camera or computer, if this is your one bulky tech option, then OK. Otherwise, a good pair of earbuds is the way to go.
That being said, I'm not completely sold on truly wireless earbuds for travel. It's far too easy for them to get knocked out and lost in a busy market or on a plane. They're very convenient though, so I'm not against them either.
Speaking of planes, it's worth considering what you will do during the flight. Most true-wireless models don't have a way to connect to the in-flight entertainment systems. There are some inexpensive Bluetooth transmitters available. I haven't tested any, but I plan to. I've read that some newer and newly remodeled planes have Bluetooth built in. I wouldn't count on this, especially for longer international flights, where the average age of the aircraft is far older. Some of them don't even have 3.5mm analog connections—they still have the dual-mono double plug that isn't used anywhere else.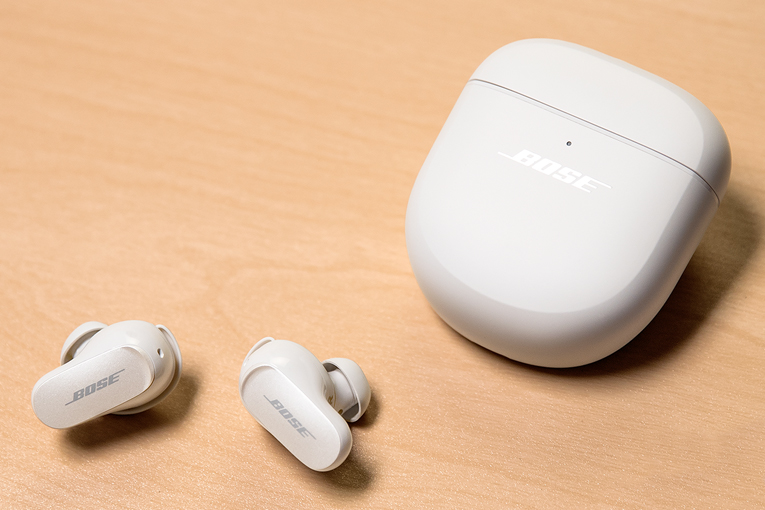 I'd also strongly recommend earphones with good noise canceling, which is easier than ever. Bose QuietComfort Earbuds II earphones have an otherworldly level of NC. There are lots of earphones now that offer good NC but better sound than the Bose earphones. Not only does good NC make the flight far more relaxing, but it's also ideal for trains, buses, and boats.
Adventuring
Once you've arrived safely, what are you going to listen to? Or, more precisely, how? Most people listen to most of their music via streaming. If you're only traveling in the US, that's probably fine. But what happens when you get to London, Paris, or Perth? Does your phone have data? I'm guessing not. I've written about that too, but the short version is there are ways to get inexpensive local data. First, it involves getting an inexpensive local SIM card. This is easier than it sounds. I did it for years. My dad's 80 years old, and he's done it multiple times. For around 20 US dollars, you can get several gigabytes of data that will last for a month. Streaming music is going to chew through it pretty quickly, though.
Another option is Google Fi "Unlimited," which offers data in nearly every country. I put Unlimited in quotes because there is a hidden upper limit regarding data and time. In the years I was traveling with Fi, but before I got into music streaming, I never had a problem. In 2022 I did ten weeks starting in Australia, then Bali, Qatar, and Europe, before I eventually went back home. I was streaming music constantly, and about seven weeks in, I got a notification from Google that they'd shut off my data if I didn't connect to a US cell tower. This wasn't unexpected, and I doubt most people would hit this unknowable limit. Just something to keep in mind.
There's also the question of whether there will be internet at all. Obviously, there won't be on an aircraft (even those with in-flight Wi-Fi rarely allow streaming). Most national parks don't have cell service throughout the park. Having music on your person is a good backup.
For instance, if you have a lot of storage space on your phone, most streaming services allow you to download locally. Spotify Premium subscribers, for example, can download up to 10,000 songs, but you need to connect online every 30 days. Other services will be similar. This is a perfectly reasonable option if you know what you want to listen to and have enough space on your phone. I shoot many videos with my phone, and I don't know what I want to listen to, so this is less than ideal for me.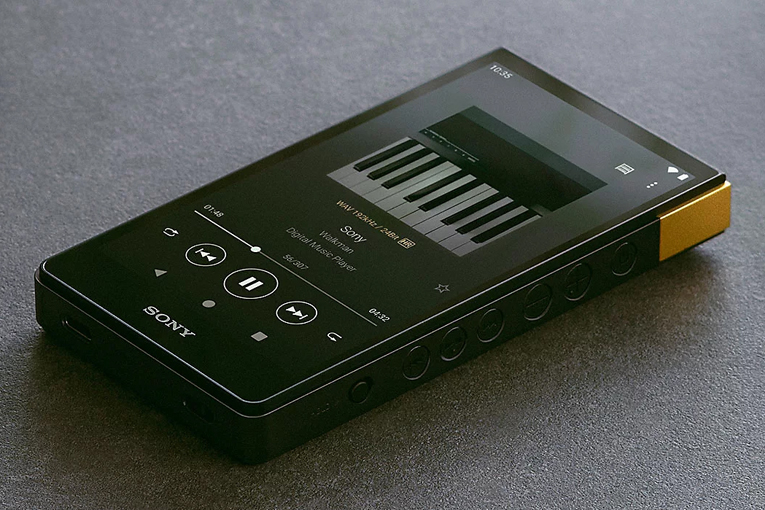 This brings us back to portable music players. There are high-end options, like the new drool-worthy Sony Walkman designs. Several companies, like Astell&Kern, have forged their way into this audiophile-on-the-go niche. There are also myriad Android-based options on Amazon. They're not overly expensive, and some even run Android, so theoretically, you can install Spotify. I'm considering getting a few of these to test. If you still have an old phone in a drawer somewhere, that might work too.
Music to go
So is a portable player the solution? I doubt it. There isn't a single answer. A music player might work if you already have a vast library but don't have a portable option. On the other hand, if you value variety and music discovery more, having data while you travel is vital. (Well, it's vital for countless reasons, but this is one of them.)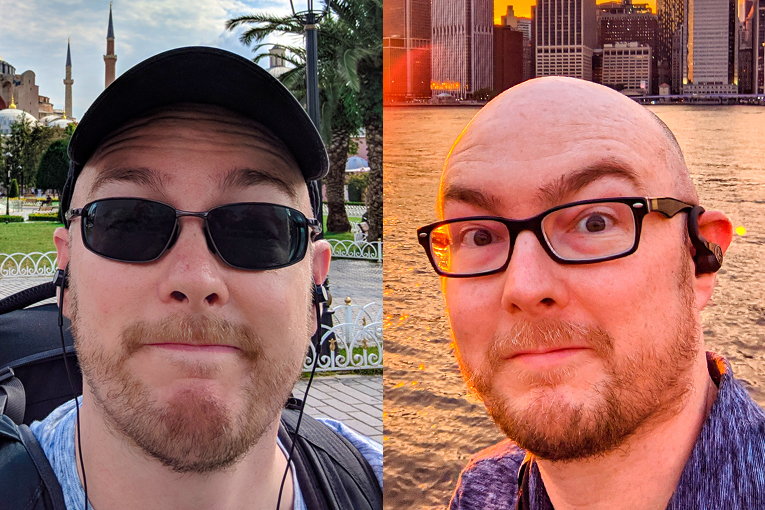 This most recent trip of mine was the first since I started streaming music, and as such, I rarely used my iPod. I still needed it, though, when I didn't have internet. So for me, a hybrid option with multiple sources worked best. But then, I'm also the guy who travels with at least three sets of earphones. So, yeah, sort of packing light . . .
. . . Geoffrey Morrison
This email address is being protected from spambots. You need JavaScript enabled to view it.