Sound:











Value:











(Read about our ratings)
Measurements can be found by clicking this link.
When the pandemic hit two years ago, I took even greater joy in walking my dog, because it was one of my few chances to get outside—and I enjoyed the walks even more when I had some good headphones or earphones to listen to. So the HiFiMan Devas—excellent planar-magnetic headphones with a snap-on Bluetooth adapter—came along at just the right time. I thought the Devas were almost perfect, especially at $299 (all prices USD). Now HiFiMan has an updated version, dubbed the Deva Pro, that appears to be almost the same except for the color, the inclusion of a different Bluetooth dongle, and the price—which is $30 higher.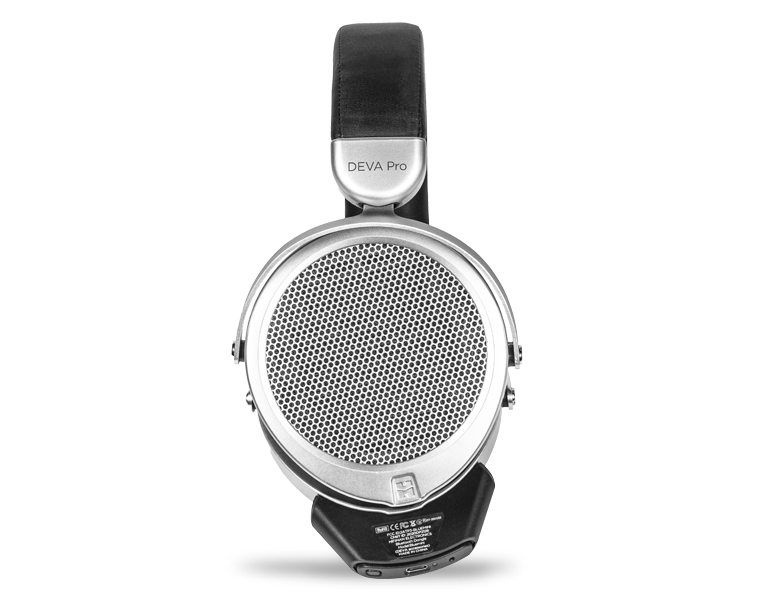 What I loved so much about the Devas is that they combine what I consider to be one of the best-sounding headphone configurations available—planar-magnetic drivers mounted in open-back enclosures—with the convenience of Bluetooth. So you could use them audiophile-style, with a cabled connection to the DAC-amplifier of your choice, or regular-person style, with the Bluetooth adapter attached and connected to your phone.
The main difference with the Deva Pros is that they include an upgraded Bluetooth adapter, the Bluemini R2R. The Bluemini R2R incorporates HiFiMan's proprietary Himalaya DAC chip, which uses an R-2R resistor ladder and a non-oversampling design. Both of these are in-demand features for members of the "DAC of the Month Club"—i.e., audiophiles who frequently buy new DACs in search of better sound quality. As with other DAC features that promise superior sound quality, their advantages are not documented in controlled listening tests, only in evaluations where the listener knows what product they're hearing and is thus biased to (1) hear a difference, because few enthusiasts want to admit it when they can't, and (2) prefer whichever one has the most tantalizing marketing blurbs, the most appealing looks, the highest price, or whatever. (Sorry, I don't get excited about DACs these days.)
The headphones themselves are silver-colored with black earpads, and thus less funky-looking than the Devas, which have brown earpads. The Deva Pros also add an extra 3.5mm (1/8″), three-conductor input jack, so you can use a cable with separate leads for left and right. You can also use a single cable on the left side, which has a four-conductor 3.5mm jack that can be used for a balanced connection if your source device is compatible and you have a suitable adapter or cable.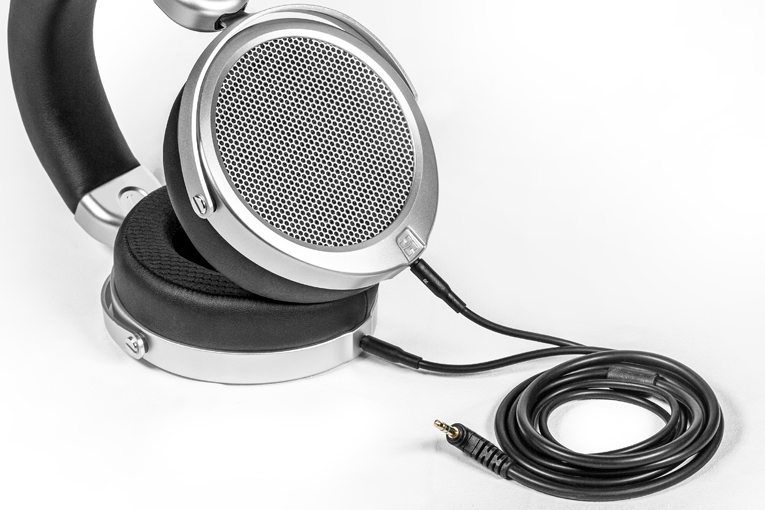 Like the originals, the Deva Pros are rated at 18 ohms impedance and a fairly low 93.5dB sensitivity. As with the original Bluemini adapter, the Bluemini R2R incorporates most of the available performance-enhancing Bluetooth codecs, including LDAC, standard aptX and aptX HD, and AAC, in addition to the standard SBC codec.
In the box
The Deva Pros include the Bluemini R2R and one 4.9′ (1.5m) cable with a 1/8″ (3.5mm) plug on both ends.
Use
The Bluemini R2R snaps easily onto the Devas' left earpiece, and it's so light you'll forget it's there—unless you notice the occasional flash of the blue LED on the bottom. It mated easily with my Samsung Galaxy A53 phone. In ways, I like the simplicity of the Bluemini R2R—it has just one button, which controls power on/off and Bluetooth pairing—but that simple design means you have to do track skipping and volume control from your phone. There's also a microphone built in so you can take phone calls, and the call clarity was excellent on both ends.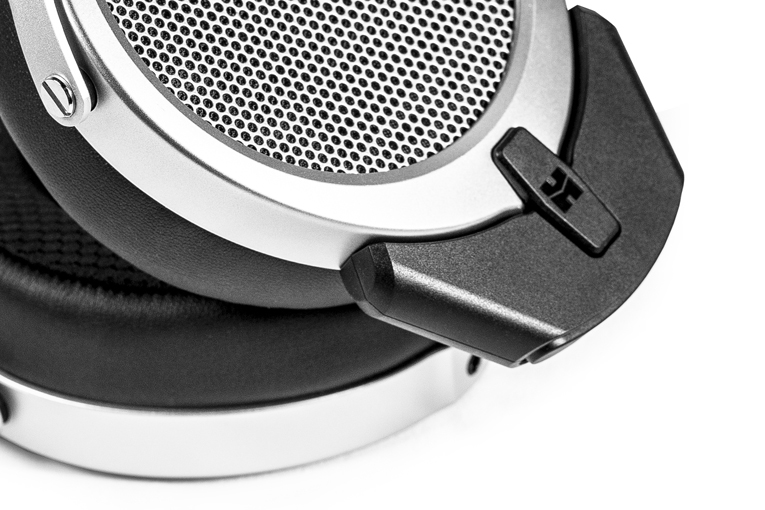 The Deva Pros, like the Devas, are exceptionally comfortable, yet with enough clamping force that they stay put on your head when you're walking the dog—or doing whatever casual activity you dig doing. They're open-back, so you'll hear all the sounds around you, which is bad in the office or on a train, but great on a dog walk.
The headphones played plenty loud with the Bluemini R2R. My Apple iPad got the Deva Pros up to a reasonable volume using the wired connection, but for best fidelity and maximum dynamics, use a decent DAC-amplifier when you want to power these headphones directly.
Sound
I wanted to start with something I'd played in my original review of the Devas, so I cued up James Taylor's version of "Teach Me Tonight" (American Standard, 24-bit/96kHz FLAC, Concord/Qobuz). My reaction to that recording through the Devas was nothing but positive, and I had a similar reaction with the Deva Pros. The headphones conjured up a wonderful sense of ambience—the whole reason you buy open-back headphones in the first place—and I couldn't hear any major colorations. I guess I could say Taylor's voice sounded a hair fuller than I might consider completely accurate, but the Devas have a little bit of extra warmth, too.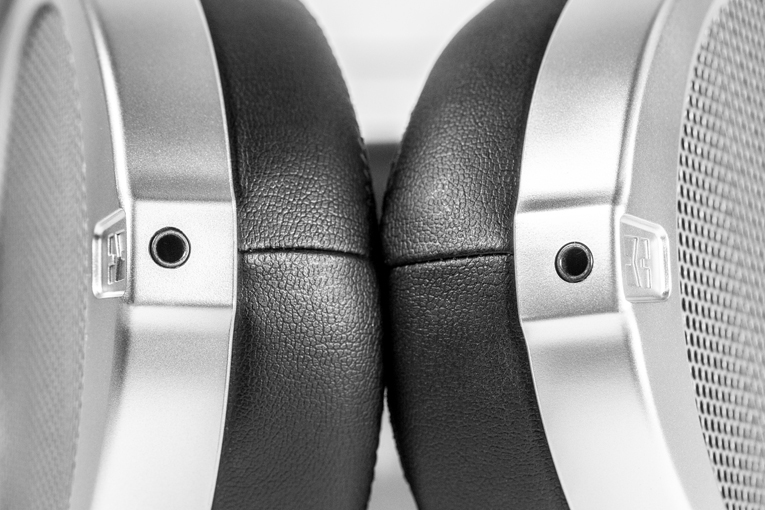 I've gotten through year three of the A History of Rock Music in 500 Songs podcast, which I highly recommend. Throughout it, host Andrew Hickey has hipped me to a lot of tunes I never heard in their original version—including the blues classic "Death Letter." I didn't realize that blues pioneer Son House had written it, and after I checked it out, I listened to many more versions, and I happened to be listening to the Deva Pros at the time. My favorite by far is still James Blood Ulmer's ultra-hard-grooving take, from Memphis Blood: The Sun Sessions album (320 kbps Ogg Vorbis, Hyena/Spotify).
There's not much going on here: a solid drum groove, a simple bass line that sticks to the roots of the blues chord progression, Ulmer's guitar licks (played on a Gibson Byrdland with every string tuned to A), and his wonderfully croaky, deep vocals. But the tune just keeps on building in intensity, even though it really doesn't change much in its nearly ten-minute recording time. I can't say that HiFiMan headphones would be my intuitive choice when I want to play a rhythmically focused performance like this, where driving bass is critical to the mix, but I couldn't find anything not to like about the Deva Pros' rendition. It's impressive enough that the headphones got the tonal balance just right—giving me the perfect mix of dynamics, fullness, and detail—but even more impressive that they conveyed the rich heft and edgy growl of Ulmer's vocals. In fact, they delivered the clearest rendition I've heard of the moans and growls that Ulmer makes behind his solo at 4:24. The whole schmear sounded so good that I started to wonder how much different the mix that Ulmer and his bandmates heard through the monitors at Sun Studios could have sounded compared to what I heard through the Deva Pros; I bet there's not much difference.
That bit of extra warmth I heard on the James Taylor recording was also evident on John McLaughlin's "Follow Your Heart" (My Goal's Beyond, 16/44.1 FLAC, Douglas/Qobuz), a duet between overdubbed acoustic guitars. The guitars sounded a little too full in the lowest octave, and as a result, a little dull on top. I guess this is the trade-off of having a voicing that can convey the full weight of Memphis Blood; you can lose a bit of the delicacy on the top end. Out of curiosity, I played another guitar duet I love: "Miss Julie," by Larry Coryell and Philip Catherine (Jazz at Berlin Philharmonic XI: The Last Call, 320kbps Ogg Vorbis, ACT Music & Vision / Spotify). This one wasn't as full-sounding; Coryell's acoustic guitar sounded somewhat bloated and "whoomy," with a bit of excess punch, but Catherine's electric didn't.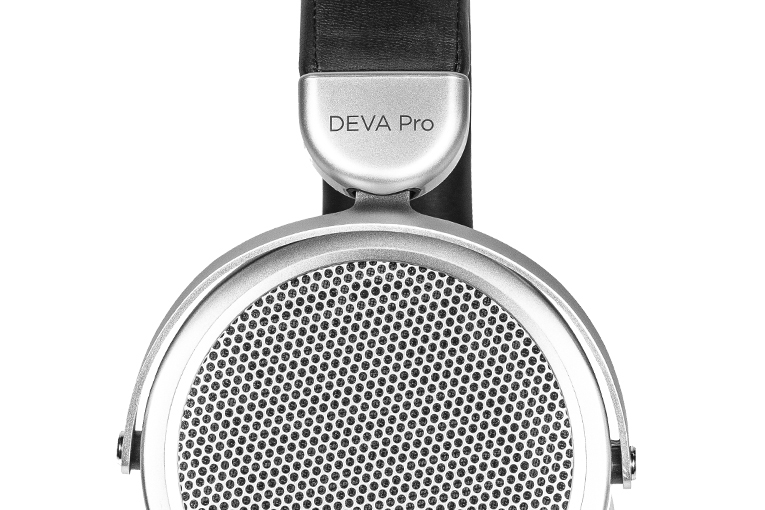 Another tune I used in my Deva headphones review, Cécile McLorin Salvant's version of "Devil May Care" (Dreams and Daggers, 16/44.1 FLAC, Mack Avenue / Qobuz), showed that the Deva Pros do indeed deliver similar performance to that of the Devas. This swinging rendition sounded a little bit bass-forward through the Deva Pros—something I didn't note with the Devas—but still delivered plenty of detail in the vocals, the piano, and especially the ride cymbal and snare drum. And in the breakdown going into the bass solo, the Deva Pros simply rocked, which isn't something I expect of HiFiMan headphones or Cécile McLorin Salvant. I was starting to think that the Deva Pros have just a bit more bass than the Devas—but unfortunately, I was in the process of moving when I did this review and didn't have a chance to compare the two models directly.
Comparison
Because of my currently fluid living situation, I didn't have any headphones on hand that I'd consider direct or even moderately close competitors of the Deva Pros—but I did have the excellent Beyerdynamic T5s (third generation), which are priced at $999. These high-end, closed-back headphones would give the Deva Pros a real challenge.
On "When We Say Goodnight" from Bonnie Raitt's new Just Like That . . . (24/96 FLAC, Redwing/Qobuz), just plugging the T5s straight into my iPad gave me fantastic, detailed, full sound that was so good it'd be rather frivolous to complain about it. The Deva Pros got pretty close to that; they didn't match the awesome neutrality of the T5s, but for their ~$300 price they sounded pretty fantastic. The difference was that the Deva Pros' bass was a little elevated relative to the T5s—whether I used the Bluemini R2R or a wired connection—and the top end wasn't as clear, detailed, or spacious. Also, when the vocals got loud, I noticed a little bit of distortion in the peaks when using the Bluemini R2R.
Conclusion
I wish I had the Devas on hand for comparison. It's obvious from my listening and my measurements that the two sound very similar. My listening notes suggest that the Deva Pros might have a little bit more bass, but my measurements don't necessarily indicate that. Is that due to an intentional difference, or slight inconsistencies in manufacturing, or the Bluemini R2R, or my own flawed recollection? I can't say. Regardless, this remains a fantastic design—and for many buyers, the buying decision might center on the color of the earpads.
. . . Brent Butterworth
This email address is being protected from spambots. You need JavaScript enabled to view it.
Associated Equipment
Headphone amp-DAC: EarMen Eagle.
Smartphone: Samsung Galaxy A53.
Tablet: Apple iPad (5th generation).
HiFiMan Deva Pro Headphones
Price: $329.
Warranty: One year repair or replacement; three months extra with registration.
HiFiMan Electronics
Phone: (201) 443-4626
Website: www.hifiman.com