Sound:











Value:











(Read about our ratings)
Measurements can be found by clicking this link.
There are all sorts of paths into the audio products biz, but one of the most tried and true is to start as a dealer. That's what happened with the new Caspian headphones, which are sold by Apos Audio, an online retailer specializing in headphones and related gear. Although Apos has been offering its own line of cables for some time, the Caspians ($499, all prices USD) are the company's first attempt at making a complex audio product.
At a glance—whether at the headphones themselves or the company's web page about them—the Caspians seem pretty conventional for audiophile headphones. They're an open-back design with 50mm drivers made with graphene-coated diaphragms (Mylar, I assume). The earpieces are crafted from solid oak. The memory-foam earpads are covered in buttery sheepskin leather.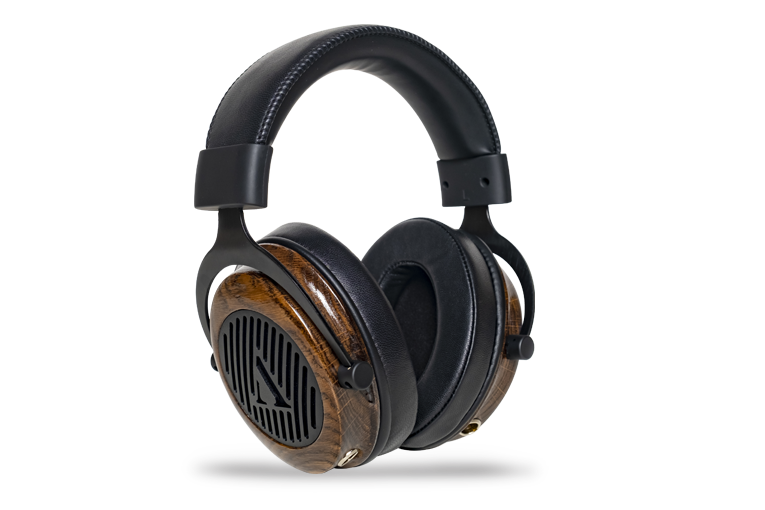 What is definitely not standard-issue audiophile stuff is the way Apos describes the Caspians' sound: "Fun-sounding, non-fatiguing for marathon sessions." Apparently, Apos didn't get the memo that stated quite clearly that audiophile headphones are supposed to "deliver music exactly as the artist intended" or "achieve unprecedented detail retrieval" or something like that. Kidding aside, I think Apos's goal here is laudable; many of my favorite headphones could be described the same way.
The Caspians were designed and voiced by Sandu Vitalie, widely acclaimed as the author of the world's longest headphone review. I have to state right here that after scanning the first few paragraphs of Apos's interview with Vitalie, I immediately stopped reading and finished my evaluation of the headphones because I found some of his statements peculiar, and I didn't want to bias myself against his creation. Check this out: "The biggest problem is that if your gear is ultra-linear, then some of the magic from your music will fade away. It's like you're no longer listening to music but just sounds and noises." Uh-huh. I must have missed the AES paper on that one.
Later, he calls the Harman curve "soulless and boring," which strikes me as strange, considering that the Harman curve is based on the preferences of hundreds of listeners around the world. So the notion here is that Harman was so hapless as to choose a colossal group of listeners who prefer "soulless and boring" sound—and that Vitalie (whose CV is presented nowhere on his site or Apos's) knows better. I said it once before, but it bears repeating now: uh-huh.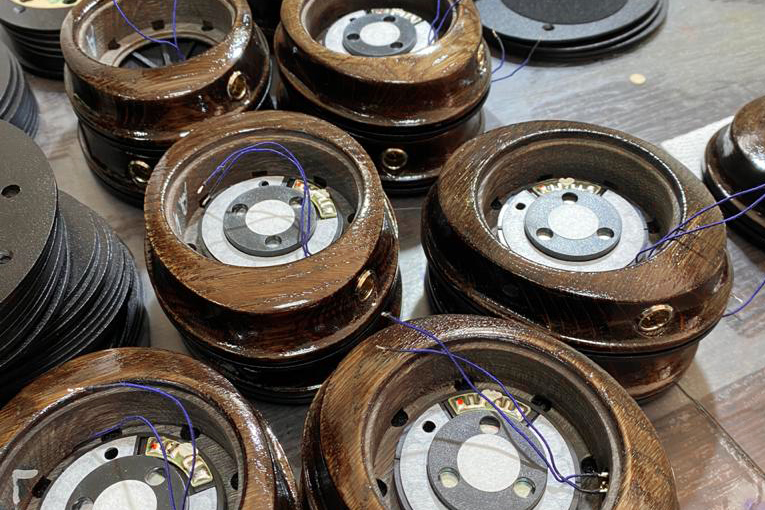 But let's put all this aside and let our ears—well, my ears for now, and maybe eventually yours—be the judge. After all, this ain't the first time we've read these kinds of statements from an audio product designer.
Before we get into the sound, a bit more housekeeping. Rated impedance is 33 ohms, which is standard for dynamic-driver, over-ear headphones. But rated sensitivity is 115dB with 1mW of power, which is very high for headphones. If that number holds up—you can find out for sure in the measurements section, which is available from the link at the top of this article—that means the feeblest source device ever created can get the Caspians cranking to levels loud enough for even Ted Nugent to hear.
In the box
The package includes the headphones and a robust, well-made 2m (6.6′) cable, tipped with a 6.3mm (1/4″) plug on the source end and two mini-XLR connectors for the headphones. Apos offers its Flow upgrade cables, tipped with a 6.3mm plug or your choice of balanced audio connectors, starting at $149.99. The carrying case is especially nice—it's vertically oriented, like a binocular case, with ample internal padding and a detachable strap.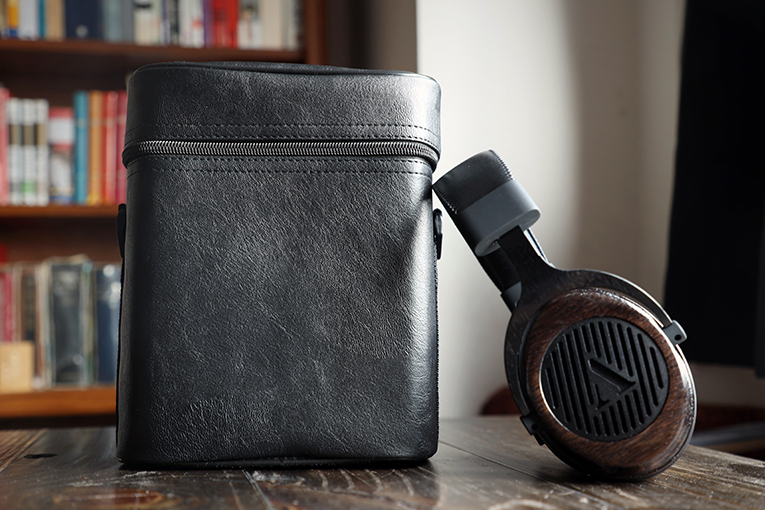 Use
Absolutely nothing to complain about here. The Caspians are admirably light for audiophile headphones—not as light as some of the latest carbon-fiber creations, but I can't imagine anyone would get fatigued wearing these for a couple of hours. The earpads aren't as big and spacious as some, but they were big enough to accommodate my pretty large ears, and the soft pads and leather felt almost like pushing my own fingertips against the sides of my head.
The sensitivity rating seems to hold, too—plugging these straight into my Samsung Galaxy S10 got them cranking even on very conservatively mastered tunes like Camille Thurman's version of "September in the Rain" (Waiting for the Sunrise, 320kbps Ogg Vorbis, Chesky/Spotify). If you have one of the dwindling number of phones with a headphone jack, then adding an external DAC-amplifier is definitely optional.
Sound
Listening to unheralded-but-awesome tenor saxophonist Joel Frahm's "Thinking of Benny" (The Bright Side, 24-bit/96kHz FLAC, Anzic Records / Qobuz), I thought right away, "It's way too early to come to conclusions about these headphones, but I think this is how most acoustic jazz artists performing with a small combo would like their sides to sound." Frahm's sax sounded detailed and vivid—which is easy to do if you boost the treble, but I couldn't detect any treble boost at all because the sound was never buzzy, harsh, thin, or fatiguing. Every stroke of the drummer's brushwork on the snare was easy to hear, yet the sound wasn't bright at all. I actually thought it seemed maybe a little soft, and getting good perceived treble detail without resorting to treble boost is quite a trick. That detail in the treble also helped create a compelling sense of space—not necessarily the colossal sense of space we typically hear from trebly audiophile headphones, like certain HiFiMan models, but perhaps more realistic and more in keeping with what the artist and producer likely heard in the studio.
The bass—double bass, in this case—didn't sound super-extended, and there seemed to be a little extra punch in the midbass, around 100 to 120Hz. A flaw? Well, I don't know, and neither does anybody who wasn't involved with the recording, because recorded double bass often sounds like that, depending on how it's miked, whether or not a pickup was used, and how it was equalized.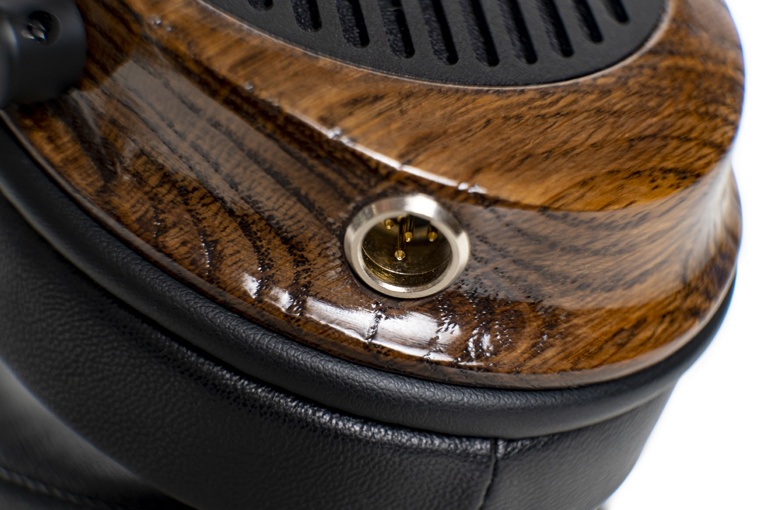 I have a pretty good sense of how Diana Krall's version of "East of the Sun (And West of the Moon)" (Live in Paris, 16/44.1 FLAC, Impulse/Qobuz) is supposed to sound, because most female jazz singers/pianists copy Krall's arrangement, so jazz bassists have to learn it. This recording gave me a little more insight into the treble; from what I could hear, there seemed to be plenty of energy around 4 to 8kHz, but not so much above that. So it sounded very clear, but perhaps not as airy as some of the high-end planar-magnetic headphones do. I'm not complaining, though, because Krall's voice sounded absolutely great, with exceptional clarity—and the Caspians didn't emphasize the sometimes overly rich lower mids of her voice, which can sound a little grunty through some headphones and speakers. As with the Joel Frahm recording, the brushes (this time on the hi-hat) sounded very clear without any trace of emphasis.
The bass, though, sounded a little undefined; I felt there was a little too much upper bass, which caused some of the articulation of the notes to be lost. (The bassist on this recording is John Clayton, one of today's most often-recorded and heaviest-gigging double bassists, so the problem was definitely not with the musician's technique.) But on the other hand, Krall's piano solo sounded great. Yeah, I was listening to headphones, with a piano panned well to the left, which isn't exactly a recipe for realism. But it really did have a natural sense of space, like listening to a grand piano that's off to your left side.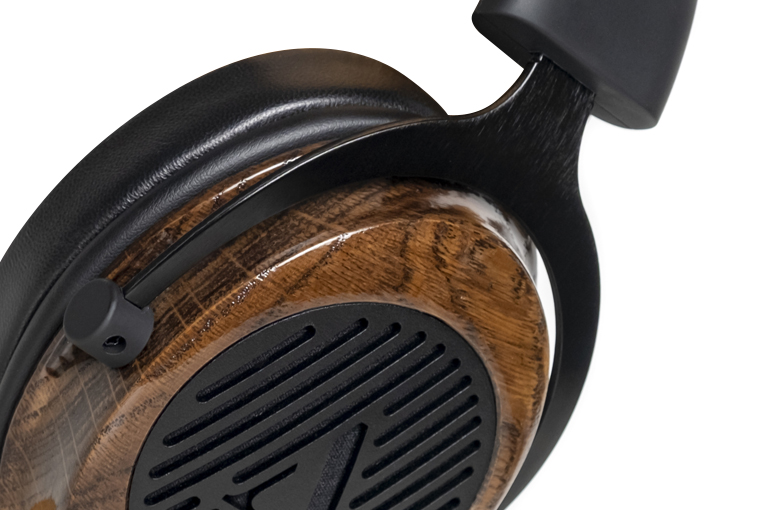 OK, let's put the jazz aside for a few minutes and talk about a pop hit: "Leave the Door Open," from the album An Evening with Silk Sonic by Bruno Mars and Anderson .Paak (24/44.1 FLAC, Aftermath Entertainment / Qobuz). This was definitely a win for the Caspians, because the voices sounded super clear and uncolored, and the layers of reverb in this wonderful mix were readily apparent. The highs were just so smooth, yet not in any way rolled off or soft, and wonderfully spacious—again, quite a trick. And again, the upper bass seemed accentuated, and the lower bass wasn't particularly extended, which gave a "puh"-sounding punchiness to the low end. I did a quick comparison with the HiFiMan Sundara headphones, which sounded more spacious, but they also had somewhat more elevated treble, so of course they sounded more spacious.
I was digging the Caspians' treble so much that I wanted to luxuriate in it more, so I put on a real treble-fest: Hilary Hahn's Paris (24/48 FLAC, Deutsche Grammophon / Qobuz), recorded with the Orchestre Philharmonique de Radio France, Mikko Franck conducting. On my favorite track from this album, "II. Scherzo: Vivacissimo" from Prokofiev's Violin Concerto No. 1 in D Major, Op. 19, I could hear every detail in every one of the three zillion notes Hahn tears through in this movement, yet even on the triple-forte peaks, it never sounded harsh or fatiguing or bright. The frantic interplay between Hahn's violin, the string section, and the flutes was absolutely thrilling. Yeah, the double basses still had that upper-bass "puh" emphasis, but the double basses are perhaps the least important instruments on this recording, so I wasn't bothered.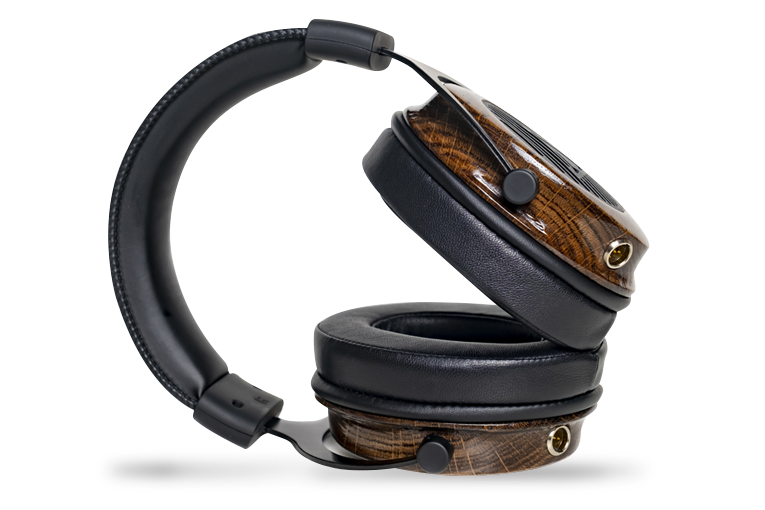 "Babe I'm Gonna Leave You," from Led Zeppelin (24/96 FLAC, Atlantic/Qobuz), inspired me to plug the Caspians into an EarMen Eagle DAC-amp connected to my phone so I could easily access an EQ. I loved the way the Caspians rendered Robert Plant's voice, which sounded exceptionally clear without a trace of unnatural emphasis or harshness. But as I worried might happen, the acoustic guitar track showed some upper-bass emphasis that gave it too much body resonance—almost like it was done on some sort of colossal, extra-jumbo dreadnought guitar—and the bass sounded muddy. The fix was really, really simple—bringing the 125Hz slider on my phone down just 2dB clarified the low notes, adding definition to the electric bass and making the acoustic guitar sound natural rather than bloated.
Comparison
I compared the Caspians with two other mid-priced audiophile headphone models I thought might be plausible competitors: the HiFiMan Sundara ($349) and the Sivga P-II ($399). I also threw in the AKG K371 headphones ($149), which track closely to the Harman curve.
Nathaniel Rateliff's wonderful "All or Nothing" (And It's Still Alright, 24/88.2 FLAC, Stax/Qobuz) gave me great insight into these headphones. First up were the Sundaras, which produced a detailed, spacious sound that was simultaneously huge yet intimate. I enjoyed the spaciousness, but thought there was a bit of excess emphasis in the upper mids / lower treble, maybe around 2.5kHz, and it sounded like there was a little extra lift in the upper bass. With the Sivga P-IIs, there was more bass extension but still an impression of slightly elevated bass, and there seemed to me some emphasis a little lower in the midrange, maybe around 1.5kHz; the sound seemed flatter and more neutral than what the Sundaras presented, but less vivid.
In the treble, I thought the Caspians struck a balance between the Sundaras and the P-IIs. The Caspians definitely had more energy in the mid- and upper bass—I guessed between 100 and 120Hz—and the bass was punchier than with the other two but not quite as loud overall as with the other two models. The Sundaras definitely sounded treblier than the Caspians; the P-IIs seemed closer to the Caspians overall.
Subjectively, the K371s had less bass than the others, despite the fact that the Harman curve mandates elevated bass. I'd say the K371s sounded the flattest and most neutral overall, although they sounded less spacious and delicate than any of the other three—all of which are open-back models, while the K371s are a closed-back design.
Conclusion
There are a lot of very good headphones available in the mid-three-figures range, but I have to say the Caspians have what I think might be the clearest, most natural-sounding mids and treble of the bunch. They're also super-comfortable and extremely easy to drive. These are a superb choice—as long as you're willing to give them just a touch of EQ in the bass.
. . . Brent Butterworth
This email address is being protected from spambots. You need JavaScript enabled to view it.
Associated Equipment
DAC-amplifiers: iFi Audio Zen DAC, EarMen Eagle.
Smartphone: Samsung Galaxy S10.
Apos Audio Caspian Headphones
Price: $499.
Warranty: Two years; 45-day money-back guarantee.
Apos Inc.
1400 Coleman Ave., #E23
Santa Clara, CA 95050
Phone: (510) 858-6585
Website: www.apos.audio