Sound:











Value:











(Read about our ratings)
Measurements can be found by clicking this link.
It seems like a new—or at least unfamiliar to me—headphone brand pops up daily in my Facebook feed. A lot of them pitch me headphones to review, but most of those are cheap, true wireless models or $50-ish, plasticky over-ears with lame noise canceling. But when I got an e-mail from Calyx—a brand I'd never dealt with, known primarily for portable music players, amps, and DACs—I was delighted to find they were pushing the Calyx H, a set of on-ear, passive headphones for $250 (all prices in USD). Seeing that the product was targeted at audio enthusiasts rather than bottom-feeding Amazon shoppers, I immediately agreed to a review, having not the vaguest idea of what I was about to hear.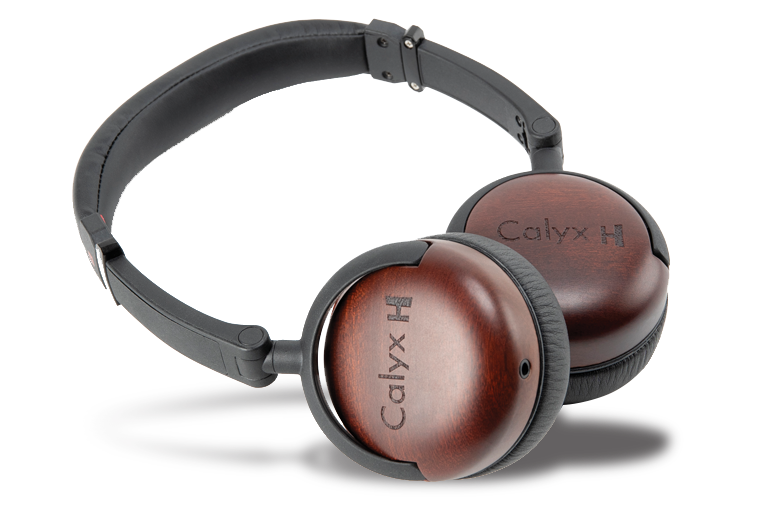 Outside of models made for kids, on-ear headphones are relatively rare. By my count, we've reviewed five of them since 2015, versus 93 over-ear headphones. They're compact, but many of them have a tendency to mash the earlobes uncomfortably. And they typically don't offer as reliable a seal over the ear, so it's challenging to get powerful bass from them.
Calyx seeks to solve this problem by using buttery-soft artificial leather earpads that seat securely on the ears, as well as by using 40mm dynamic drivers—a fairly large size for an on-ear model. Other than wood side panels with "Calyx H" etched into them, there's nothing outwardly interesting about the design.
The Hs are rated at 50 ohms impedance. Sensitivity is unspecified, but I can't recall ever encountering headphones with 40mm dynamic drivers that were too much for a smartphone to drive.
In the box
The package includes the headphones, a carrying sack, a 1/8″-to-1/4″ (3.5mm to 6.3mm) adapter, and a 4.6′ (1.4m) cable with 1/8″ plugs on both ends.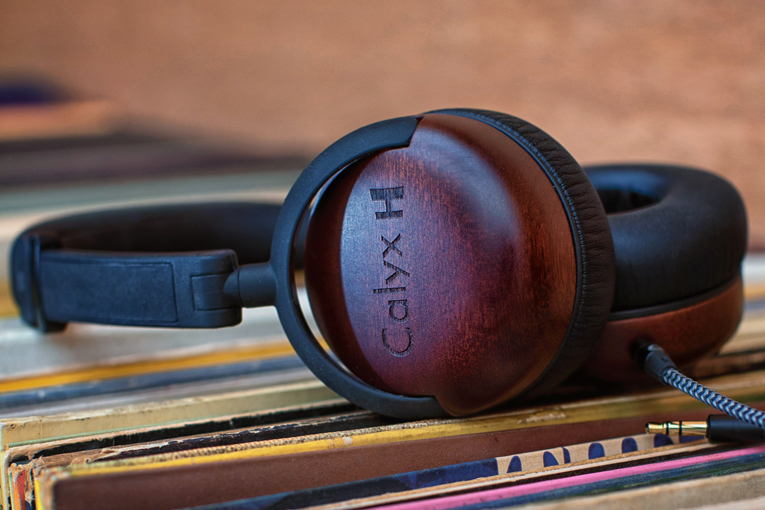 Use
To my relief, the Hs are quite comfortable; I wore them for a couple of hours while waiting for my car to get serviced, and it didn't dawn on me until I took them off that I was supposed to be paying attention to the comfort. They also play plenty loud enough from a smartphone. The one downside is that they don't include a decent zippered carrying case.
Sound
Having just done a quick evaluation of the Apple AirPods Max headphones, in which I had no choice but to rely on classic test tunes such as Tracy Chapman's "Fast Car" (Tracy Chapman, 320kbps Ogg Vorbis, Epic/Spotify), I decided to give my brain a break and start my test of the Calyx Hs with some less-familiar material.
Cruising through the Organic Experimental playlist on Spotify, I stumbled upon Steve Tibbetts's Natural Causes album (320kbps Ogg Vorbis, ECM/Spotify). I've been listening to Tibbetts—described as the "Zen guitarist of Minnesota"—since his first ECM sides in the 1980s. His work consists mostly of overdubbed and looped acoustic guitars, and in the last 20 years he's been adding more percussion and instruments from around the world. "Padre-Yaga" combines what sounds like three 12-string guitar tracks, tablas, maybe a piano, and . . . a singing bowl? I imagine that a big set of open-back planar-magnetic headphones might have brought out some details that would let me unpack this dense recording more easily, but the Calyx Hs seemed to get the tonal balance of all the instruments just right. The guitars didn't boom or resonate unnaturally, nor did the headphones add any harsh edge or twang to the strings. Natural Causes isn't your typical super-reverberant ECM recording, and the intimate ambience of "Padre-Yaga" made me keep clicking the track skip button on my phone to play it again.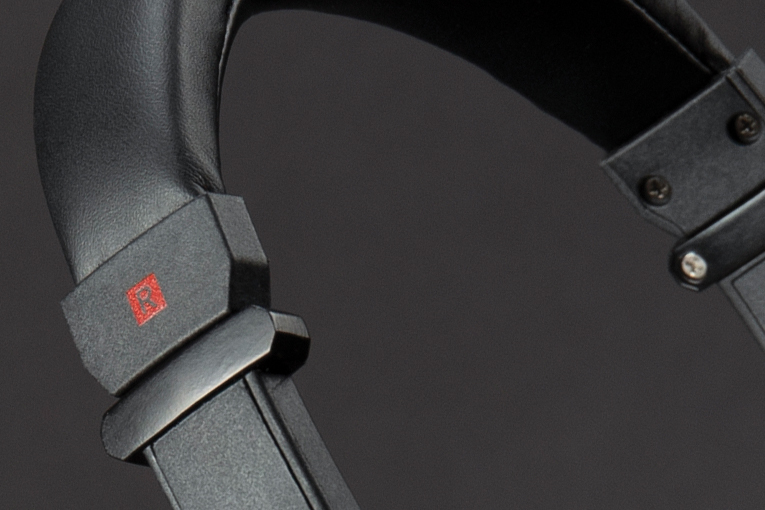 Paul McCartney's new album, McCartney III (24-bit/44.1kHz FLAC, Capitol/Qobuz), had just come out when I started this review, so it's inherently unfamiliar to me, but it also doesn't sound like any album he's done before; he apparently recorded the whole thing at home with a combination of various instruments, some actually played, some programmed. (McCartney II was produced in a similar fashion, but it doesn't sound a tenth as good.) It starts with the surprisingly kick-ass instrumental "Long Tailed Winter Bird," in which acoustic guitar and synth trade the main theme while all sorts of interesting electronic sounds percolate through. I can't guess what specific tonalities McCartney wanted for these instruments, but I can say the whole recording sounded balanced, open, and exciting through the Calyx Hs. As I hear with my JBL recording monitors, nothing stuck out (unless it was supposed to), no details were obscured, and everything was easy to hear.
After a couple of hours of trying new stuff on Qobuz and Spotify, I thought I'd check out more familiar fare, so I put on jazz singer Susie Arioli's Spring (16/44.1 FLAC, Spectra Musique / Qobuz)—a straightforward acoustic jazz recording with piano, vibes, guitar, double bass, and drums. "Mean to Me," my favorite cut on this album, sounded, well, like I imagine it's supposed to. I couldn't hear significant coloration in Arioli's voice, and I didn't encounter any of the problems that often arise when I'm listening to jazz through headphones, such as excessively boomy double bass or edgy-sounding ride cymbals and snare drum. It all sounded smooth. I think some audio enthusiasts might want to hear more detail emphasis, and that's fine, but I think this presentation is more natural and more pleasant to listen to in the long term.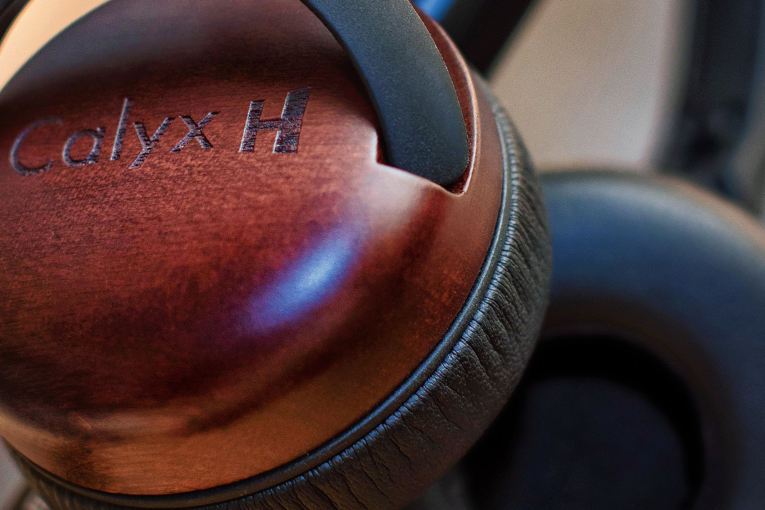 On-ears don't enjoy a rep for solid low bass, so I hit the Spotify Rap Caviar playlist to see if the Calyx Hs could handle serious low-frequency punishment. On "Drankin N Smokin," by Future and Lil Uzi Vert (Pluto x Baby Pluto, 320kbps Ogg Vorbis, Epic/Atlantic/Spotify), I can't say the Hs gave me that deep, vibrational bass I anticipate during my occasional journeys through Rap Caviar, but truth be told, they gave my ears the amount of bass they wanted—i.e., enough to get the groove going but not enough to drown out everything else in the mix. Both rappers' voices sounded clear and natural, and it was easy to pick out the smooth-jazz guitar licks, the sampled flute tones, and the chattering of the Roland TR-808 drum machine hi-hat.
Comparison
I don't review a lot of on-ear headphones, but I did have my cherished set of AKG N60 NC on-ear headphones (the original wired version), which the researchers at Harman International told me conform pretty closely to the Harman curve, and, if memory serves, originally listed for $199. I also compared them with the AKG K371 over-ear headphones ($149), which have become my reference for inexpensive headphones.
When I played Susie Arioli's "Mean to Me," I was struck by how similar the Calyx Hs and the AKG N60 NCs sounded. Clearly, both of the headphones were voiced according to similar philosophies. It was hard to hear much difference in the bass, the vocals, and the piano, although the Calyx Hs sounded a little softer on top; the N60 NCs seemed to have about 2dB more treble above 3 or 4kHz, which brought out the cymbals and the vibes a bit more.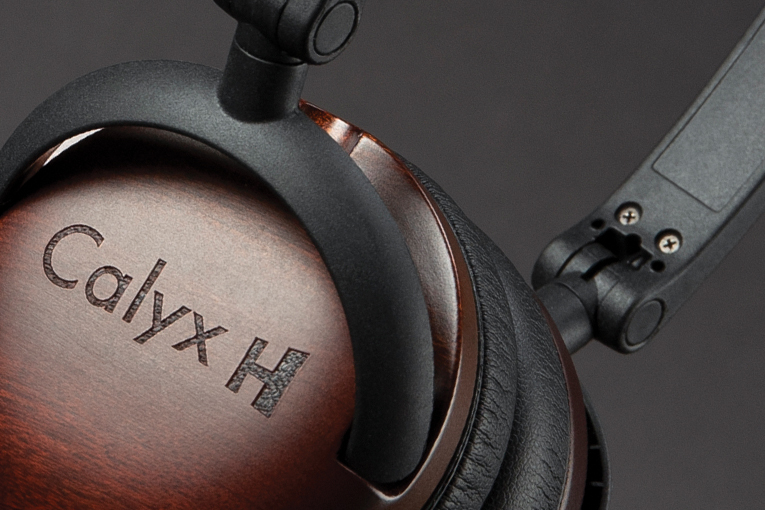 I was more surprised to hear that the Calyx Hs sounded closer to the K371s than they did to the N60 NCs. In fact, they sounded like the K371s with the bass turned down about 3dB. That might make you think the Calyx Hs sounded a little thin, but they didn't with any of the tunes I played through them. I even thought Tracy Chapman's voice sounded slightly clearer through the Calyx Hs when I played "Fast Car," although that may be due simply to the fact that they have less bass so the mids came through better. Regardless, all three of these headphones are in the same sonic ballpark, and considering how good the K371s are, that's an impressive achievement for the Calyx Hs.
Conclusion
Simply put, the Calyx Hs sound great, with clean, uncolored mids, bass that's at a just-right level for my taste, and a subtly soft top two octaves. They're easy to drive and, surprisingly for on-ears, they're quite comfortable. How big the market is for passive on-ear headphones in the mid three figures, I can't say, but if this form factor appeals to you, the Calyx Hs easily rank among your best choices.
. . . Brent Butterworth
This email address is being protected from spambots. You need JavaScript enabled to view it.
Associated Equipment
DAC-amplifier: AudioQuest DragonFly Cobalt
Smartphone: Samsung Galaxy S10
Calyx H Headphones
Price: $250 USD.
Warranty: Two years parts and labor.
Calyx
#855 Bundang Tra Palace, 234
Hwangsaeul-ro, Seongnam-si, Gyeonggi-do, South Korea
Phone: (+82) 1588-583113595
E-mail: This email address is being protected from spambots. You need JavaScript enabled to view it.
Website: www.calyx.kr