Sound:











Value:











(Read about our ratings)
Measurements can be found by clicking this link.
Many people think that performance tuning is the toughest part of being an audio manufacturer, but I'd wager if you polled 100 product managers, they'd say that deciding on looks and features is a lot tougher. After all, everyone likes good sound, but not everyone likes red. With the MX Pro series -- of which the MX4 Pros are the top model -- MEE Audio decided to let you decide.
The first thing to decide is the driver configuration. You can get the MX1s ($59.95, all prices USD) with a single dynamic driver, the MX2s ($99.95) with a dynamic driver and a balanced armature, the MX3s ($149.95) with two armatures and one dynamic, or the MX4s ($199.95) with three armatures and one dynamic. Any configuration is available in clear or black.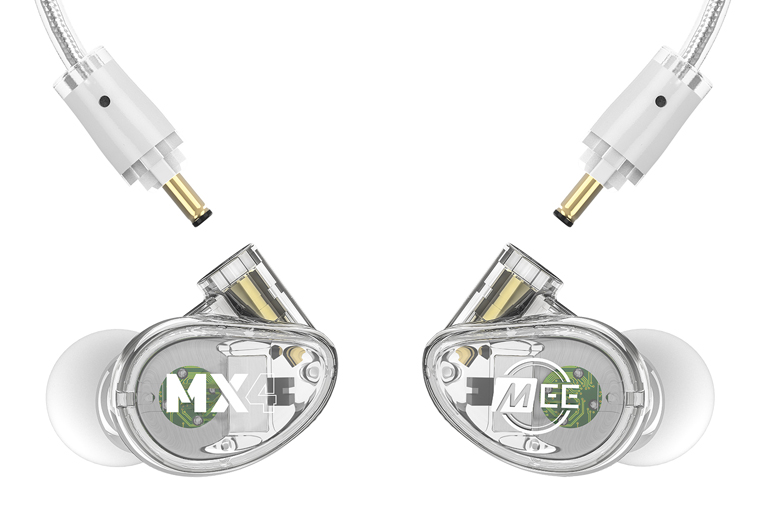 Because they're designed for the pro market, they're all voiced differently. The MX1s and MX2s are bassier; they're intended for general listening/monitoring and drummers/bassists, respectively. The MX3s are midrange-focused, intended for guitarists and vocalists, and the MX4s are a little more trebly, and intended for stage and studio monitoring.
Next you choose a cable. You can choose two: a 51" stereo cable with or without an inline microphone, a 51" mono cable, a 72" stereo cable ($2 upcharge), or a Bluetooth adapter cable ($59 upcharge). All cables are available in black or clear. For an extra $10, you can add magnetically attached faceplates in one of five designs, and you can choose a different design for each ear. You can add custom text ($5) or custom graphics of your own design ($10) to the faceplates.
And then you can add custom-molded eartips, which cost $150 plus whatever your audiologist charges to make molds of your ears.
In the box
Besides the two cables of your choice, you get a nice, zippered travel case, a 1/8"-to-1/4" (3.5mm to 6.3mm) adapter, and a cleaning tool. Five sets of tips are included: single-flange silicone eartips in three sizes, one set of double-flange silicone tips, and one set of foam tips.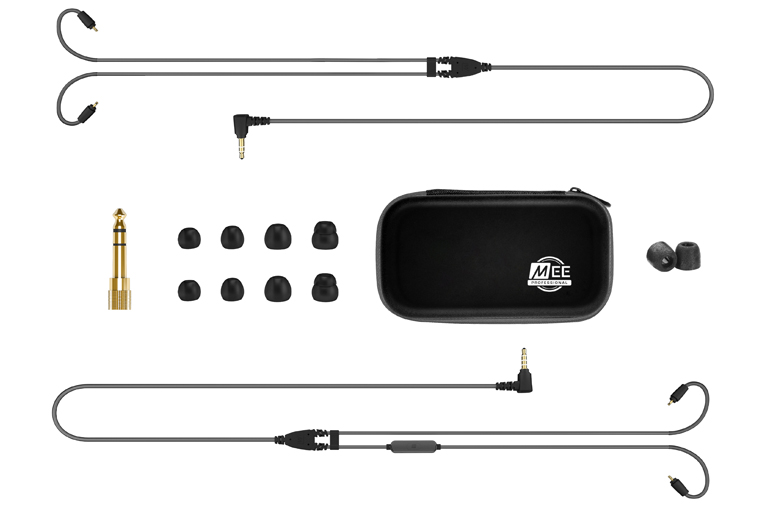 Use
Because my ear canals are about 10% larger than those of the average American male, I sometimes have problems getting a good fit with factory-supplied tips. That was the case with the MX4 Pros, but fortunately, they use standard 5mm soundtubes, so it's easy to find aftermarket tips for them. I used Periodic Audio Hydrogen single-flange silicone tips.
The MX4 Pros' over-ear cable routing helps assure a deep, secure fit, and the firm, molded bend in the cables makes them easier to drape over your earlobes than most similar models. However, the firm molding of the cables routes them toward the back of your head -- great for pros who plug their monitors into belt-clipped radios, but not as good for consumers, who tend to drape their cables in front of them. Also, the rather stiff cable tangles easily.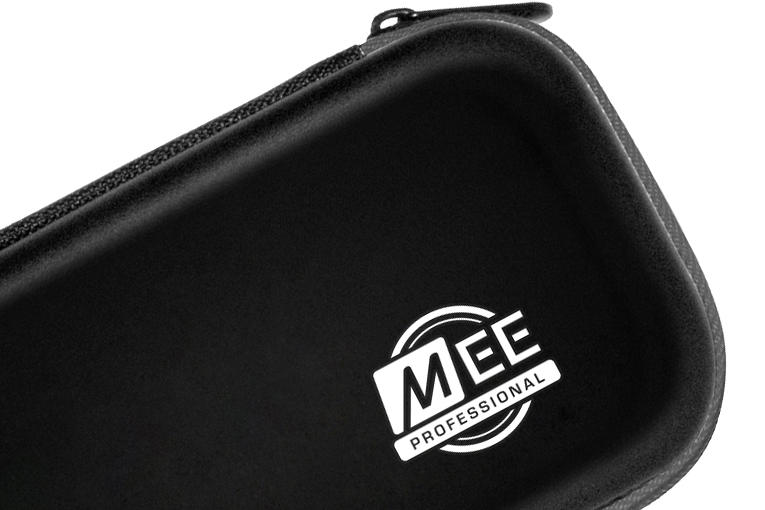 At maximum volume, the MX4 Pros played quite loudly when connected to my Samsung Galaxy S9 smartphone; I had to turn the volume down to about 75% for comfortable listening.
Sound
According to the diagram on MEE Audio's website, the MX4 Pros have a mild bias toward the highs. It doesn't define what frequency range it means when it says "highs," though. It sounded to me like the MX4 Pros have what's essentially a textbook "flat" response, but with a stronger peak in the roughly 3kHz range than most earphones have. Because that's the only significant deviation from flat that my ears could find, it sounds like a deliberate and studied voicing choice rather than a spurious coloration.
What's that mean? On a familiar cut like Yes's "Yours Is No Disgrace" (The Yes Album, 16-bit/44.1kHz FLAC, Atlantic/Qobuz), the bass guitar sounded like it was dialed down about 2dB, so it lost some of its groove. (Not that any of Yes's albums were revered for their groove.) The electric guitar, the snare drum, and the upper harmonics of the Hammond organ were emphasized. Vocals were emphasized, too, but subtly, and they didn't seem to lose much body with the emphasis. (Not that anyone who ever sang with Yes was revered for his sonorous vocal tone.) In fact, the voices sounded unusually clear, making the individual contributions to the harmonies easier to pick out. Chris Squire's famously trebly bass lines sounded exceptionally clear, too -- I could easily hear each pick stroke, no matter how fleetly or lightly he played them.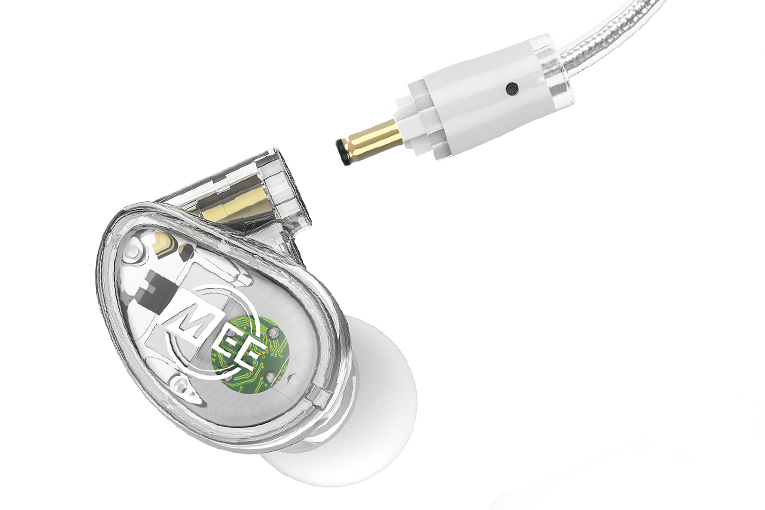 I often ridicule headphones and earphones with a severe high-frequency tilt, which may bring out some details in a recording but makes the tonal balance sound unnatural. But the MX4 Pros, while not by a long shot the most natural-sounding earphones I've heard, did provide a sort of magnifying lens on the music without making the music sound wrong. It's not the natural sound I hear when I play jazz gigs, but it's enjoyable for what it is.
How, though, would the MX4 Pros fare with more conventional -- and ostensibly more natural-sounding -- material? To get an idea, I put on another recording I've heard hundreds of times: "Footprints," from Miles Davis's Miles Smiles (24/88.2 FLAC, Columbia/Qobuz). It was obvious that the MX4 Pros were "doing something" to the music -- the tune became dominated by Tony Williams's ride cymbal and Miles's trumpet. The piano lost some body and the sound was thinner and brighter than what you'd hear with a live jazz group. But I noticed that even if the sound was somewhat unnatural, everything in the recording became clearer. I could more easily hear the subtleties in Ron Carter's bass lines and the breath in Wayne Shorter's tenor sax playing. It reminded me of the old joke about a rock band member instructing a recording engineer to "make everything louder than everything else." In a weird and not, to me, unappealing way, the MX4 Pros did that.
But what about a recording where colorations might prove more annoying, like Holly Cole's version of "They Can't Take That Away From Me" (Holly, 256kbps MP3, Universal Music Canada)? Through the MX4 Pros, the recording didn't have that big, lush groove typical of Holly Cole albums; the double bass and kick drum were definitely dialed down a few dB in the mix. But I found myself drawn in by how easy it was to hear the detail in the individual notes of the double bass (something that's usually hard to do). Cole's voice lacked some of its characteristic fullness, but it almost magically didn't become sibilant, harsh, or grating. However, on the next cut, "Everybody Loves Somebody Sometime," the double bass notes in the intro sounded like they were being played on an acoustic bass guitar with roundwound (and thus bright-sounding) strings. That I couldn't enjoy -- you hire a double bass player specifically because they don't have that bright sound. (Also because double basses lend an air of legitimacy and class to even the most plebeian performances.)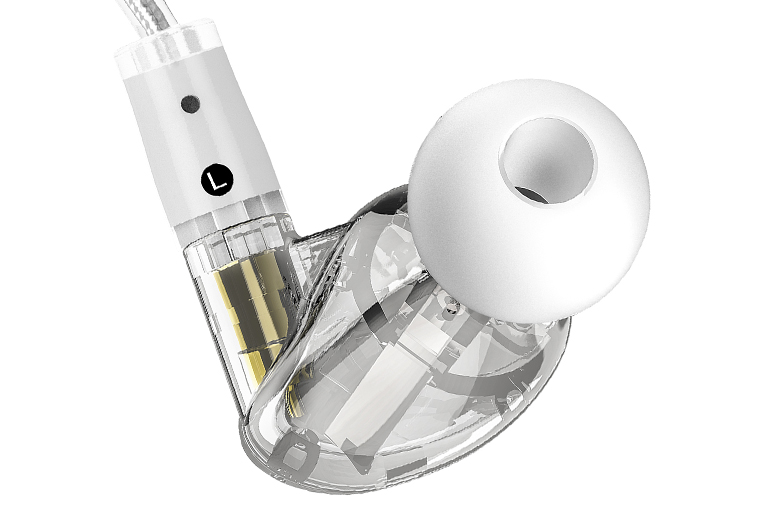 Michael Bublé's pop recording of "Everything" (Call Me Irresponsible, 16/44.1 FLAC, Reprise/Qobuz) is a long way from a natural-sounding jazz recording, but I like it a lot anyway. With this highly produced recording, there's honestly not much to home in on, nothing you'd really want to hear emphasized. You pick up on the whole of a production like this, rather than enjoy the subtleties. Through the MX4 Pros, Bublé's voice did sound clearer than usual, but the guitar solo in the middle sounded ultra-twangy, and the acoustic guitars strumming in the background sounded harsh. Basically, the sound just got fatiguing.
Comparison
I was a little worried when I played the MX4 Pros for our listening panelists, because their tastes tend more toward pop fare like the Michael Bublé cut described above.
First up was John Higgins, who holds a master's in music performance from USC and has served as a frequent contributor to Wirecutter and Sound & Vision. To my surprise, John -- who usually has little patience for treble-heavy, bass-shy audio products -- seemed to grasp the intent behind the MX4 Pros. "The highs are decent -- they have a good snap. The bass seems a little lackluster, though." He noted that the MX4 Pros' design made it more challenging for him to get a good fit; I think in this case he's referring to the stiff ear hooks molded into the cables.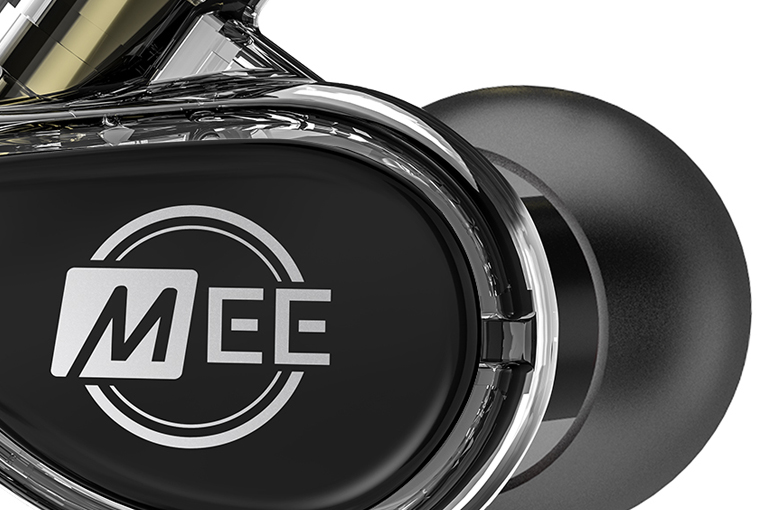 LeRena Major, a Los Angeles saxophonist who's held several positions in the music business and is a voting member of the National Academy of Recording Arts & Sciences -- and also a huge fan of pop music, especially Prince -- just couldn't get enough bass out of the MX4 Pros to keep her foot tapping. "I felt like I had to turn them up louder to get any sense of the groove," she said. "There's not enough bottom end, and it doesn't feel enveloping."
Conclusion
For audiophiles who are always looking to hear more detail in their favorite recordings, the MX4 Pros might be the perfect earphones -- and they're especially appropriate for detail-loving audiophiles who are aware of the downsides of simply tilting up the treble to create the impression of more detail. It's a little hard to relax to the sound of these earphones; they demand your attention. So for everyday listening, I wouldn't choose the MX4 Pros, but for enthusiasts who own a few sets of earphones, and who gain insight by listening to recordings from different sonic perspectives, I'd consider the MX4 Pros a must-have.
. . . Brent Butterworth
This email address is being protected from spambots. You need JavaScript enabled to view it.
Associated Equipment
Smartphone -- Samsung Galaxy S9
Headphone amp-DACs -- AudioQuest DragonFly Carbon, iFi xDSD
MEE Audio MX4 Pro Earphones
Price: $199.99 USD.
Warranty: One year repair or replacement.
MEE Audio
Phone: (626) 965-1008
E-mail: This email address is being protected from spambots. You need JavaScript enabled to view it.
Website: www.pro.meeaudio.com